Karcher K4400G unloader problems.
03-25-12, 01:55 PM
Karcher K4400G unloader problems.
---
I've gone through the pump several times.
Replaced all the valves, the Cylinder head too
. The Cylinder head came with a new unloader valve and thermal valve.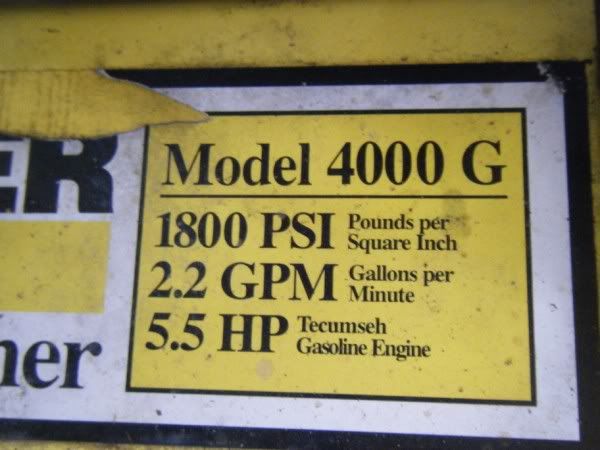 In desperation I disconnected the Washer hose and the pump worked as advertized.
The output stream would have hurt my hand if I'd put it into that powerful stream coming out of the pump with NO hose attached.
It acts the same with four different hoses.
It appears to me that the Unloader valve is giving up too easily. It's a new valve though.
I have no way of increasing the spring tension on that valve.
Help me please!
What do you think is wrong?
Can you think of any other test's I can perform to isolate the problem?
---
Last edited by hoary; 03-25-12 at

03:02 PM

.
Sponsored Links
03-25-12, 02:26 PM
Hello hoary,


If I read your post correctly your issue isn't zero pressure but lower than normal pressure ?

First, These pumps will not put the same pressure out of the end of the hose (without wand) as they do straight out of the pump.

The pressure output is also determined by the size port/hole in the tip on the end of the wand, Believe it or not high pressure water does wear the hole in the tip larger thus lowering overall pump output pressures.

With everything hooked up as normal if you still have low pressure gander at or replace the tip and see if that helps.


Good Luck
03-25-12, 03:04 PM
I can do that. I've got a hose with a Home made spray nozzle on the end.
We'll see.....
03-26-12, 08:02 PM
31YTech
Hello hoary,
If I read your post correctly your issue isn't zero pressure but lower than normal pressure ?
Read more:
http://www.doityourself.com/forum/ne...#ixzz1qHKbNGPi
31 I went by the Dealer in town today and both tech's said what you said. It needs a small fine spray nozzle at the end of the wand.
03-26-12, 08:18 PM
Sooo...... You were second guessing me ? JK....
Glad you got it sorted out !
03-27-12, 09:37 AM
LOL, "Second guessing?" well it didn't seem logical.
I said that to the two tech's too, but they just pleaded ignorance and reiterated it works that way.
I have a piece of copper tubing. I flattened the end, with some stainless wires in the end, spread out in fan fashion as I hammered it shut.
Then pulled out the wires, leaving tiny holes in the end of that Tubing.
Maybe too much restriction? I'll work on it in an hour or so.
My wife is on your side. "Why can't you buy what you need!"
Ahem! Ah..er... there's too much logic coming outta that Kitchen!
03-27-12, 09:54 AM
Ha !
Well.....Hmmm..... I really don't think you will get it to operate as intended until you say "Yes Dear" I'll buy the proper parts I need.....
03-27-12, 09:31 PM
I agree
Hi ya tech
03-27-12, 11:03 PM
I'm certainly not telling her she has Allies!
I didn't get to it today. Maybe tomorrow, retired y'know!
Posting Rules
You may not post new threads
You may not post replies
You may not post attachments
You may not edit your posts
---
HTML code is Off
---