MTD 145/38 starter problems
04-04-12, 06:13 AM
Join Date: Apr 2012
Posts: 1
Received 0 Votes on 0 Posts
MTD 145/38 starter problems
---
I have inherited a MTD yard machine 145/38 that the starter motor will not effectively turn over. When I try to start it it gets to compression and the starter doesn't seem to have enough power to turn it over. If I continue to try to kick it over all the wires heat up. I have now tried 3 different starters and the same thing happens every time. I have melted one solenoid and have replaced with a new one. Could the battery not be big enough, it is a fairly new battery that came in the machine. I have up sized all the wiring from battery to solenoid to starter motor and run extra earth directly to the engine block. At a loss as to what the cause of this problem could be so any advise would be helpful.
Thanks Danny
Sponsored Links
04-04-12, 07:56 AM
Assuming you have a good, charged battery and confirmed that you have clean connections I'd start looking at the engine. Try removing the spark plug and see if the starter can turn the engine over. If not the engine may be seized or have other internal damage. If it does turn over with the plug removed but not when you put the plug back in I'd check the valve gaps.

Do you know if anyone disassembled or tried to fix this motor? If so it opens up the possibility that it was assembled incorrectly. The cam could be mis-timed/aligned with the crank, the wrong parts could have been used...
04-22-12, 01:02 PM
Similar Issue
---
I also have a MTD Yardmachine lawn tractor that is acting about the same way. When I try to start it, it will turn over once and that's all. If I keep at it the battery cable connection at the starter heats up so I'll wait about 10 minutes for it to cool down. I replaced the battery but really no diffrence. I have to try probably 4-5 times and it will eventually start and it will blow white(?) smoke out the muffler for about 5 seconds. After that it runs fine with good power and no issues.
Any ideas?

As always, thanks for any and all advice!

Mike
04-22-12, 03:25 PM
Hello Mike,


Sounds like you need to do as Mr. Cheese suggested in post#3 above, Without your engine model number posted I'm un-sure of proper adjustment specs.....
04-23-12, 05:12 AM
Found the engine info:

Briggs 16.5 HP
Model #313707
Type #0162-E5
Code #020418ZE

One quick question though, if the valves being out of adjustment keeps it from starting, why should I be able to eventually get it started and after I have it running a while and shut it off and go to re-start it, it seems to start real easy? Just curious.....

Thanks, Mike
04-23-12, 05:41 AM
Since you mention the cable connection at the starter is heating up I would clean those connections to insure good contact.

I wonder if you are getting any oil into the cylinder when the engine sits for a while.
04-23-12, 06:15 AM
I did check this connection and other than being a bit loose in my opinion, it was very clean. I did tighten the connection though.
04-23-12, 10:18 AM
Mike,
As a engine warms up parts expand, As parts expand clearances tend to tighten so that may be why it starts easier when warm over cold.
Here's the valve adjustment procedure;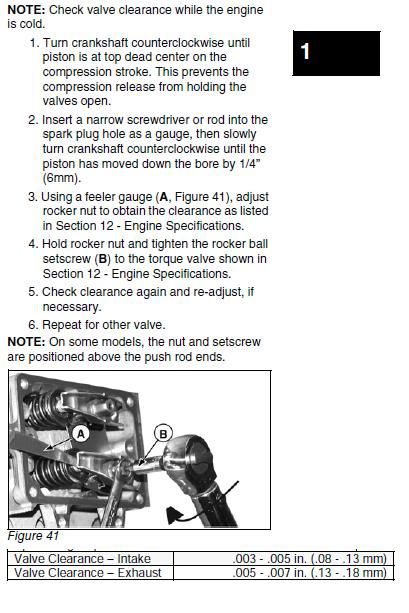 Good Luck
04-25-12, 05:04 AM
Thanks for the excellent info! It's going to be a couple of days before I can get this taken care of but I'll let you knoiw how things work out.

Thanks again, Mike
04-27-12, 05:48 PM
BINGO!
I adjusted the valves as instructed and the mower started up right off the bat and ran great! It seems that this adjustment took care of another small issue I was having. Used to be that after I got done mowing and would shut off the mower the engine would backfire about 2 seconds after the engine stopped. Not anymore!
Thanks to all for their help and advice. Now it's almost a pleasure to mow my yard. Notice I said ALMOST!
Mike
Posting Rules
You may not post new threads
You may not post replies
You may not post attachments
You may not edit your posts
---
HTML code is Off
---