Hydrostat Pump and transmission
07-20-12, 05:32 PM
Hydrostat Pump and transmission
---
This Craftsman mower came to me for repair because it wouldn't move, I do not have a model number on the mower. So I pulled the rear transaxle and took it apart and fount that the shift lever was bad and not shifting collar back onto pump,,,so I thought. The transaxle is a LTH 2000. With that fixed and back into the mower it has reverse now but now forward speed, it does creep forward. My question is this, can the pump be repaired or is it not serviceable, Number on pump is this 7093P1 and that comes from tag on the pump. Peerless -Silent Trac. I just need to know,,,,,,,,,,,,,,,,,,,The mower is a Craftsman and it looks like one of those Murray Pups,,,the seat is over top of the engine,,,,It has a Briggs 13.5 HP engine in it. I may just junk it out and sell the engine for profit.
Thanks for your time everyone. Please bare with me on any misspelling.
07-21-12, 05:01 AM
I think you will find the sleeve between the pump and transaxle is chewed out on one side, if the sleeve is not engaged totally after using the nuteral lockout over time the sleeve is destroyed, it will look good one one side but not the other, see pics below. Have a good one. Geo
Sears Part# 786197 $14.40
Looks good
OOps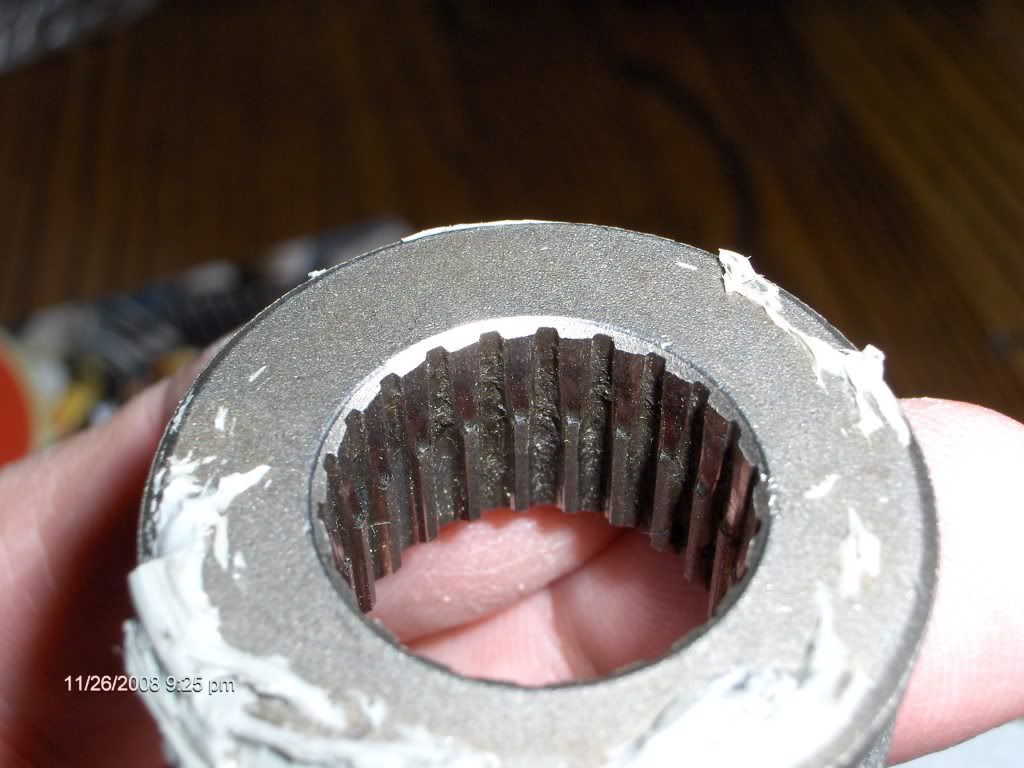 ---
Last edited by geogrubb; 07-21-12 at

05:40 AM

.
07-21-12, 04:03 PM
I think they run in reverse because of the material grindings buildup on the edge of the spline, like using a tiller, it builds a little pile behind it, however, just a guess. Have a good one. Geo
07-30-12, 11:54 AM
After further inspection of the pump I have found what the metal is or was on the magnet ,,,as you can see in the picture there is a ball bearing retainer around the ball bearings. The ball bearings that are loose is evidntly missing the retainer cage, and those ball bearings where the ones on top of the pump area that badly damaged. Mower has gone to scrape now to gain back my loses.