18.5 Briggs starving for fuel
10-02-12, 07:31 PM
Join Date: Oct 2012
Location: Usa
Posts: 2
Upvotes: 0
Received 0 Upvotes on 0 Posts
18.5 Briggs starving for fuel
---
I have a 461707 model Briggs, 2000-01 build date with a four bolt fuel pump. It has a fuel starvation problem, if it goes downhill, the float bowl runs out of fuel. I put a see thru filter in line( 3011 napa) and it will barely fill the bottom of the filter with fuel. I started with a good carb cleaning, ( it had the ethanol globs in the float bowl) inspected the needle and seat, checked the pump diaphragm for tears, hardened rubber or a plugged vent and it looked ok. I replaced all the fuel lines bc they were surface cracked all the way back to the tank and checked the tube inside the tank(it was ok).All the fuel connections are tight and the vacuum tube looks ok I'm not sure where to go next, if this is a common problem for this type of engine or if I can get away with a electric pump. Any help would be appreciated!!!!
10-02-12, 08:13 PM
Hello Sgrothxz,

First, Check your gas cap and make sure it's venting properly.

If so, Don't just check the fuel pump diaphragm replace it. You can get just a fuel pump repair kit, Be careful not to loose the small reed springs. I use a dab of grease on the centering pins to hold them in place while assembling.


Good Luck
10-03-12, 04:20 AM
OOPS !!!

Your right 38racing, The four screw part didn't register. Rough day.... [ATTACH=CONFIG]3951[/ATTACH]


Replacement of the pump body and diaphragm would still be cheaper than a electric pump if you have fuel and impluse to the pump......
10-03-12, 02:01 PM
Join Date: Oct 2012
Location: Usa
Posts: 2
Upvotes: 0
Received 0 Upvotes on 0 Posts
update: I did go ahead and put in a pump kit earlier today and replaced the hose that pulses the pump. It still is getting a very weak trickle through the filter, enough to keep the engine running but still the same starvation issue downhill. I did one of those 3 bolt pumps a few years ago, the lil springs are annoying, haha. I wasnt sure if a electric pump would work, i actually have one off of an onan but wasnt sure if it might be too much pressure.
10-03-12, 03:19 PM
Sgrothxz,
I've seen the viton tip on float needle valves swell larger from this ethanol thus dropping fuel level in the bowl, Remove the top and double check your float level.
With the top off see how much fuel is in the bowl area, It should be around 1/2 full.
If you flip the top up side down and one side of the float is way higher the needle is swelled and needs replaced, The paper element inside the fuel filter acts as a wick so the filter doesn't have to be full or even half full for the engine to run.
How steep is this hill your going down ?
Float adjustment specs;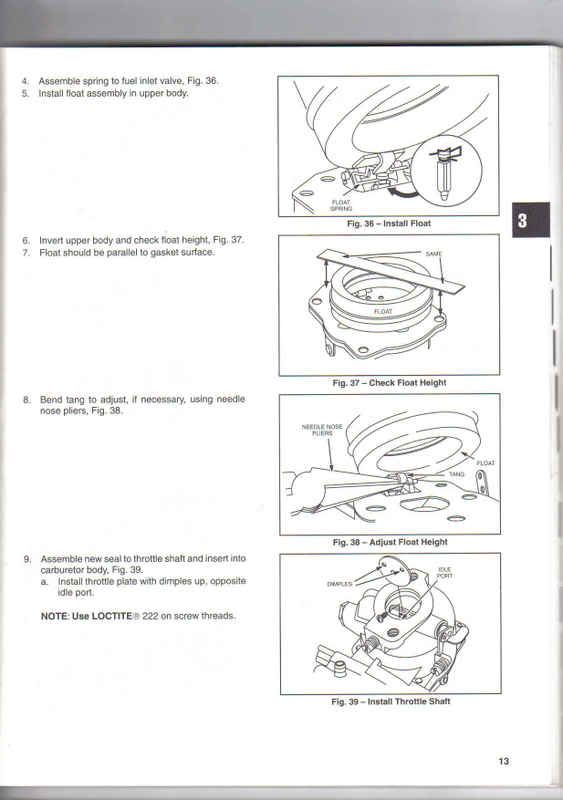 Good Luck