Craftsman / Brigg & Stratton Snowblower eats drive shaft bolt
02-09-13, 05:23 PM
Join Date: Feb 2013
Location: Canada
Posts: 3
Craftsman / Brigg & Stratton Snowblower eats drive shaft bolt
---
Bought a second-hand Craftsman snowblower, model c950-52430-3a (9.5 hp). I've used it 4 or 5 times and each time it shears off the bolt on the drive shaft - see part number 653 in attached file or at this link:
http://www.searspartsdirect.com/part...6&prst=&shdMod
=
Guy who owned it before had a shear pin in place of the bolt. When I saw this I assumed this was the problem – shear pin – but even when I replaced it with a correct sized steel bolt, same thing happened. Tried this twice and same each time, within 5 minutes of starting to use the machine. Anyone have any ideas on this?
Sponsored Links
02-09-13, 07:24 PM
Join Date: Nov 2005
Location: USA
Posts: 468
You need to use a grade 8 bolt & it MUST be long enough so that there are no threads in the sprocket use a lock nut. The bolt must be loose IE will spin & move back and forth. It would be best to get the OEM bolt! Part number 01X193MA
02-10-13, 06:27 AM
Join Date: Feb 2013
Location: Canada
Posts: 3
OK, thanks, will try the grade 8. The one I had before was probably softer and also part of tread was inside the sprocket hole. Sounds like you're right on.
But the OEM bolt shown is only untreaded to the first 3/4 inch. It needs to be about 1 1/4 or so to get all the way through the whole in the axel sprocket. I see that this was a substitution by the manufacturer, so leery about trying this part. I will measure and get correct length grade 8 bolt. Will let you know how it goes.
Thanks for this!
02-10-13, 06:28 AM
Join Date: Mar 2009
Location: USA
Posts: 628
The Craftsman
---
Make shure the wheels/axle turn freely, if you use it to repeatedly to ram into hard snow and ice, that will cause early failure. A little oil on those bushings might help. Good luck
Sid
---
Last edited by sidny; 02-10-13 at

06:31 AM

. Reason: Site said it was too short
02-10-13, 09:13 AM
Join Date: Nov 2005
Location: USA
Posts: 468
01X193MA should look like this!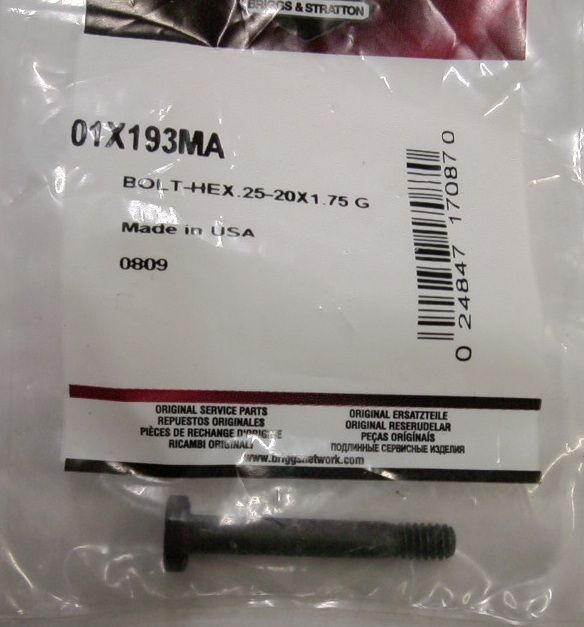 Please note that Briggs & Stratton now owns Murray the company that built your snowthrower.
02-10-13, 02:35 PM
Join Date: Mar 2009
Location: USA
Posts: 628
The craftsman
---
I just broke the same bolt today. On my Sears/Murray '66 blower. It originally was a roll pin that lasted 40 yrs, and the hurry up quick bolt I put in, lasted 6 yrs. I also will put in a grade 8 bolt long enough to get a full size bolt on the sprocket boss. If it lasts as long as the roll pin I will be happy. That Murray is a tough machine.
Sid
02-10-13, 04:14 PM
Join Date: Feb 2013
Location: Canada
Posts: 3
Yeah, that looks right. The picture on the Sears website has longer tread.

In the meantime I had a bolt with a lock nut that I tried today. It was way too long. Longer non-treaded part, but I extended the tread (tap and die), to where I had about a 16th of an inch movement once put on the sprocket. Then cut of the excess. Had snow overnight, so tried this one today and worked well. So we'll see what happens the rest of the winter. If this one fails I'll get the OEM bolt and nut. So far so good. Thanks for the help.
Posting Rules
You may not post new threads
You may not post replies
You may not post attachments
You may not edit your posts
---
HTML code is Off
---