Newspaper Stuck In Impeller
03-19-13, 06:00 PM
Newspaper Stuck In Impeller
---
Toro 824 two stage.
Anyone have a tip on getting a rolled up newspaper and plastic bag out of the impeller, wedged in the bottom?
I've pulled and pulled with a vice grip and all I get is little pieces that are hanging out. That thing must have quite a bit of torque.
I was thinking of pouring water on it so it falls apart but it's so damn cold it will freeze.
Thanks
03-19-13, 08:06 PM
Thinkin' an pullin'....that thing isn't coming out easily.
If I remove the two bolts through the shaft to the gear case.....
Then remove the big bolts on the auger.....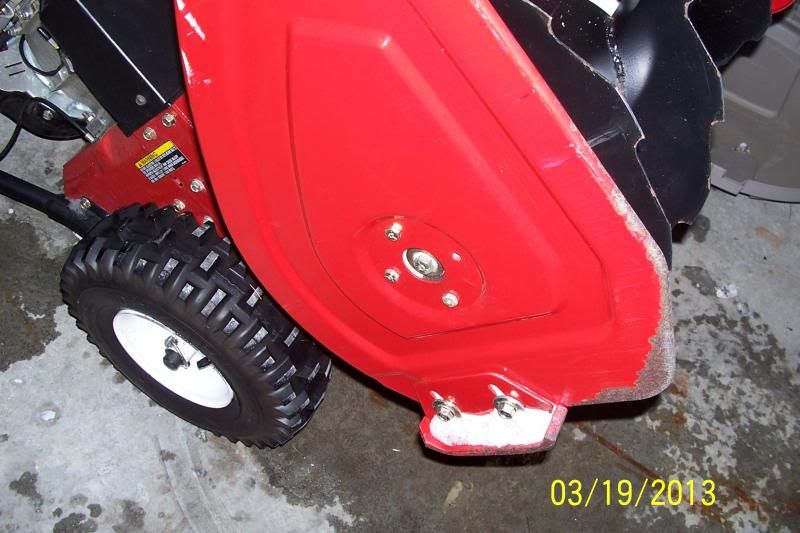 will the whole auger assembly just pull out the front or is there more to it? Take out the four smaller bolts on each side?
Thanks
03-20-13, 07:23 AM
The newspaper
---
There is a pulley on the other end of that shaft. You have to deside which is easier, remove the pulley, or keep picking at the paper. Try to rotate the impeller backwards with some wood or maybe a pipe wrench on the shaft. Try not to do any damage to the shaft or the impeller, although they might be bent a little already, hopefully not. I picked up a few things with my 46 yr old sears/murray, and a sunday NY Times was the worst. Good luck.
Sid
03-20-13, 08:22 AM
There is a pulley on the other end of that shaft.
Ah, I should have know it wouldn't be that easy. I have a needle-nosed vice grip here somewhere, guess I'll just have to do a little at a time. Darn thing is stuck on the very bottom and rather hard to get at.
Thanks
03-20-13, 08:27 AM
Join Date: Mar 2003
Location: NC, USA
Posts: 27,921
Just make sure the impeller is not under any tension that would cause it to move suddenly when you remove the blockage. I knew someone that lost some fingers that way.
03-20-13, 09:28 AM
Join Date: Mar 2003
Location: NC, USA
Posts: 27,921
Do you know anyone with a pressure washer? Maybe they could stick the wand in there. Maybe the high pressure water could soften, cut and blast the paper out of there.
03-20-13, 10:17 AM
No I don't but that is a heck of an idea.
If I had a way to load it into my pickup I'd take it to the car wash.
Then again...it is under a LOT of pressure. I was dragging the blower around my garage with the vice grips and it wouldn't move.
I bought that thing in 95 I think and never had anything stuck in there till this year. First a phone book, then a 1 x 4 and now this. Not my year.
Thanks
03-21-13, 04:35 AM
After hours of sitting on the garage floor I have all the paper out except directly under the impeller, that stuff is packed tight.
I'm gonna take my tool to the grinder and sharpen up a point to get the rest, I think. Hope I don't have to do this again.
03-23-13, 07:34 AM
Finally Got It Out
---
Unfortunately, I accidentally drilled a couple 3/8 holes in the bottom of the impeller housing. Shouldn't be a problem, maybe leak a little snow. I'll patch them with something from the outside when it warms up.
I took the shear pins out to give me some room and later found a brass bushing laying there.
1) Does the bushing go on the head end of the shear pin or the nut end? I didn't notice them when I took the nuts off.
2) Do the drums have to be aligned a certain way to each other or just line up the holes and insert the pins? Looked at Toro site and they don't even show the pins.
Thanks, hope I don't have to do this again.
03-23-13, 08:25 AM
Yep, I see where the bushing goes, the other one is still in there. The bolt can go in from either direction if it matters. It must have been on the head end, I think I would have noticed them when I took the nuts off.
For the auger drums, I'm wondering if they are set up so one side feeds the impeller then the other or both at the same time if that makes sense.
Seems to me the drums have holes at the 12-3-6-9 positions so one could be 180° off from the other, again if that makes sense.
I'll have to go out and look again, maybe I'm crazy.
Thanks
03-23-13, 08:37 AM
Never mind, looking at the picture above it looks like they alternate. I'll go out and see if I can align them like that. I've never paid any attention.
Thanks all. Have a sparkling day.