motor trying to freeze or battery? briggs and stratton 287707/mtd mower
04-23-13, 02:42 PM
Join Date: Jan 2013
Location: USA
Posts: 8
motor trying to freeze or battery? briggs and stratton 287707/mtd mower
---
Hello
i have a mtd 42" cut with a briggs 287707 14.5 on it, problem is, when i turn the key, motor will spin one time and stop, battery man says battery is good, i can spin the motor with my hand at top but it is very tight, like good compression, could i have your opinion on motor or battery causing this? Motor spins fast and free with plug out.
thanks
Sponsored Links
04-23-13, 03:13 PM
Hello cc3337,
Sounds like the valves may need to be adjusted, The mechanical compression release on the camshaft may not be functioning properly. This will cause the engine to spin as normal until the piston comes up to compression stroke then stops....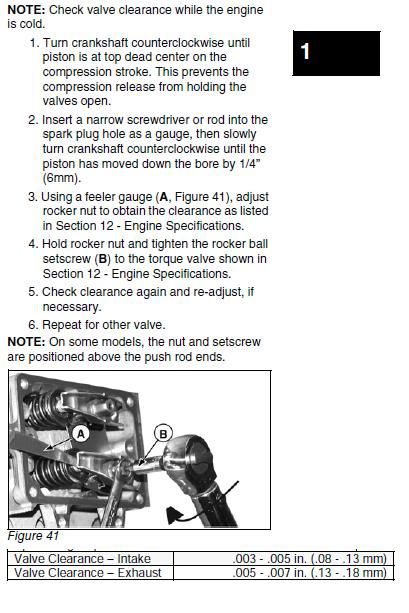 Good Luck
04-23-13, 09:41 PM
Agreed, time for a valve adjustment.
04-24-13, 05:31 AM
Join Date: Jan 2012
Location: Canada
Posts: 2,541
Just a quick question... How long has the mower been sitting (without being started)?

Ok, two questions... How did it run the last time it was running?
Posting Rules
You may not post new threads
You may not post replies
You may not post attachments
You may not edit your posts
---
HTML code is Off
---