Craftsman DYT4000 with Peerless LTH2000 Hydro Tranny - slips out of fwd uphill
05-14-13, 07:43 PM
Join Date: May 2013
Location: US
Posts: 15
Received 0 Votes on 0 Posts
Craftsman DYT4000 with Peerless LTH2000 Hydro Tranny - slips out of fwd uphill
---
I have a problem with the tractor "slipping" out of forward motion anytime I go uphill or otherwise load the drive (pulling a lawn sweeper). The tranny whines and forward motion stops, the operator control is still in the drive position. If I pull back on the drive control, and push forward again, the tractor will move forward until any work, other than forward on level ground. Reverse works OK, but come to think of it, I haven't tried backing up hill. I found a replacement H2000 transaxle, but I don't really know if that is the part failing. The other major (expensive) component of the drive train is the Hydro Module. Anyone have this trouble, and know which part is giving me grief? I've replaced the drive belt, and looked to see if the belt was moving while the tractor malfuntioning. The belt was in motion, and was turning the pulley on top of the Hydro Module, which is then connected to the Peerless transaxle....Thanks...Paul
Sponsored Links
05-14-13, 09:11 PM
Join Date: May 2013
Location: US
Posts: 15
Received 0 Votes on 0 Posts
Many thanks.....917.274640...DYT 4000 Briggs Straton 18.5 hp.......
05-15-13, 10:15 AM
Your Hydro 143.2000-006a Item #9 on the IPL, tec part# 786197 is bad, the sleeve connects the transaxle and the pump, the lever you pull to allow moving the mower slides the sleeve to one side to disengage the pump and transaxle, when you release the lever it is supposed to slide back in place, however it doesn't always complete the connection and when you start forward a little of the splines gets chewed off. There is a kit to replace several parts including the sleeve, I don't remember the part number for the kit, but if you just replace the sleeve and make sure to rock the mower after it has been in neutral to make sure it is engaged it will last a ling time. Refer to the pics below to see what I mean. Have a good one. Geo
In this pic the sleeve looks good.
In this pic you can see the splines ground down.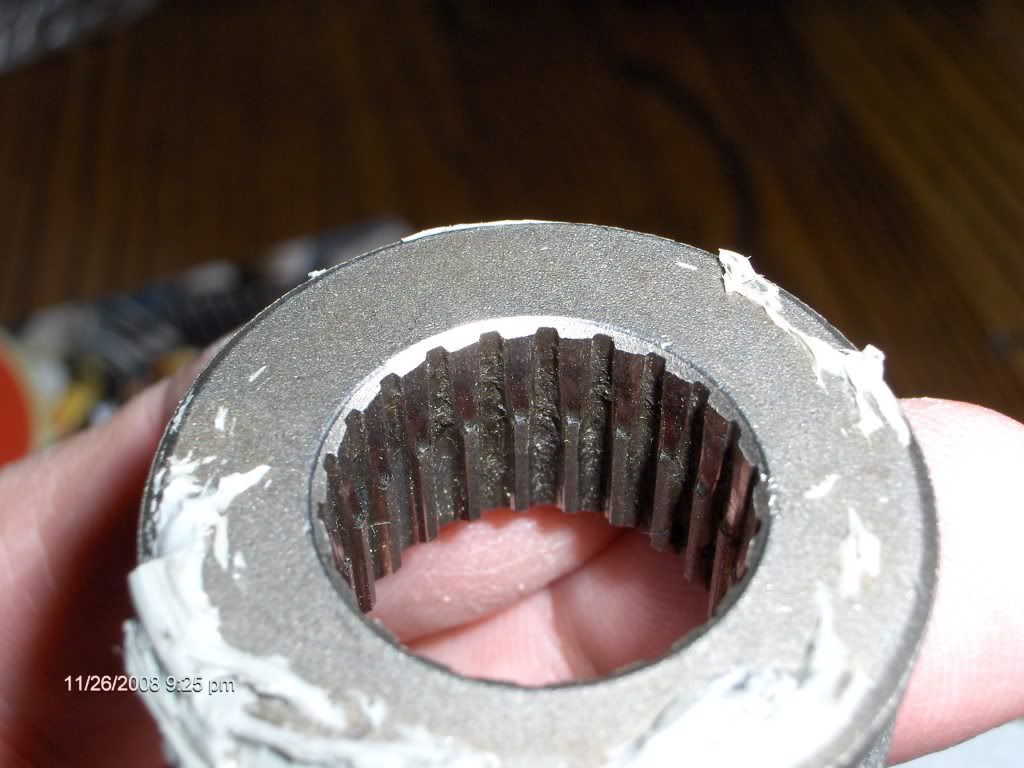 05-15-13, 11:30 AM
Join Date: May 2013
Location: US
Posts: 15
Received 0 Votes on 0 Posts
Thank you. So I am assuming replacement of either of the major components is un-necessay, but removal of the transaxle and Hydro module is required. Then disassembly of transaxle to get to the sleeve, replace, re-assemble. I would also assume the kit you refer to contains new seals, gear oil, silicon gasket sealant. Any idea where I may find the kit...? I was hoping for a less major repair, but......I appreciate your help..I've never dove into a transaxle before...we'll see. Thanx again, Paul
05-15-13, 12:52 PM
You must remove the transaxle, the hardest part is separating the halves of the trans, there are slots in the case to insert a screwdriver or something to pry with. If you set the trans level and are careful when you separate it the oil stays in the bottom, carefully lift up the shaft with the sleeve, slide the old one off, slide new one on and carefully reset the shaft. Apply some sealant to the case halves and put it back together. The kit is part #799032, here is a link to a picture of the parts in it. I only replaced the sleeve(786197) on mine. Have a good one. Geo
http://outdoordistributors.com/parts...TEC-799032.jpg
05-15-13, 02:44 PM
Join Date: May 2013
Location: US
Posts: 15
Received 0 Votes on 0 Posts
You may have been right the first time,,,,this may be my lucky day!! Thank you....Paul
05-18-13, 08:41 PM
Join Date: May 2013
Location: US
Posts: 15
Received 0 Votes on 0 Posts
I don't imagine you can spell out any general step by step instructions on removing the h2000 to make the repair. It would be helpful. I've got the wheels off...Ha....ways to go yet, eh? Thanks, Paul
05-19-13, 01:21 PM
Join Date: May 2013
Location: US
Posts: 15
Received 0 Votes on 0 Posts
Well thanks for the tip anyway....Hope it works...Adieu, Paul
Posting Rules
You may not post new threads
You may not post replies
You may not post attachments
You may not edit your posts
---
HTML code is Off
---