Governor Spring Location - Briggs 6.5, 123K020181E1
05-26-13, 03:21 PM
Join Date: May 2013
Posts: 4
Governor Spring Location - Briggs 6.5, 123K020181E1
---
Hi everybody. Joined the forum because I'm having an issue with my mower. It's a 6.5hp Briggs and Stratton engine. At least ten years old. You'll have to excuse me as I'm not exactly very handy. Please let me know if I'm leaving out important information.
I was cutting the grass and ran head-first into a low-hanging branch. The engine cut out. I thought it was the spark plug...it's happened before where the wire will get pulled out. But that wasn't it. I tried starting it, but it wouldn't start.
So I started taking it apart. I think it has something to do with the governor spring as that's the area the branch went into. Since I started fooling around with it, now I don't know how the spring is supposed to go. I can't get it to where the tension is correct. I can start the mower and play with the spring and get it to stay running but when I let go, it dies. At one point, I had it where the engine would rev up, then down, then up, etc.
From what I can tell, there's nothing missing. I tried to find a picture online of how it's supposed to look but couldn't find one. I did see some engines that had two springs...I only see one on mine but I don't see a place where a second one would go.
Here's a photo:
http://www.mikescandywrappers.com/mower2.jpg
Hope that helps. Model is 123K020181E1. I've tried the B&S website for parts and owners manuals, but they weren't very helpful. I think I just need to know how to reattach the spring. Thanks!
Sponsored Links
05-26-13, 03:40 PM
Welcome to the forums.
Did you try hooking the spring on that existing hook ?
05-26-13, 05:47 PM
Join Date: May 2013
Posts: 4
Thanks for the reply. Yes, I tried getting back on the hook. I should have been clearer. That's what I meant when I said I could get it going if I played with the spring. I'd attach it the best I could, but there never seemed to be enough tension no matter how I attached it. I could start the mower and see how it was supposed to work. I could (again, sorry for lack of technical knowledge) play with the thing that the spring attaches to and see that it needs to move back and forth to control/manage the idle. I'm not sure how TO attach it. Any way I try, it doesn't work...doesn't have enough tension to be able to adjust itself as needed. Does that make sense?
05-26-13, 06:33 PM
At the other end of the spring, it is connected through a hole stamped in the sheet metal. This hole is on a tab that got bent. Bend the tab back away towards the front of the mower to increase engine speed.
05-27-13, 09:23 AM
Join Date: May 2013
Posts: 4
Awesome...thanks guys. Bent the arm back in place, attached the spring, and it's good. So, standard ending...good news, it works. Bad news, I had to finish cutting the grass.

Thanks for the help!
05-27-13, 01:11 PM
Join Date: May 2013
Location: 96792
Posts: 2
Briggs & Strattom model 09s502-1020- b1 engine
---
I have the same problem with the governor spring location. I have two springs on this engine
05-27-13, 03:28 PM
Join Date: May 2013
Posts: 4
05-27-13, 04:00 PM
Join Date: Jun 2006
Location: St. Louis
Posts: 2,365
Here is a pic for reference. Have a good one. Geo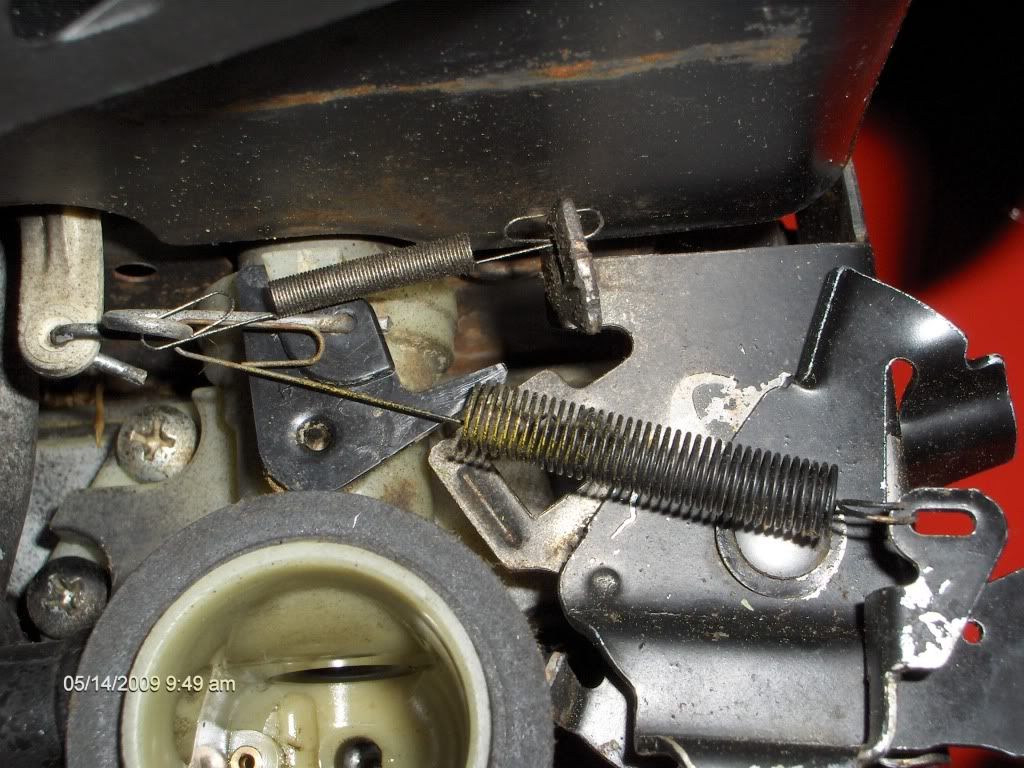 05-28-13, 02:11 AM
Join Date: May 2013
Location: 96792
Posts: 2
That is exactly what I needed. Thanks for the picture. now
---
That is exactly what I needed. Thanks for the picture. Now that I seen the picture I remember that's where it goes.
Posting Rules
You may not post new threads
You may not post replies
You may not post attachments
You may not edit your posts
---
HTML code is Off
---