Craftsman mower dies after running for 3 - 5 seconds (starts only when primed)
06-08-13, 04:05 PM
Craftsman mower dies after running for 3 - 5 seconds (starts only when primed)
---
I have been trying to fix this mower myself, on and off, for a couple of weeks. At the start of the season the mower started right up and worked great. I was mowing the lawn and suddenly the mower died. Thinking it was out of gas I add more only to have it not started. I primed the engine and it ran for about 5 seconds, the kills. I have replaced the spark plug, drained the gas tank, ran gas through the fuel line, cleaned the air filter, even looked at the carb, which looked good. Still the mower only starts when primed and runs for 3 - 5 seconds. I am out of ideas. Anyone else help me out?
Sponsored Links
06-08-13, 05:33 PM
Hello Stephen,


Sounds like the main jet is clogged with a piece of trash, The main jet is the float bowl retainer screw. Remove the bowl screw and you'll see two holes in the side and one smaller hole in the center, Use a small piece of wire and make sure all three of these holes are fully open then try starting again.


Good Luck
06-08-13, 08:01 PM
Thanks for the reply - just pulled the screw from the float bowl, ran a small piece of wire through the holes, and into the top hole, multiple times. Still getting the same result. other suggestions?

Thanks!
06-08-13, 08:11 PM
You probably missed the hole that is the problem, it is almost invisible especially id the nut is dirty, I use the wire from a twist tie to clean it, refer to the pic below. Have a good one. Geo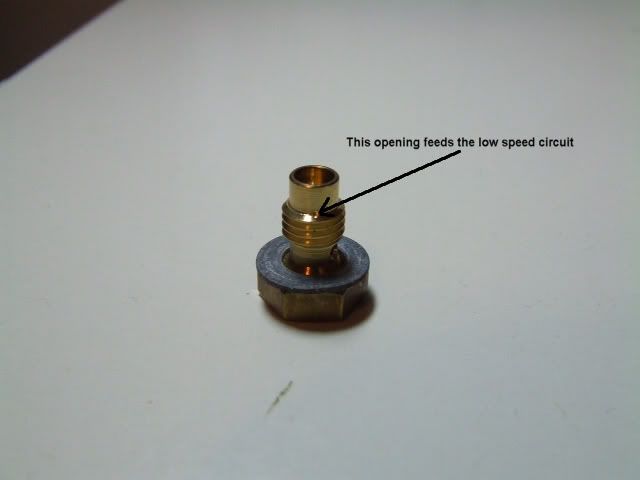 Posting Rules
You may not post new threads
You may not post replies
You may not post attachments
You may not edit your posts
---
HTML code is Off
---