I've Got A Stumper
07-06-13, 02:04 PM
I've Got A Stumper
---
That's right..... I'm stumped !
I've got a Deere pressure washer at the shop that has lost pressure, It's a model AR RSV4G40 pump.
First thing I found was a broken jet spring #24 below, Then collapsed valve springs #35 below. After replacing these two item numbers I get 3800 lbs with the wand depressed but once the wand is pressed pressure drops to 500 lbs, I've tried a new wand-hose and 3 different GPM size tips with the same results.
I then tried a known working unloader off another machine and still the same results, I then thought maybe the EZ-start valve was acting up and replaced that as well with same results.....
My question is;
Has anyone ran across the water seals sucking air without leaking water ?
I have no water leaks anywhere on this machine and the only thing left to replace is the water seals, I'm to the point I don't know if water seals is the fix and hate taking the gamble.
Sooo..... Is there anything else I may be missing ?
Thanks,
31
07-07-13, 05:58 AM
You might try gravity feeding the intake on the washer and see what you get. That would eliminate any air draw on that side.
07-07-13, 07:13 AM
You're pressure feeding it with the hose, then? Gravity feeding wouldn't do anything. Why do you think it may suck air, cutting pressure?

Just reading back through this. If you're getting 3800 lbs of pressure, the pump isn't worn past that point, so the the problem would have to be in flow to the pump or relief. Relief would include discharge. That's just applying layman logic.

We're bound to have some pump guys around here to offer suggestions.
---
Last edited by marbobj; 07-07-13 at

07:29 AM

.
07-07-13, 08:30 AM
marbobj,
Why do you think it may suck air, cutting pressure?
Because I've replaced everything as listed below in AR's trouble shooting guide to include the jet and spring and EZ-start valve, Except the water/packing seals.....

I've never ran across a pump doing this sort of thing after replacing nearly everything in it, That's why I'm wondering if the water seals/packing can suck air without leaking water.....
Heck..... We have a 17 year old 1500 Cat pump for shop use, The guy's never get the water hose on tight and with a steady drip/stream still works just fine.
Thanks,
31
07-07-13, 09:02 AM
I see where you're at, tech. You'd have a wider range of possibilities if you couldn't get the 3800 lbs at any point.

Wish I could be more help. So far, I've never seen anything someone else hasn't ran into and came up with a fix. Someone will chip in.
07-07-13, 10:31 AM
Join Date: Jul 2001
Location: USA
Posts: 15,838
If you get 3800 at any point, I'd be thinking the pump is fine, but there is some restriction at the supply side. I'm thinking the volume is too low and the pump is discharging it through the wand faster than it can take it in from the supply side?
07-07-13, 01:04 PM
Join Date: Mar 2006
Location: Wet side of Washington state.
Posts: 16,321
Suction valve not seating on one or two cylinders could still allow the third cylinder to make 3800 psi dead-ended but not allow the pump to flow full volume at pressure.
07-07-13, 04:57 PM
Thanks Mr Cheese,

I will try another water outlet closer to the well pump and see what happens.


Thanks Furd,

I installed new valves and have rechecked them, I have another new set. I'll replace the suction side again if another water outlet yields no change.


31
07-07-13, 06:12 PM
Join Date: Jul 2001
Location: USA
Posts: 15,838
I figure you would probably notice if the volume from the outlet wasn't enough. I was thinking more of clogged screen at the inlet, or something in the pump at the supply end that is clogging it some?
07-07-13, 06:54 PM
Well Mr Cheese,

I actually didn't check the outlet volume since I test most all pressure washers at this same outlet, But I didn't eliminate it as a possibility either since our showroom AC unit runs on water and I now have a sprinkler system running on the hot tin roof.

Machine has a new inlet screen installed..... I also had the pump head stripped bare and checked for anything out of the ordinary.

Thanks,

31
07-07-13, 07:25 PM
When you trigger the wand the pressure drops from 3800 to 500, then, with release, goes right back up to 3800 - back and forth between the two pressures with the wand triggering?
07-09-13, 07:36 PM
OK Fellas..... I got this thing sorted out today !
I'm going to share what I found in hope that no one else
like I did, Please excuse the blurry pics for my camera is old and cheap.....
First off, I looked up a new valve kit from AR's website in PDF format and ordered it in. Hmmm..... They had "updated" the valves in which the new kit included three new valve caps.
Here's a pic of the old valve on the left and new style on the right;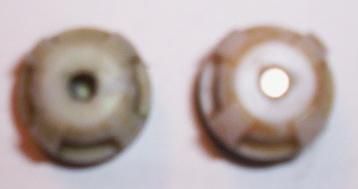 Notice the hole in the center of the left cage assembly and a silver pin/shaft in the center of the right.
Here's another pic with a valve assembly taken apart to show the old style valve disc on the left and new style valve disc with a pin/shaft on the right;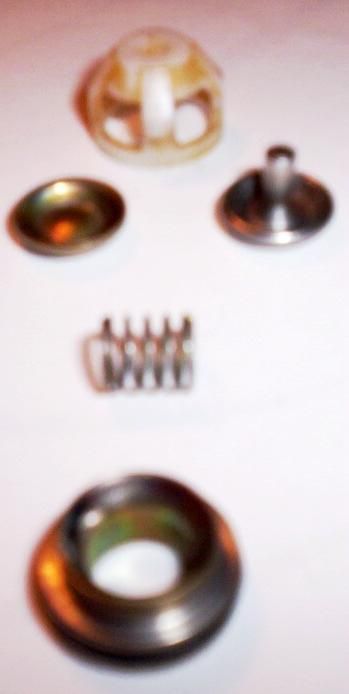 The new valve caps have a hole machined in the center for this pin/shaft to protrude into while running, This morning I removed the valve caps again and looked at the top of the cages, I found that two pins/shafts were flush with the top of the cage but one was sticking up slightly;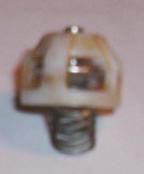 The spring was removed and used to prop the cage up for the pic, The valve disc pin/shaft is bent and the other two pins/shafts were mushroomed where they couldn't move freely up and down in the cage.
I credit this to a faulty manufacturing process, There's no possible way I did this type damage by lubricating the o-rings and pushing the valves into the head with my finger.
Moral of the story;
Check each and every new valve to make SURE this pin/shaft slides freely through the cage hole before installing......
31