Peerless Hydro Pump IPL
07-09-13, 05:41 PM
Peerless Hydro Pump IPL
---
The following hydrostatic tranny is on a Craftsman riding mower.
Peerless
H2000-006A
Silent Trac
42300849

I am looking for any drawing, IPL or otherwise for the pump itself 6892P91 (6731-P1 stamped on pump case)

Thx for any help.
Sponsored Links
07-09-13, 08:07 PM
You can find the IPL for the tranny at the sears partsdirect.com, if the mower will not move forward but will move in reverse, the problem is the neutral sleeve not the pump. Have a good one. Geo
07-10-13, 05:14 PM
Hi Geo,
I know I have been gone awhile but, have I also been forgotten
I know of sears site and many others. We have the diagrams for the tranny.
I was hoping for some magic from cheese or 31yr tech
or any one else for that matter.
A friend at work is working on this and asked me if I might be able to locate the fore mentioned drawings.
I have little information as we are on opposite shifts this week, but I will inquire further and or lead him here.
Thx for the reply geo,
btw, would you be so kind as to post a link to those fab pics you took of the Tecumseh main jet holes to clean??? Another friend from work has a craftsman wheeled string trimmer, 6.5HP Tecumseh. I gave him thorough instructions including the one often missed hole but he admits he did not find it and has not been able to bring the trimmer in yet, so I would like to send him some fine pics.
TIA
Az
07-10-13, 05:51 PM
Sorry, thought Geo got you pointed where you need to go. I pulled my tecumseh book out and I see no info on that unit. I don't think it is intended to be serviced, so they don't offer an IPL?
07-10-13, 07:11 PM
Hey BFHFixit,
Still at it huh ?!?!
I believe Mr Cheese is on the right track with this pump being non serviceable, Even with my vast database.....I couldn't pull a hat trick on this one.
Sorry Bud.....
But.... I do have these handy;
31
07-10-13, 07:29 PM
07-10-13, 07:33 PM
What you will find is the sleeve looks good on one side but is ground out on the other as it wasn't completely engaged after being moved. Have a good one. Geo
the sleeve looks good here.
not so good here.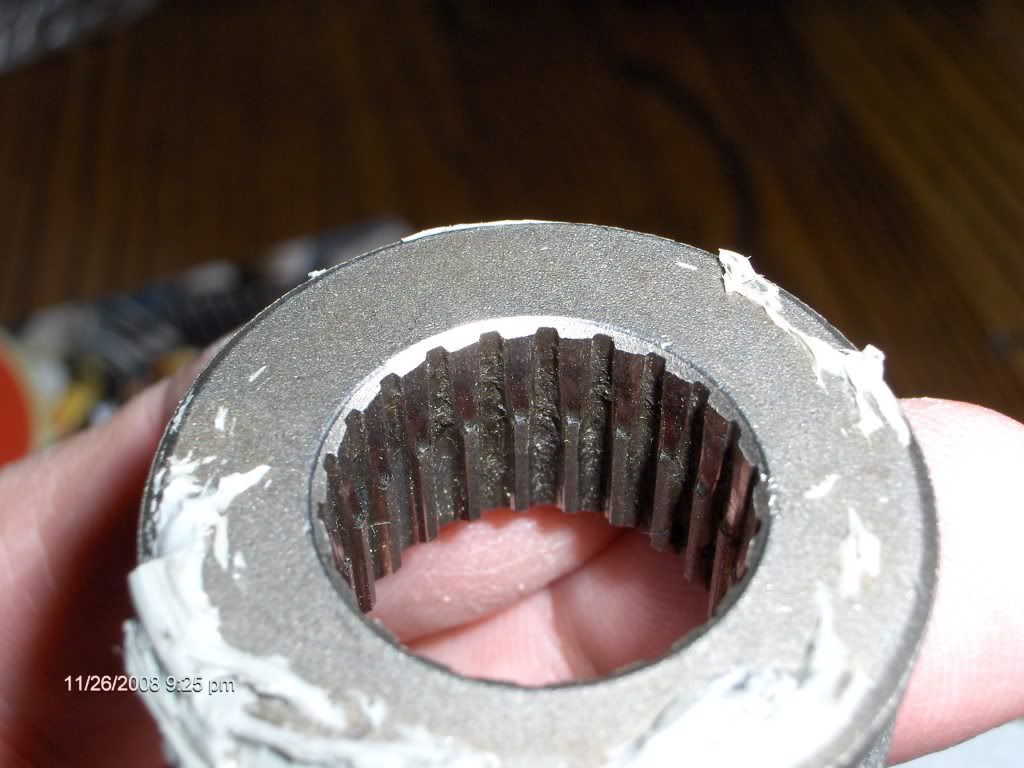 07-10-13, 10:37 PM
Very nice all and thx so much! Happy to see all willing to come to my rescue
Again I will inquire further and report back.
Much appreciated!
Az
07-10-13, 11:56 PM
Glad to see you by the way... I didn't even realize it was you asking the question when I looked at it originally... I normally don't pay that much attention to the member's name, just the question.
07-17-13, 08:33 PM
Thanks again all for your replies,
I have given my buddy all the info and just emailed him links to this board and this thread so, hopefully he will soon be a member and twist your brains as I hope I have from time to time. His name is Mike D.
I bragged you folks up and I know justly so
Az
Posting Rules
You may not post new threads
You may not post replies
You may not post attachments
You may not edit your posts
---
HTML code is Off
---