Snowblower Retrofit??
01-07-14, 09:55 AM
Join Date: Nov 2004
Location: NE Massachusetts
Posts: 202
Received 0 Upvotes on 0 Posts
Snowblower Retrofit??
---
I have a 12 HP 33" Noma snowblower (made by Murray of Canada). Model number is 1233DE. It's a bruiser. It's one of those things whose performance you swear by and whose weight you swear at. Turning this thing 180 degrees repeatedly on mostly clear blacktop gets really tiring.

So I'm wondering if it's possible to remove the original auger gear box and replace it with a gear box that incorporates a differential. I know easy-turn snowblowers are available but I haven't researched them at all--I assume they just use a differential. Or maybe they add a clutch mechanism to allow free-wheeling? Anyway, is it possible to retrofit one of those mechanisms onto my snowblower?
01-07-14, 10:21 AM
The auger gear box is the snow throwing part of the machine wouldn't help to put a diff in that.
You would need to replace the axle with one with a differential. You would need to find an old Murray made John Deere & take out the axle replace yours and the axle bearings and you would need to use the John Deere wheels. parts look like this: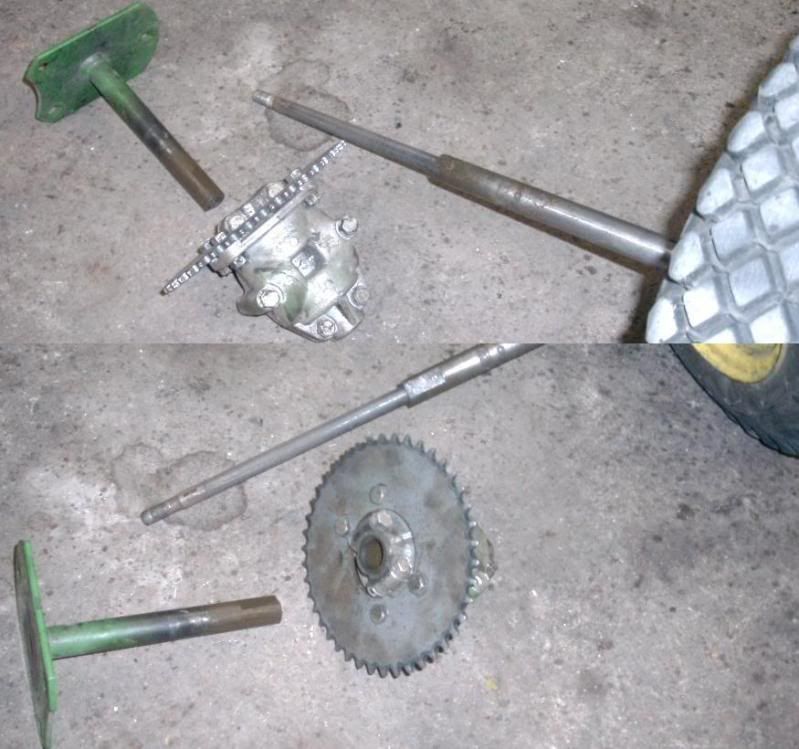 01-07-14, 06:40 PM
Join Date: Nov 2004
Location: NE Massachusetts
Posts: 202
Received 0 Upvotes on 0 Posts
Hey aj,

This is a perfect example of why you shouldn't be in a hurry when you write things. Sorry about the brain fart on the auger gear box vs. the drive axle.

Thanks a bunch for the photos. This approach sounds like quite a bit of work. I'd need to track down the differential axle, drive half-axles with wheel plates, axle bearings and the JD wheels. So I guess Murray never made any snowblowers with differentials with the Murray name on them?

Any possibility of finding a clutch I could install in the drive axle? I guess I'd need to cut the drive axle in two and add a control cable to operate the clutch. Are there any snowblowers that use this approach?
01-08-14, 05:03 PM
The Retro fit
---
I have often thought about doing this job, but when you put in a differential. you will loose half of your wheel traction, when ether of the drive wheels looses it's traction, even if it's for a second. I put up with the chains scratching the concrete in my garage, so i can have full power at the wheels. I think all that work would not be worth the effort, and I am not afraid to do jobs like that. Good luck driving into those big drifts and road plow drifts.
Sid