lawnmower gasoline motor - alternator - battery connections
01-26-14, 11:37 AM
Join Date: Jan 2014
Location: Belgium
Posts: 2
lawnmower gasoline motor - alternator - battery connections
---
Hello,
I am trying to make a remote controlled lawnmower.
It's my first project, so I have some questions that are probably not to difficult to answer..
I want to attach a alternator from a car to the gasoline motor of the lawnmower.
with this electrical power I want to charge a battery, to power the electrical motors for the wheels.
Today I bought a used alternator, but I'm not sure how to connect it (the electrical part):
it's a Bosch 0 120 489 360.
I see following connections:
B+: output voltage?
D+: 2 connections, one next to the B+ and in the other the black square is plugged in?? Is the D+ to power the electromagnet?
W: no idea?
on the white plastic board, is written KE, are the screws on the plastic board connections?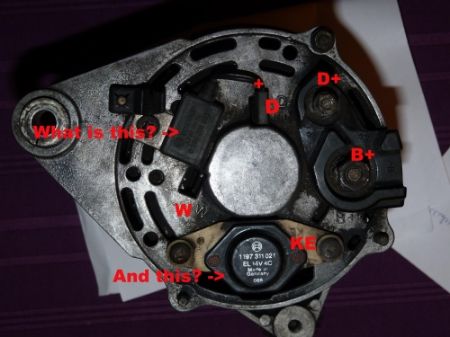 I found this scheme online: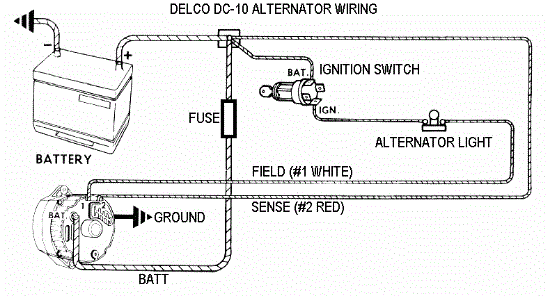 source:
http://www.chargerr.com/Alternators/ALT.HTM
my questions:
-are the connections I mentioned correct?
-Is the scheme correct? so I need to connect the negative side of the battery to the casing of the alternator (ground?)?
-Does an alternator regulates its own fieldcurrent? How? I just need to connect it to the battery as shown in the scheme?
Hope someone can help me out..
Thanks,
Sponsored Links
01-26-14, 12:33 PM
Join Date: Mar 2005
Location: USA
Posts: 43,842
Welcome to the forums!
I don't have any answers for you
but I do have a couple of questions.
What type of lawnmower? what size engine? how do you intend to hook the drive belt from the alternator to the lawnmower engine?
01-26-14, 02:51 PM
Join Date: Jan 2014
Location: Belgium
Posts: 2
marksr,
it s a standard lawnmower (the kind you walk with, but don't sit on), it has 4.5 HP..
for the transmission of the alternator; there is already a pulley connected on the motorshaft, this is connected with a belt to the rear axle to drive the wheels.
I plan to mount the alternator behind the motor so the belt can drive the alternator instead of the rear wheels.
I will take a picture tomorrow, that will be easier.
01-26-14, 06:13 PM
You really should get a cheap AC delco self-exciting one wire alternator. You won't have anything other than one wire going to it.
01-27-14, 04:04 AM
Join Date: Mar 2005
Location: USA
Posts: 43,842
I know a lot can be done with pulley sizes but can you get enough speed out of the rear pulley to adequately power the alternator?
Posting Rules
You may not post new threads
You may not post replies
You may not post attachments
You may not edit your posts
---
HTML code is Off
---