Poulan 2000 chainsaw unstable idle
09-24-14, 10:26 AM
Join Date: Nov 2007
Location: MI
Posts: 2,529
Poulan 2000 chainsaw unstable idle
---
I picked up a new-looking chainsaw at a garage sale for $10. Owner said it hadn't been started in years. I replaced the gas & air filter and it starts easily enough. The problem is I can't seem to settle on a mixture screw & idle stop setting because once set the idle will slowly either speed up or slow down and force another tweak.
It seems to run strong & steady at WOT.

Could a bad diaphragm cause this symptom? I've never encountered this exact problem before.

It's got a Walbro carb & I think Poulan used a Tecumseh engine.
Sponsored Links
09-24-14, 10:50 AM
Join Date: May 2006
Location: Iowa!!!!!
Posts: 3,728
It could be an air leak at either the carb gaskets or the crank seals. Try spraying a little WD40 around those areas and see if there is a change in rpms.

If the engine has low compression due to ring wear it can cause about the same thing. The blowby from the combustion chamber would mess up the crankcase pressure/vacuum and that would cause idle problems. At WOT everything moves through so fast you wouldn't notice.
09-25-14, 06:33 AM
Join Date: Nov 2007
Location: MI
Posts: 2,529
Maybe another piece of the puzzle--is it normal for a little atomized fuel to spray out the carb intake when I rap on the throttle? This is with the cover & filter removed so normally it would just get inhaled again.
I seriously doubt there's much chance of wear--except for a little sawdust/oil paste under the clutch cover this thing looks unused with no paint missing, original bar showing no wear. I suspect the carb just because it sat so long with fuel in it.
I had some reservations about this compact saw, mainly because it doesn't have a primer bulb but the choke lever on it allows it to run open, closed or anywhere in between and this is really handy during warmup. All my other chainsaws, trimmers, blowers, etc are full-on/off-only chokes.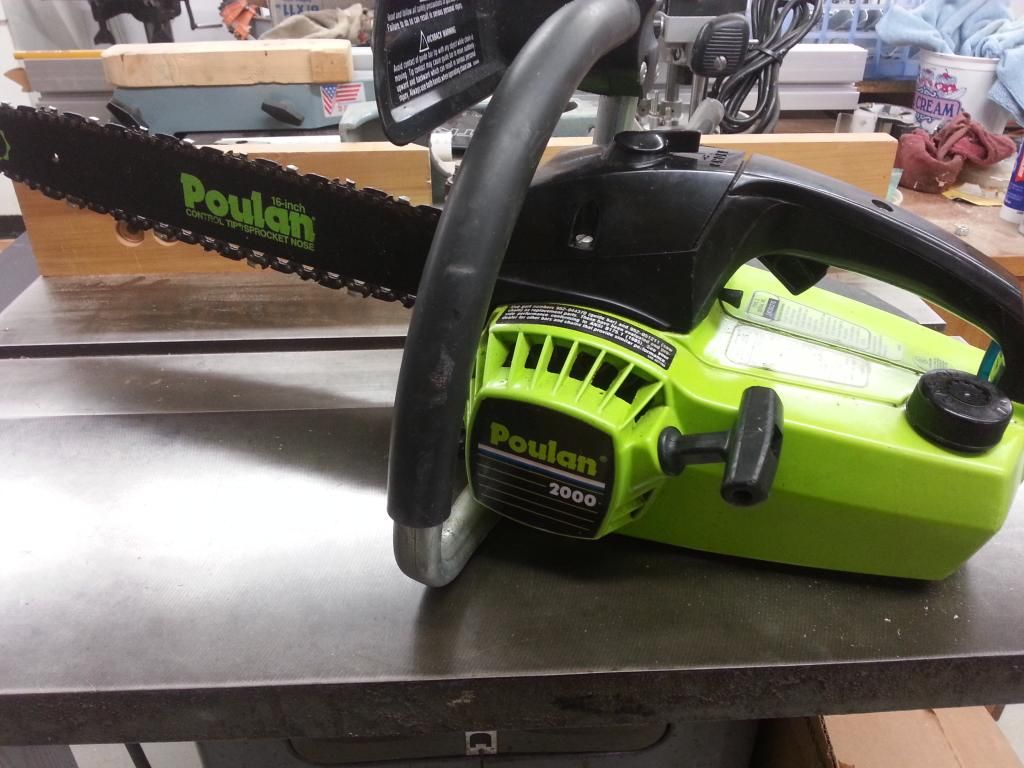 09-25-14, 09:03 AM
Join Date: May 2006
Location: Iowa!!!!!
Posts: 3,728
Yep you can have a bit of air/fuel coming back at you. That is a miniature pulse that comes back from the airflow being stopped in the cycle change. The air is moving towards the intake, the piston cuts it off, the air flow backwashes the little bit of fuel back towards the filter. When you're running it you wouldn't notice that.
09-27-14, 07:58 AM
Join Date: Nov 2007
Location: MI
Posts: 2,529
I think I got it finally. I started over from both screws open 3/4 turn and fiddled till I found its "happy place".
It's also possible there was some crud in the carb that finally worked its way out.
09-27-14, 09:17 AM
Join Date: May 2006
Location: Iowa!!!!!
Posts: 3,728
There's some other posts back a while that deal with tuning the carburetor. If you can't find it let us know and I'll repost it.

Once you get it so it runs pretty good at idle and full throttle, it's critical to set the adjusting screws out from max rpms to bring it down a little. That's to get a slightly richer mixture for lubrication.

Too many times a carb gets set for max rpms and scores the cylinder/piston. Just 1/16 turn out would prevent it.
09-27-14, 09:12 PM
Join Date: Nov 2007
Location: MI
Posts: 2,529
Posting Rules
You may not post new threads
You may not post replies
You may not post attachments
You may not edit your posts
---
HTML code is Off
---