clean spark arrestor in a Craftsman trimmer
09-29-14, 11:11 PM
Join Date: Sep 2014
Location: United States
Posts: 1
Received 0 Votes on 0 Posts
clean spark arrestor in a Craftsman trimmer
---
I have a craftsman model 358.795800 bushwhacker 32cc trimmer and would like to clean the spark arrestor since I have read that it will avoid many problems.The problem is I'm not sure this unit has one and if it does I have no idea of how to access it, even though I know it resides in the muffler.

I have seen videos of other brands and to access the arrestor screen all you need to do is simply to remove the muffler guard which is either a pull out cover or accessed by removing a couple of screws. But in this model I see no way of accessing the muffler short of a major dis-assembly.

Can someone shed some light into how to access the screen and clean it?
Is it easy to remove?
Thanks
Sponsored Links
09-30-14, 07:18 AM
Join Date: Nov 2007
Location: MI
Posts: 2,614
Received 0 Votes on 0 Posts
The replacement muffler for your trimmer looks like this and comes with a new spark arrestor screen: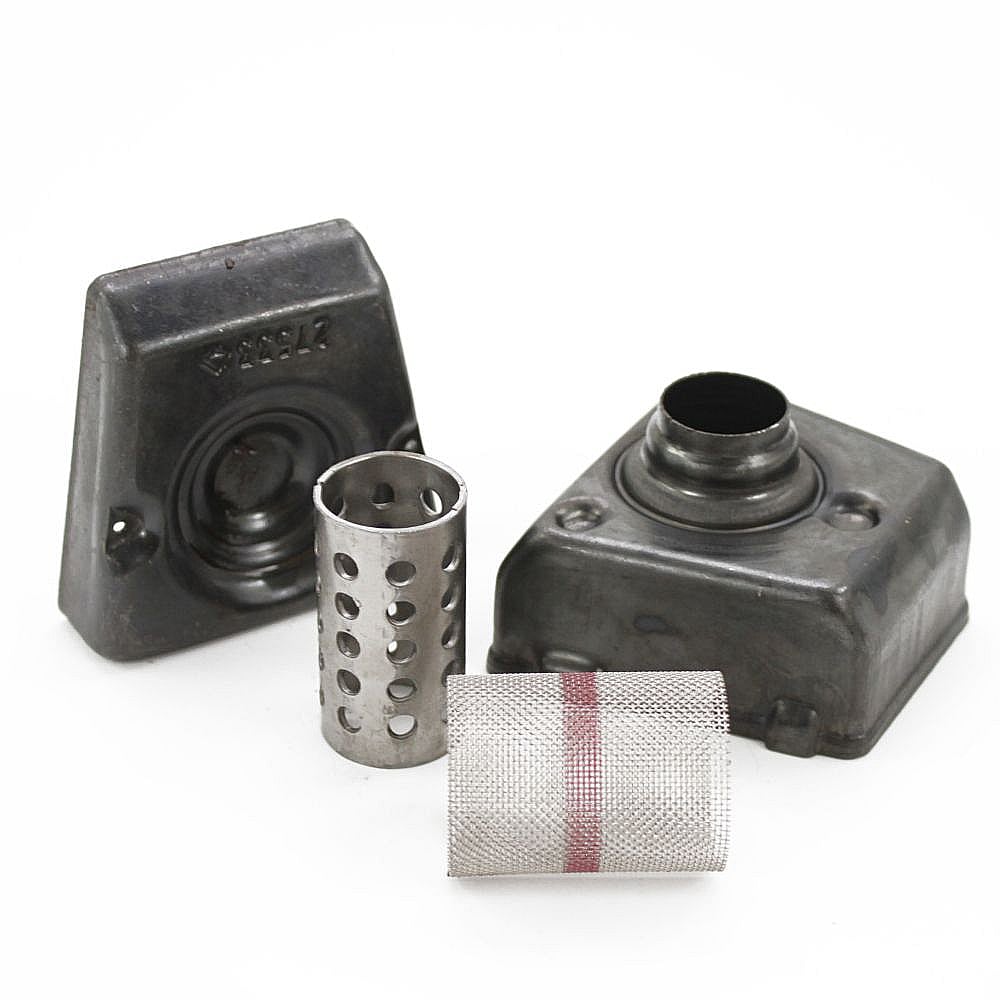 Found here for $9.82:
Replacement Muffler #530069310 for CRAFTSMAN Lawn & Garden/Yard/Farm #358795800 | SearsPartsDirect
Looks like 2 screws hold the ass'y together and to the cylinder.
09-30-14, 09:31 AM
Not to be rude but that's not a terribly high quality or expensive machine. The parts diagram is available online and if you are not comfortable with the disassemble to get the muffler out I would not bother. You may never have a problem with the screen so I think it's a bit extreme to try taking it out to clean it especially when it's not needed. Face that problem if it ever occurs. I would bet you're likely to run into carburetor problems before the screen becomes an issue.

---
I don't know of any specific carb issues with that machine but in general those tiny carburetors are sensitive to clean fresh fuel. Let it set over winter with fuel in it and the spark arrestor will be the least of your worries.
09-30-14, 11:04 AM
Join Date: Jan 2010
Location: North East Kingdom of Vermont
Posts: 2,533
I've had a few inexpensive trimmers die on me because the muffler bolts loosen up and begin rattling around destroying the threads in the head and making it impossible to keep the thing alive. I've re-drilled and tapped the muffler holes to re-mount it; but most have sleeves inside the muffler to prevent the muffler from being crushed . . . . so larger mounting bolts aren't such a great solution.

My advice, is use some high temp Lock Tite on the Muffler, and remove it as seldom as possible.

Right now, I'm seeing the rationale for the mufflers that are held on by "springs", even though they present issues in safely installing and removing them.
09-30-14, 04:30 PM
Join Date: Jan 2010
Location: North East Kingdom of Vermont
Posts: 2,533
Originally Posted by cheese
This muffler IS held on by springs.
Well then that's a good thing; and this is probably a Poulan Trimmer underneath.
What kind of steel must they make these springs out of in order to keep their strength while being subjected to such heat as that produced by the muffler ?
Posting Rules
You may not post new threads
You may not post replies
You may not post attachments
You may not edit your posts
---
HTML code is Off
---