Ariens ST824 with Tecumseh HM80 Engine - No Start
11-02-14, 09:13 AM
Join Date: Nov 2013
Location: USA
Posts: 2
Ariens ST824 with Tecumseh HM80 Engine - No Start
---
So, I inherited an old snowblower a few years ago and it had been working great. Last year I noticed that the engine was hunting so I took a look at it. I ended up rebuilding the carburetor and was able to get it started a few weeks ago.
Being a lazy person, I purchased an electric start for the HM80 engine and hooked it up. The starter appears to be working correctly (the engine turns over and I can feel air coming out of the exhaust) however It will not start
I've checked the carb and there's fuel in the bowl but I'm wondering if something else is going on. I thought maybe I had a kink in the gas line or something (saw a large air bubble in it) so I cut it to be a bit shorter. Interestingly it started and gave a few revs before petering out. I'm out of ideas at the moment so I thought I'd turn here.
If you could help I'd appreciate it!
Sponsored Links
11-02-14, 12:19 PM
Join Date: Jun 2006
Location: St. Louis
Posts: 2,365
When you cleaned the carb did you make sure the bowl nut was clean,it is the main jet and the tiny hole near the top is usually the problem, it is almost invisible, I use the wire from a twist tie to clean it, refer to the photo below. Have a good one. Geo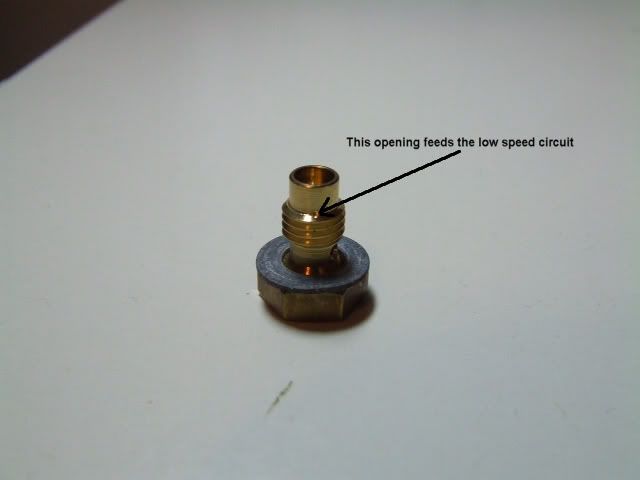 11-03-14, 05:17 AM
Join Date: Nov 2013
Location: USA
Posts: 2
Thanks for the reply! Didn't notice that, but I ended up replacing that nut with the carb kit. I'll pull it tonight and check. I did have it running with the pull start, but for some reason it's acting like it's not getting gas (Can feel air from the exhaust but the engine doesn't act like it's firing).

I was planning on getting a plug wrench tonight (for some reason my 3/8 and 3/4 don't seem to fit) and checking spark. Also figured I'd put a few drops of oil and maybe some gas in the cylinder and see if that works.
Posting Rules
You may not post new threads
You may not post replies
You may not post attachments
You may not edit your posts
---
HTML code is Off
---