Lawnmower dies, spews gas from tank
06-27-15, 05:06 PM
Join Date: Apr 2009
Location: USA
Posts: 49
Lawnmower dies, spews gas from tank
---
Hey guys.
First, I know nothing of lawnmowers except how to start them. Willing to learn though! Posting 2 pics of the lawnmower; a side shot where there's something missing though this hasn't given me an issue before that I know of.
I was given this lawnmower last year and it has been working fine for about a year now. It's seen better days, I know. It was in a bit of rough shape when I got it, with what looks like several mods made to keep it together (a "fixed" wheel, some wiring that holds the choke in place I think, it's been extremely loud like it's missing a muffler or whatever) but not problem with it until now.
It ran fine for about 3-4 minutes today, then it died. I started it up, ran for another minute then died. After the 3rd time starting it I noticed that gasoline was coming out of the tiny little holes in the cap that sits on the gas tank. I shut it off. I ran it without the filter, same thing.
Now it won't start at all.
I did run over a brick last time I mowed. However, I finished mowing for another 10-15 minutes after this and it seemed normal. Not sure if it's relevant but thought I'd mention it.
Anyone have any ideas?
Appreciate it!
Sponsored Links
06-27-15, 05:45 PM
Does it have any oil in it or compression? It's missing a muffler, the air filter screw, probably has ingested a lot of dirt, may have a valve problem with no muffler, and who knows what else. I think you can buy something like this for $150 new... not worth the effort IMO.
06-27-15, 05:55 PM
Join Date: Apr 2009
Location: USA
Posts: 49
Thanks for the reply, cheese.
I did take the screw out of the filter compartment and forgot to put it back before I snapped the pic.

Last week I added some oil, maybe half a cup or so. I hadn't added any before that. I checked it just now after your post, and noticed that the oil seems low, I can't tell for sure as it's getting dark outside but I'll check thoroughly tomorrow. I do find it weird though, since I added oil last week. Did I get the wrong oil, maybe? I bought the SAE 5W-30 motor oil as suggested by the fella at walmart...
06-27-15, 06:34 PM
5-30 is way too thin, it will burn off. SAE30 is what you want. If the engine is worn out, it will need oil on a regular basis. If it is out now, it may be too late.
06-27-15, 06:42 PM
Join Date: Apr 2009
Location: USA
Posts: 49
Could me using that oil have hurt it?
06-27-15, 08:21 PM
Join Date: Jun 2006
Location: St. Louis
Posts: 2,365
With the air filter removed the carb/tank should look something like the pic below if you have wire holding the throttle, you are probably over revving the engine which is blowing oil out the breather. Have a good one. Geo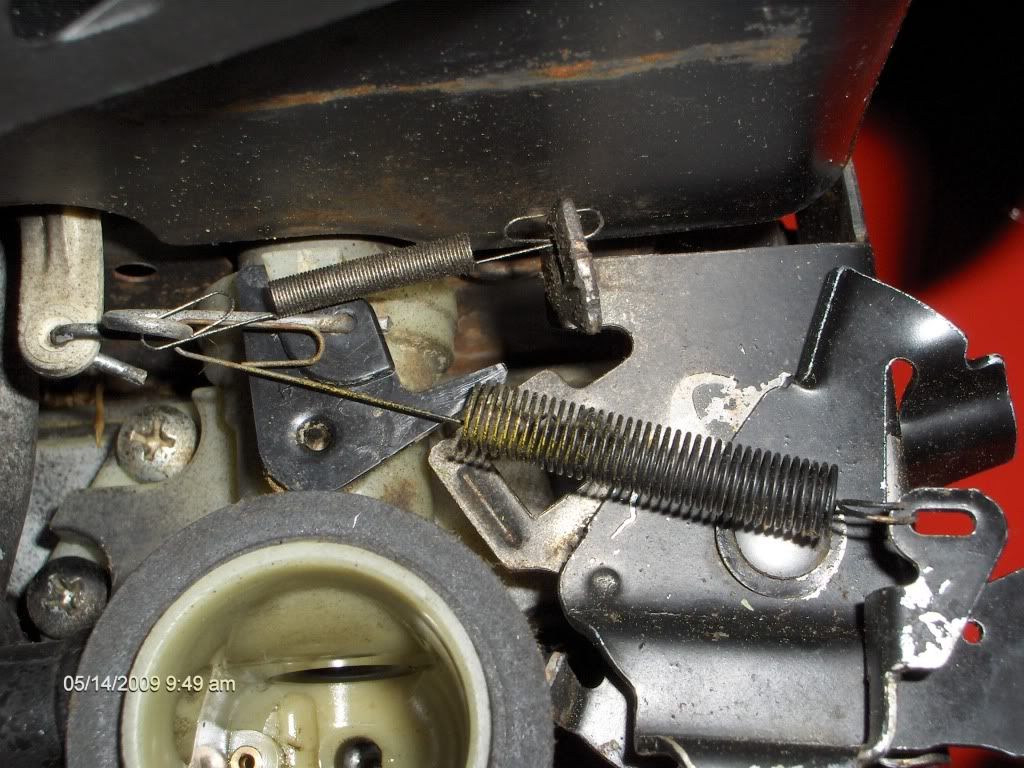 06-28-15, 12:39 AM
No, using that oil shouldn't really hurt it if it was just a one time deal. The lack of oil though, that's a different story.
06-28-15, 08:10 AM
Join Date: Apr 2009
Location: USA
Posts: 49
Thanks, Geo! I'm gonna check that over later. There is a metal wire that's tied to the throttle I think.

Cheese, I did notice today that it is indeed low on oil. I'll go out and buy some that you recommended today and report back. Thanks for the help so far!
06-28-15, 09:39 AM
Join Date: Apr 2009
Location: USA
Posts: 49
Hey guys, I have some 10w30 motor oil here at home. Will that works as good as 30SAE or will it be ok to use for now? I found a website that said it was ok for varying weather conditions and it might burn more oil when it's hot. I thought I'd check here first. As long as it won't hurt it and save me from going to the store.
06-28-15, 12:38 PM
No, it won't work the same but it won't hurt as long as you keep it full. The type of oil you use isn't going to solve your problem.
06-29-15, 09:38 AM
Join Date: Mar 2006
Location: USA
Posts: 269
Multiple weight oil is now recommended in many engines. I've used it In my snow blower and 16 HP generator with NO oil consumption observed. Use what the manufacturer recommends.
07-10-15, 06:04 AM
Join Date: Apr 2009
Location: USA
Posts: 49
Sorry for the late reply. Had other problems.

Anyway, I finally got around to tinkering with the lawnmower and I took the carburetor off to clean it and I noticed that the pipe that goes from the carb to the motor was loose; I pulled on it and it came off. It had been sitting under the motor with a big crack in it I suppose, and just snapped right off. It's made of hard plastic.
Btw, my lawnmower is a B&S.

My neighbor has a junky dead lawnmower that's also a B&S and I looked briefly at it. It looks like it's the same setup (his is MUCH older, maybe from the 70s?). That pipe is steel I think. Are the part interchangeable?
They look to be the same size and everything.
07-10-15, 09:09 AM
Join Date: Jun 2006
Location: St. Louis
Posts: 2,365
Go to the briggs site and enter the engine model numbers for both engines and compare part numbers to see if they are compatible, the model number is stamped in the metal shroud just above the spark plug, it will be xxxxxx-xxxx-xx.
07-11-15, 05:47 PM
Join Date: Apr 2009
Location: USA
Posts: 49
Hey guys. First, let me apologize and thank you for your patience through this ordeal. It's new to me but I'm learning and having fun tinkering.
I compared parts with the other and no, it will not match up. I did take the piece off though. Here's a pic:
I'm sure you guys know what it's called. It goes from the carburator. I'm not sure what it's called, or what to ask for at the store.
Are these pricey, easy to find? I'll get the model number from my mower...but will parts like these have to be ordered or can you find 'em at Home Depot? Can it be "glued" or something, in case it's on backorder?
Thanks guys!
Posting Rules
You may not post new threads
You may not post replies
You may not post attachments
You may not edit your posts
---
HTML code is Off
---