OK to swap deck (brand) on riding mower?
07-02-15, 08:03 AM
OK to swap deck (brand) on riding mower?
---
I have a Country Clipper commercial zero turn mower about 14 years old (mine for about 6 years) and in great shape except for rust scale on the bottom of the 60" deck. Browsing on the 'net I 'discovered' a new replacement deck costs $6000! These decks all look similar to me with attachment points just bolted to the top plate so I'm wondering if I could just swap in one from another brand by transferring the mounts? Anyone here ever done this?
07-02-15, 08:38 AM
Join Date: Mar 2003
Location: NC, USA
Posts: 27,076
It all depends on the deck you find. You may get lucky but "all look similar" might get you in trouble. Take measurements of your deck and it's attach points and PTO hookup and rotation direction and see what you can find. You'll have a much better chance of making it work if your have metal working tools and skills for simple stuff like making or moving mounting brackets.
07-02-15, 09:36 AM
I did that once, and it about drove me nuts trying to reconcile the vertical heights of the various pulleys and then calculate the correct belt length.

I'd recommend trying to obtain a new sheet metal deck "skin" and then transfer all of your quill assemblies and control mechanisms over one at a time.

Taking a photo of the old unit before you start can serve as a valuable reference tool.
07-02-15, 11:44 AM
Join Date: Jul 2001
Location: USA
Posts: 15,919
If it's just rust scale on the bottom of the deck, I wouldn't be concerned. It will rust. I wouldn't worry about it until you start getting holes in the deck, and then I would patch it with 1/8" plate welded over the holes. It might take years before you ever have to worry about that if all you have now is some rust scale underneath.
07-03-15, 09:49 PM
I was so shocked at the price of a new deck I ended up sanding it and repainting. I tried graphite paint that's supposed to help keep damp grass from building up, but it didn't help.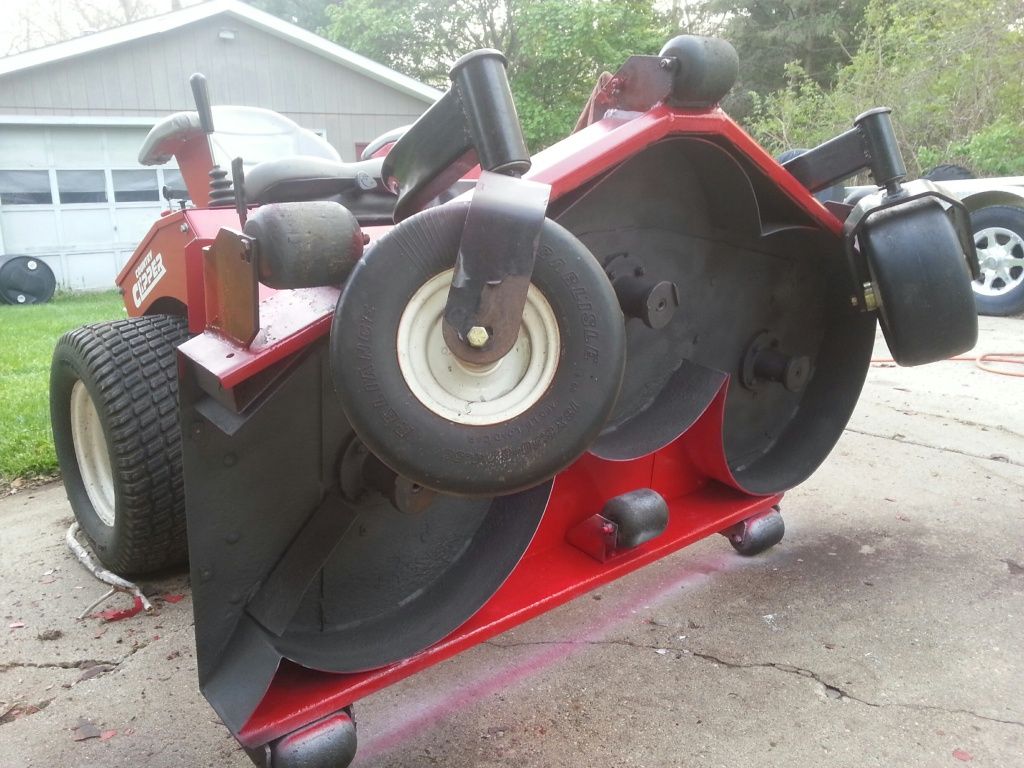 07-03-15, 10:38 PM
Join Date: Jul 2001
Location: USA
Posts: 15,919
From the looks of that deck, you have nothing to worry about.