Snapper string trimmer runs for 1-2 seconds
08-13-15, 04:46 PM
Join Date: Jun 2010
Location: USA
Posts: 40
Snapper string trimmer runs for 1-2 seconds
---
Hello all,

I'm trying to get a "weed-eater" running for a friend. Snapper S31SST. It has a Walbro carb with external primer bulb. Appears to have been used with ethanol. The gas lines were completely fried. Disassembled and soaked the carb for over a week and blew it all out, rebuilt it with a kit. New primer bulb and all new gas lines.
I can get it to run for about 1 - 2 full seconds, then it dies, no matter what I do with the throttle. It then will not start for about 30 seconds to a minute. Then it will start again and run for 1-2 seconds and die. Then will not start again without waiting. Starting fluid makes no difference. I have all the fuel lines hooked up correctly and the bulb is pulling fuel through the carb and back into the tank. There was no filter inside the fuel tank, so I put one on the end of the sending fuel line. I'm curious if this could be a needle valve issue? I can't really think what else it could be. I did not move the idle/air fuel mixtures because I don't have a tool that will even turn them, so they should be where they were when it was running.

Thanks,
Sponsored Links
08-13-15, 05:39 PM
Join Date: Jun 2006
Location: St. Louis
Posts: 2,365
You need to remove the mixture screws to clean those ports also, what type of screws are they, there is usually a make do to remove them, using a electrical connector works on most of them. After removing you can cut a slot in them, it it is the spline type just ust the connector for adjustments. Have a good one. Geo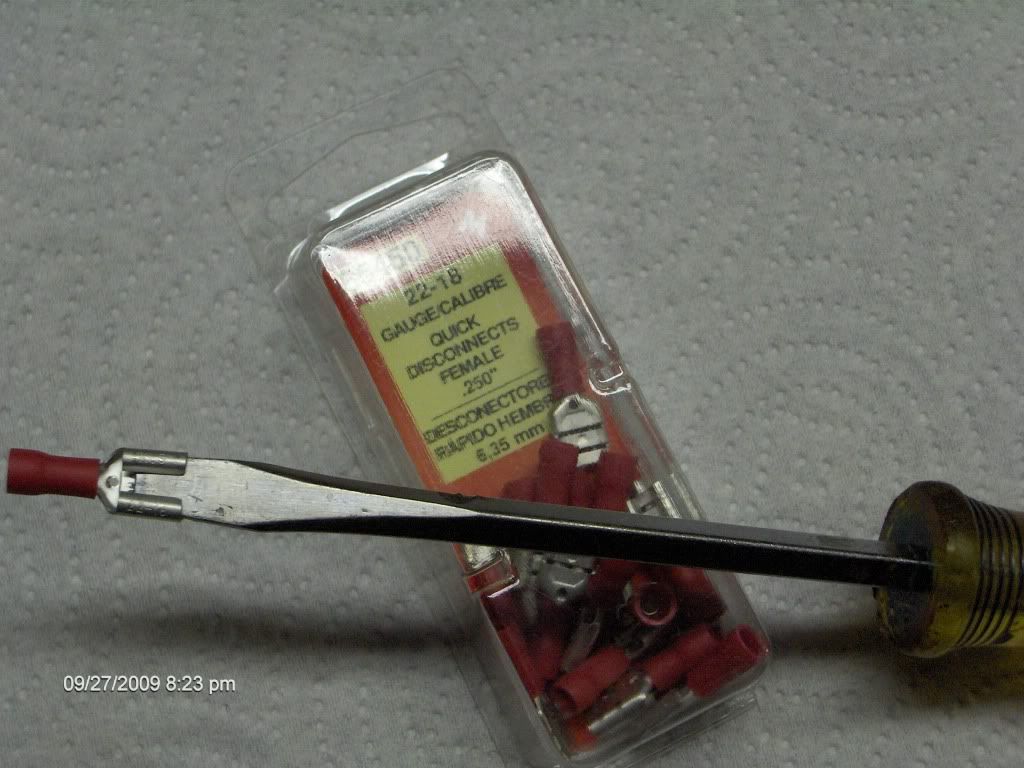 08-16-15, 07:54 AM
Join Date: Jun 2010
Location: USA
Posts: 40
Ok, I'll do that. That's an awesome idea with the blade connectors. I don't think I would have ever thought of that.

One of the screws seems to have a bigger cap on it which makes getting anything around it very difficult, the other seems to be a smaller cylinder with a textured circumference like a quarter.
08-16-15, 01:41 PM
Join Date: Jan 2010
Location: North East Kingdom of Vermont
Posts: 2,412
Just this afternoon I had a similar situation with a Craftsman (AKA Poulan) Trimmer that was stalling shortly after being started.

I was reminded to always check my assumptions . . . . the Gas Cap is the original, and has always allowed sufficient air to prevent a vacuum from being created; but today NO !

Today, whenever the tank is more than ⅔ full, the splashing of gas on the gas cap seals the vent, creates a vacuum, and suffocates the engine.

Allowed to dry out, and dealing with less than ⅔ of a tank, the engine performs marvelously until it runs out of fuel.

For decades, I've known about this potential cause for stalls; but today was the first time I've personally encountered it; but the WeedWacker is the one piece of equipment that gets used in every position imaginable, so this sloshing of gasoline is what can always be expected when it is put to work.

If there's no way to completely clean the Gas Cap Vent, then I guess I'll open my wallet and spring for a new one . . . . too bad I didn't discover this before I replaced the Ignition Coil Yesterday !
08-25-15, 04:32 PM
Join Date: Jun 2010
Location: USA
Posts: 40
These are the two adjustment screws. I can't seem to get anything in to remove the larger one. Is this a cap? What do I need to do here so that I can remove and clean them?
Thanks
08-25-15, 04:57 PM
Join Date: Jun 2006
Location: St. Louis
Posts: 2,365
If it is a cap you could probably flatten the end of a paper clip and bend a hook on it to get under it to pull the cap off, or straighten a fish hook and use the barb to pull the cap off. Have a good one. Geo
Posting Rules
You may not post new threads
You may not post replies
You may not post attachments
You may not edit your posts
---
HTML code is Off
---