Troubleshooting a weed wacker
09-18-15, 10:36 AM
Join Date: Oct 2013
Location: Canadia
Posts: 244
Troubleshooting a weed wacker
---
Hi All,
A few years ago, my dad bought a 28 cc yardworks gas powered string trimmer from some store that was going out of business. He put gas in it and never managed to start it. Because he has money and had paid almost nothing for it, he just left it to die and bought a new one.
Skip to now, he handed it to me and said "if you can fix it, it's yours, I don't want to bother with it"
This is a plain old 1 piston small engine with a carburetor. It's two stroke. I used to work as a go-kart mechanic, so I know a bit about small engines, but they were four stroke, and I never worked on an engine that sat with old gas for two years.
I apologize for the long and useless back story (lol), but I would be really happy if you guys can help me get this thing started (or determine that it's not worth it and toss it).
Would anyone kindly tell me where to start/what to do? I've taken carbs apart before on my motorcycle and on go-karts, and I think I am going to be fine with the mechanical aspect of things (I know what everything is called and how to take them apart), but I would really appreciate guidance from more experienced people pointing me towards where to start, how to test things, so on and so forth.
I don't know how much this helps, but I've attached pictures so that you guys can have a look.
Thanks in advance!
Nic
Sponsored Links
09-18-15, 12:27 PM
Join Date: May 2006
Location: Iowa!!!!!
Posts: 3,728
Before you take everything apart, just change the gas/oil mix with fresh stuff. Then pump the primer about five times, then full choke, half throttle, try starting it. It may surprise you and take off.
09-18-15, 02:30 PM
Join Date: Feb 2006
Location: USA
Posts: 6,389
Fuel Lines
---
If the above advice gets no results, check the fuel lines. The fuel lines likely need to be replaced.
09-18-15, 04:10 PM
Join Date: Jun 2006
Location: St. Louis
Posts: 2,365
That is an old unit, looks like my IDC 580 Supreme, early Ryobi. Put some fresh fuel in it and try to start it, I would pump the primer 15-20 times to watch to see if the fuel is circulating through the carb and back to the tank, if it starts great if not remove the spark plug to see if it is wet, put a paper towel under the plug hole and crank over a bunch of times to see if any fuel is blown out onto the towel, need to know if it is getting fuel or not or the needle valve may be stuck and flooding it. Have a good one. Geo
09-18-15, 05:43 PM
Join Date: Oct 2002
Location: Hamilton County, Ohio
Posts: 4,288
Easiest first step is to check for spark. Eliminate that as a problem first. Then do the carburation checks.
09-20-15, 07:17 AM
Join Date: Oct 2013
Location: Canadia
Posts: 244
OK awesome! I am going to start with this, and then I will get back to you with results.

goldstar on checking for sparks - would this mean taking the spark plug out of the engine, plugging it into its cable, and cranking it to see if it lights up? EIther way, that it what I am going to try.

Thanks alot guys, I'll keep you in the loop!
Nic
09-20-15, 11:03 AM
Yes, but the spark plug has to be grounded to metal on the engine while checking or it won't spark.
09-21-15, 01:38 PM
Join Date: Oct 2013
Location: Canadia
Posts: 244
Thanks Cheese!

OK, here is an update:

-I've checked the spark, and we have a spark.
-I put fresh new gas and tried to start it several times, in all choke positions, and it didn't even try to start.

Unfortunately, in the process, I cracked the dried out primer ball, and one of the gas lines also broke (Wirepuller38 - you called it!). Once that happened, I took out the spark plug once more just to see if it was flooded after all the cranking and priming, and it looked bone-dry. I am not sure how it was "supposed" to look, but I was expecting for it to be wet. I didn't have the chance to do the paper-towel test like geogrubb suggested before the fuel lines broke, but still, unless someone tells me it's normal that it was super dry, for now I am assuming that gas isn't getting to the spark (but will test later with new fuel lines)

I know that before I move forward I'm going to have to change the gas lines and primer ball. I am not sure how easy it is to find a primer ball but I assume they split all the time so they must be readily available (I hope).
09-21-15, 01:50 PM
Join Date: Oct 2013
Location: Canadia
Posts: 244
Also, I am now laughing at myself because what I referred to as a primer ball throughout my whole last post is actually called a bulb primer, and I am too lazy to edit :Peeping On U2:

I Googled it, they sell them at every big box store.
09-22-15, 04:10 PM
Join Date: Oct 2013
Location: Canadia
Posts: 244
I can see no one is really looking at this thread anymore, but out of courtesy, I will give a final update.

-I changed the gas lines and the primer, no go.
-I double checked the spark, it's sparking.
-I checked whether it was getting gas with the paper towel. it was getting a bit, but not that much (don't know how wet it was supposed to get, but it really wasnt that much at all).
-I took the carb apart. Everything was spick and span and looked normal.

At this point, I'm starting to feel like I'm getting very close to the limit for what is a reasonable amount of time to spend trying to fix an old trimmer probably worth about 100 bucks.

If anyone has another idea, great. If not, it's going in the garbage.

Cheers!
09-22-15, 04:44 PM
Join Date: May 2006
Location: Iowa!!!!!
Posts: 3,728
This thread is being looked at, but a lot times it won't be opened unless there is a new post indicating either new information is added or a question needs answered.

As far as trashing the weed wacker, I wouldn't toss in the towel just yet. The machine hasn't had any use at all and you just have to work out a fuel issue.

You have spark. Dump all the fuel out of the tank, then with full choke - half throttle spin it over ten times or so. Then put about a teaspoon of fuel/oil mix down the plug hole and with full throttle, no choke pull it over a few times to see if it will fire. If it does, put fuel back in the tank and with half choke, full throttle see if it will start.

Once you get it going the first time it will be a lot easier to start from there on.
09-22-15, 05:00 PM
Join Date: Feb 2006
Location: USA
Posts: 6,389
Fuel Lines
---
Look at the new fuel lines to be sure there are no kinks that would interfere with fuel flow. Make sure the fuel filter is not clogged. The fuel feed line and the fuel return line must be in the right order where attached to the carb.
09-22-15, 05:02 PM
Based on the primer bulb breaking, and the gas lines in bad shape, you likely just need a Carb kit for the carburetor. Diaphragm is likely dried up. Go to your tube and search your carb. It will either be a Walbro or a Zama. They are very similar though. Installing a carb kit is quite easy and they can be bought for about $7. Just make sure to get the numbers off carb so you can get the right kit.

I have fixed at least 6 or so small engines just by installing carb kits and cleaning the carbs.
09-22-15, 06:12 PM
Join Date: Jun 2006
Location: St. Louis
Posts: 2,365
Here is the routing for the fuel lines. Have a good one. Geo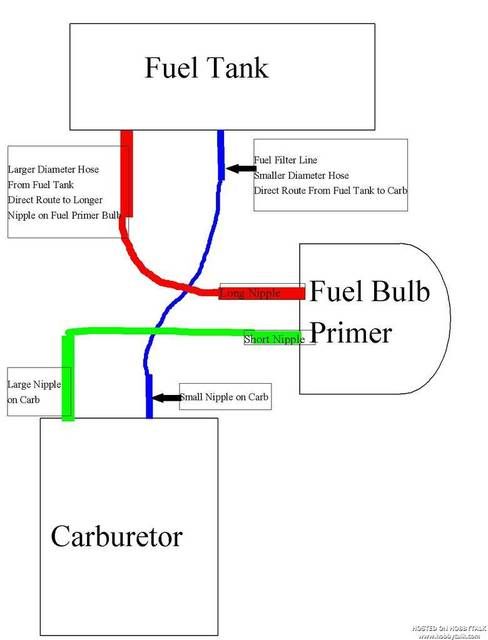 09-30-15, 09:00 AM
Join Date: Oct 2013
Location: Canadia
Posts: 244
Awesome guys, thanks a lot for all your help.

I unfortunately broke the primer assembly trying to change the bulb, so I am now in the process of trying to find the part number, which I will order along with a carb kit. If none of that works, then I'll quit.

I'm also really interested in trying marbobj's idea of putting gas directly in the spark plug hole to see if it comes to life, because seeing it go would be really encouraging. That's good to know that I can do that, for future reference as well.
Posting Rules
You may not post new threads
You may not post replies
You may not post attachments
You may not edit your posts
---
HTML code is Off
---