Repair or replace Craftsman leaf blower 358.797290
07-14-16, 05:40 AM
Join Date: Sep 2014
Location: USA
Posts: 486
Repair or replace Craftsman leaf blower 358.797290
---
My Craftsman Leaf Blower was working but now will not start. I put in a new spark plug. Should I keep going with trying to repair it or just buy a new one? A new carb is $30 - $40...that's the most expensive component.
Sponsored Links
07-14-16, 06:22 AM
Join Date: Feb 2006
Location: USA
Posts: 6,472
Blower
---
How old is the blower?

What type of fuel do you use?

What have you done to repair other than a new spark plug?
07-14-16, 06:30 AM
Join Date: Nov 2012
Location: USA
Posts: 3,392
Do you have a good spark?if have you checked the fuel filter? if it's not running take the carb apart and rebuild it about $15 for a kit,my theory is,if it's not working now you can't make it any worst and you may learn something.
07-14-16, 07:04 AM
Join Date: Jan 2011
Location: USA
Posts: 4,294
Checked the fuel filter inside the tank?
Checked for spark?
Checked on Amazon for that part?
Poulan makes the trimmers for Sears.
Part #545081882
Been running ethanol fuel in it?
You'll have far less issues with all your 2 cycle power tools if you used non ethanol fuel and only mixed 1 gal. at a time.
At least 90% of the time on those small engines it's going to be a fuel related issue.
Ethanol destroys the fuel lines and gums up the whole inside of those tiny carburetors.
07-14-16, 07:21 AM
Join Date: Oct 2015
Location: usa
Posts: 764
You are asking a question that need many more inputs to give good advice. Assuming the blower was working properly before you changed the spark plug, there are not many things that can go wrong. You only need spark and gas.
If you ground the spark plug outside the engine and pull the start rope, do you get a good spark? If not, remove the wire from the ON/OFF switch and try again. If no spark, follow wire from ON/OFF switch to ignition module and verify it is not shorting to ground anywhere. If not, the ignition module is suspect and should be taken to a repair shop and tested. Replace if bad.
Once you have spark, you can consider carb problems. Most likely is a dirty filter in the tank or an obstruction in a carb passage. The filter can be replaced. The carb must be disassembled to clean the passages.
Good luck.
07-14-16, 08:19 AM
Join Date: Jun 2006
Location: St. Louis
Posts: 2,385
Those blowers have a tendency for the head bolts to get loose, tighten them. Check the compression if below 100 you have problems. Remove the muffler and check the piston and cylinder wall for deep scratches an gouges, if you find the it is shot. Have a good one. Geo
07-14-16, 11:33 AM
Geogrubb hit the point I was about to make in my reply.
07-14-16, 12:29 PM
If you are mechanical and patient it can be fixed usually for not much in parts.
Those units are tedious PIA to work on even just replacing the fuel lines requires the entire disassembly.
IMO they are not that good of a machine. Anything that requires more steps to start than it takes to fly a plane, can't be good.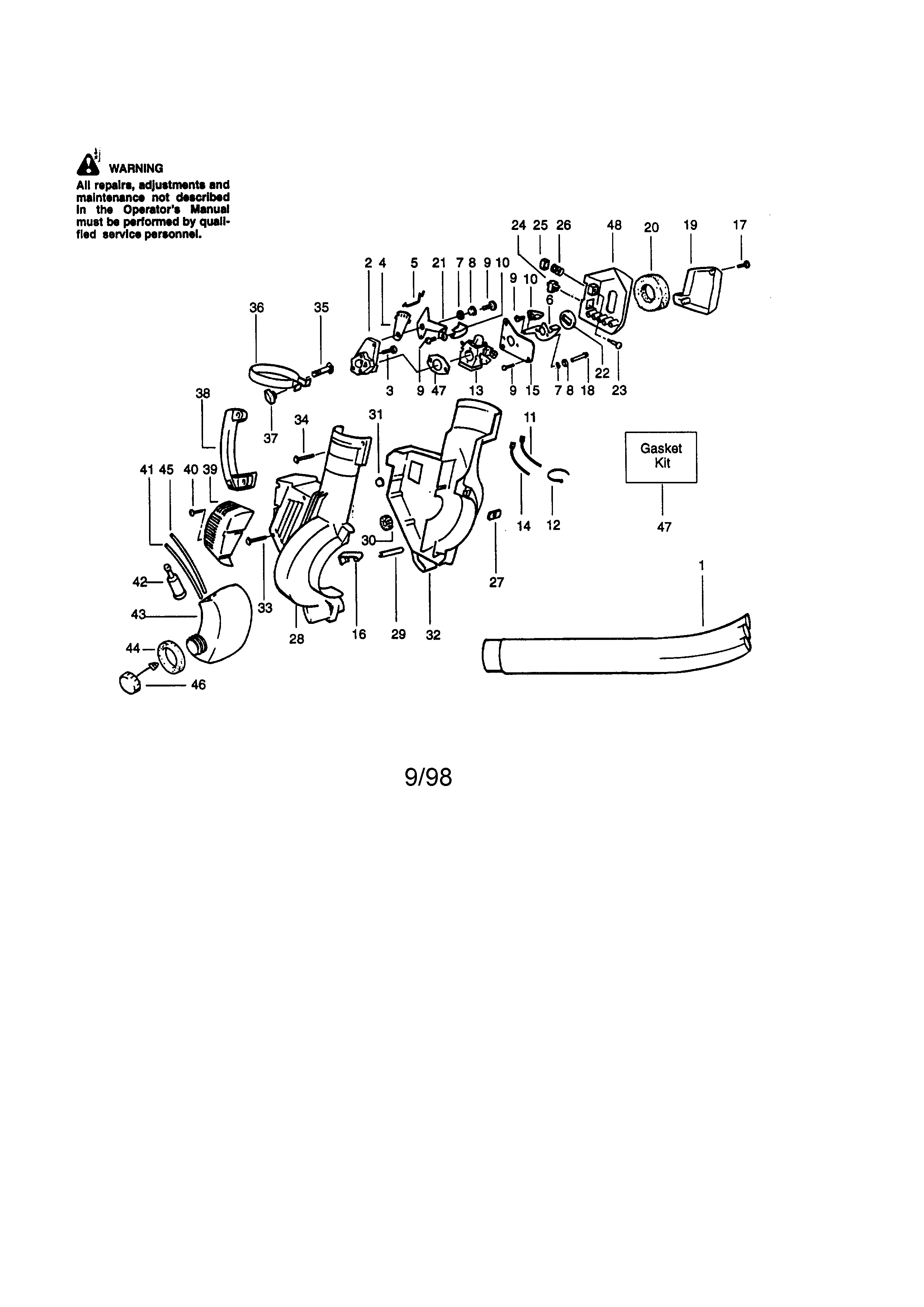 07-21-16, 11:30 AM
Join Date: Sep 2014
Location: USA
Posts: 486
Today I opened it up and sprayed some GUMOUT into the carburetor. It started and ran for about 15 seconds before stopping. I sprayed more GUMOUT. Again it started and ran for the same length of time. Is it running on the GUMOUT? Clogged fuel filter maybe?
Carburetor didn't look gunked up. There are some leaks on the outside of the machine. Maybe replace gaskets? Would these be included in the carb rebuild kit?
07-21-16, 12:17 PM
Did you take the carb apart and look? You can't tell if the carb needs cleaning or not from the outside.
07-21-16, 01:09 PM
Join Date: Sep 2014
Location: USA
Posts: 486
I took most of it apart...primer bulb, gaskets. What should I be looking for?
07-21-16, 05:52 PM
Usually trash clogged in the inlet screen among other places.
07-23-16, 02:07 PM
Join Date: Sep 2014
Location: USA
Posts: 486
Where should I buy parts from? Filters, lines, maybe a carburetor.
I don't have SEARS parts center nearby so I'll have to buy online. SEARS sells online but I have found them to be pricey....although not talking big $ here.
Posting Rules
You may not post new threads
You may not post replies
You may not post attachments
You may not edit your posts
---
HTML code is Off
---