Removing Mower Blades
05-08-17, 06:35 AM
Join Date: Feb 2006
Location: USA
Posts: 6,345
Removing Mower Blades
---
Have a Hustler Raptor 42" ZTR.

Is it necessary to remove the mowing deck to remove the blades for sharpening?

How do you guys do it?
05-08-17, 06:42 AM
I have a different ZT, but I jack the front up with my car jack, and support it on jack stands. With the deck all the way up, this gives enough clearance to change the blades.

Or you can buy one of those purpose made ZTR/Tractor lifts which will lift the front higher.
05-08-17, 01:41 PM
Join Date: Dec 2005
Location: USA
Posts: 36,608
Upvotes: 0
Or buy a Kubota ZD21 like mine. It has a built in jacking system that rotates the front axle to the vertical position allowing you to crawl under it safely. I think jack and jack stands are the best alternative. A drive up ramp may hinder you from getting to the deck due to the length of the ramps themselves occluding the working area.
05-08-17, 02:46 PM
Join Date: Feb 2006
Location: USA
Posts: 6,345
Lifting Mower
---
Thanks, guys. That Kubota feature sounds great. Since I am stuck with a low budget machine, I think I will try my scissor jack. Thanks again.
05-09-17, 07:45 AM
First I tried a Hi-lift farm jack but it always felt tippy & unsafe going up.
Then for a bit I used a chainfall from a stout branch in a tree. The front of a ZT is pretty light so that seemed safe, but was time-consuming.

Now I have an electric winch (600# cap.) bolted above & braced to the header over my garage door. The cable drops down into the door opening & I hook it to the ZT front roller bracket. I use either jackstands or a 2x4 strut for extra support, depending on how high I lift it.
This gets it up highest and quickest.
05-09-17, 07:58 AM
Join Date: Jun 2002
Location: Northern Minnesota
Posts: 1,623
Or you can buy one of those purpose made ZTR/Tractor lifts which will lift the front higher.
I just bought a 42" ZTR and looking at it yesterday it could be a bear trying to clean the deck or take the blades off. My old MTD 30" RER I could just lift the front end and put a jack stand under it. This one at 560# would be a little difficult. Never heard of those lifts but I may just spring for one.
WAY easier than taking the deck off if I could even do that.
05-09-17, 03:35 PM
I use something similar to this: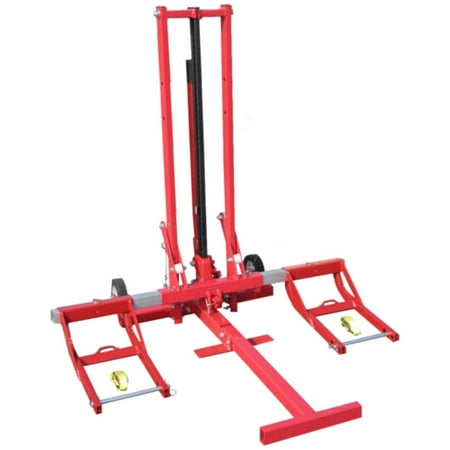 The one we have has a hand crank similar to what you would find on a boat trailer with a strap to raise the stirrups.
Many of our bigger front mount decks have a built in power lift for the deck. The mid mounts I use this tool as well as any other riding mower.
For some of the really big mid mounts, I fire up the fork lift
05-09-17, 03:41 PM
However you come up with to do it, you should lift the frame of the mower so the deck still hangs, do not lift on the deck specifically as you can cause damage to the mounting.
05-10-17, 08:48 AM
Join Date: Sep 2012
Location: USA
Posts: 1,468