Natural Gas Generator Won't Start
09-30-17, 07:52 PM
Join Date: Feb 2005
Location: Near Lansing, Michigan
Posts: 10,426
Natural Gas Generator Won't Start
---
The equipment involved is a Milbank-branded natural gas 12kW generator with a B&S Vanguard 627cc v-twin. Generator model is 040273A rev 00, engine is 389445-0114-E1
A couple days ago the unit started its weekly test, started normally, and shut down after just a couple minutes with a low oil pressure code. It has not started or even sounded like it was going to start since that time. Here's what I've checked:
Crank case has correct amount of oil, synthetic 5w-30 that looks very clean
Air filter is clean and unobstructed
Plugs look clean and have spark
Starter comes on and cranks engine as it should
Valves look like they're working in the proper sequence
Valve springs, push rods and rockers look OK and have some residual oil on them
Cylinders have some compression (didn't use a gauge, but can feel pressure)
Natural gas solenoid opens up when it should
Gas doesn't seem to flow passed the demand regulator unless engine is cranking
I can smell natural gas while the engine is cranking
Tried bypassing both oil pressure and oil temp sensors
Governor / throttle springs & linkages seem to be able to move normally
Attempted to choke engine at various levels using my hand over the intake
Everything I try the engine just cranks and cranks and doesn't even try to catch. I'm stumped. What should I check next?
---
Last edited by ibpooks; 09-30-17 at

09:47 PM

.
Sponsored Links
09-30-17, 09:30 PM
I don't see anything online in reference to that generator model number.
Obviously this is a Milbank genset. Is there another model listed ?
09-30-17, 09:41 PM
Join Date: Feb 2005
Location: Near Lansing, Michigan
Posts: 10,426
Sorry, had a typo in the model number. It should be 040273A rev 00. It's made by B&S, sold under Milbank brand.
09-30-17, 10:04 PM
Look at the throttle actuator..
I had the same issue on a generac in long island... It was hard to diagnose as we went there many many times to try to get the thing to run.. evry once in a while it would start but only run for a few moments..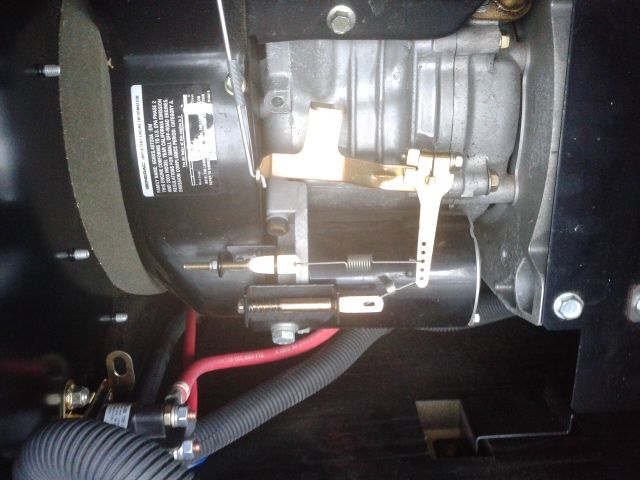 09-30-17, 10:18 PM
So what was the problem with the throttle actuator ?
09-30-17, 10:42 PM
I think the spline, but many instances it was board failure too.. But most are current driven...
09-30-17, 10:50 PM
I know he has a different unit, but they are all similar.. Ive installed all brands... This may help...
Look at the intake of the throttle body there is a plastic plate that looks like a choke but that is not it's function, but if it doesn't open it will cause the fuel to air mixture to go full rich and the engine will not start, I have had four 20kw Generac's with this plate sticking shut it would start once in a while but most times the plate would not open causing the the engine to starve for air, would not even fire, if you find that this plate is sticking then try to use a lube made for plastics silicone is one that works ok but there are others even armorall will work, one I sprayed Pam on it.

fuel problems can be tested by just taking a propane torch and opening the valve on the torch just enough to hear gas flowing out of it then put it into the throttle intake and hit the manual start, if the engine starts or even tries to fire you know you have a fuel problem, check for fuel flow after the regulator/gas shutoff valve, and even at the throttle body to make sure you have gas flow all the way to the throttle body, if you use a 15"wc gage to watch the pressure when starting the engine it can tell allot about the supply system, anytime it drops below 5"wc (3.5"wc on newer units) you have a supply problem that is starving the engine also make sure you test the pressure once you have it running at full load to make sure the gas supply is adequate for full load run (I have a 15kw heater box with blower out of a air handler which I can add a couple of other loads for larger generators for this).

Another problem is if it was set to run on propane at the previous location, almost all Generac regulators can be set for NG or propane by changing the ports you use on the regulator or other means (modal dependent), if it is set to run on propane it will not run when using NG as the fuel to air mixture will be way too low, look in the manual for changing it to NG, propane has more BTU's per cubit foot than NG has, so the fuel is cut back quite a bit by the regulator and the throttle body will get far less fuel.

If it didn't try to fire when you tested it with the propane torch then using any spark plug put into one of the plug wires and hold against a grounded part (using insulated pliers I hope), try to make sure you have spark if no spark check the wiring to the coils, make sure you are getting the pulse from the engine control board, of course the oil will shut down the output to the coils as will over temp over speed, some are latching and some are self reseting when restarting but other problems can be such as the crank shaft position censor (most V-Twin air cooled are a flywheel censor) or even the electronics on the board make sure all connections to the main control board got put back on correctly when you replaced it.

But could be as simple as a stuck exhaust valve..

Generac.com..
.......................................................................................
09-30-17, 11:09 PM
of course the oil will shut down the output to the coils as will over temp over speed, some are latching and some are self reseting when restarting
That's what I'm thinking. The low oil sensing system is latched in fault mode.
10-01-17, 02:36 PM
Join Date: Feb 2005
Location: Near Lansing, Michigan
Posts: 10,426
Solved...for now. Although I will be shocked if I don't end up there again.

I went back out to give everything a once over, took it half apart, everything still looked normal. Gave the throttle and governor a good check out as you suggested Mike, but didn't find anything unusual. I thought about a fault latch too, but couldn't find anywhere on this unit where it would be -- no relays or solenoids (other than the starter) and I had even tried it with the control board fully disconnected and bypassed. Best I can tell the only way for the control board to shut down the engine is to turn off the fuel solenoid, and that was working normally.

I put it all back together, and it fired right up on the first try -- speed stabilized quickly and it ran for 20 minutes flawlessly until I shut it down. I don't really know what was wrong, but fiddling with it for yet another time seemed to fix it even though I didn't do anything today that I didn't try yesterday. Perhaps the spark is grounding out somewhere intermittently, but it still should have fired on one of the cylinders as this engine has a completely separate magnetic unit on the flywheel for each cylinder with no common wiring. Anyway it's all speculation at this point. Thanks for the help. Hope I don't see this one again.
Posting Rules
You may not post new threads
You may not post replies
You may not post attachments
You may not edit your posts
---
HTML code is Off
---