Painting over old cracked plaster walls
01-26-08, 04:51 PM
Painting over old cracked plaster walls
---
Hi all! We just bought a victorian home. Most of the rooms are still plaster. In one room the plaster has very fine cracks. The former owner had painted the room in a semi gloss & the subtle reflections of the light highlights them and in certain angles they show up like a sore thumb! There are no splits or open cracks at all. We would like to repaint. I would plan to use flat paint only. Does anyone have thoughts if this would hide the problem? I know that a matte finish has slightly more gloss to it and would clean earier. Any thoughts on this? I would prefer pain, but don't want to waste the time (and bucks) if I have to end up with wallpaper anyway. Thanks for any advice out there!
Norma
01-27-08, 07:25 AM
If these cracks as you say are not open, more like spider web and are filled with paint you may get away with skim coating these cracks with joint compound. There must be no movement on these cracks when you push on either side. Stress cracks need to be cut opened. Pictures of these cracks would be helpful.
01-27-08, 09:48 AM
Thanks for help!
---
Thanks Marksr & Magra4s!
We won't be 'visiting' our new place until next Saturday and I'll take pics that highlight the cracks. I'm grateful for the advice!
I was reading another painting thread (I read a LOT of threads
) and I was interested in the recent comments about BM paints, which is what I planned on using. There was a comment (Sirwired?) about different grades. I never knew that! I'm wondering if anyone has used the new Affinity line and has any thoughts about it. I haven't painted a wall in many years and don't plan in buying my rollers at the dollar store (ya get what ya pay for). Is there any advice on a
good
roller to look for? None of the walls are textured.
Thanks again... Norma
01-27-08, 01:34 PM
I'm not real familiar with BM's lines of paint [I mostly used SWP] but the folks at the BM store can advise you where each line of paint is as far as quality - of course the higher quality coatings generally cost more
You might try their website -
www.benjaminmoore.com
- for more info on their coatings.
I've never been a fan of synthetic roller covers, I always use lambs wool - they are usually the most expensive covers. Again the folks at BM can guide you thru the different grades of roller covers available.
01-27-08, 04:18 PM
If you are going to roll out gallons of paint, lambswool is the way to go. However you can get a bad lambswool roller. Since I discovered Wooster
knitted
lambswool roller covers I have used nothing else. The knitted I like for the finish paints. I use there non knitted for primers. Not sure why latter works better for this.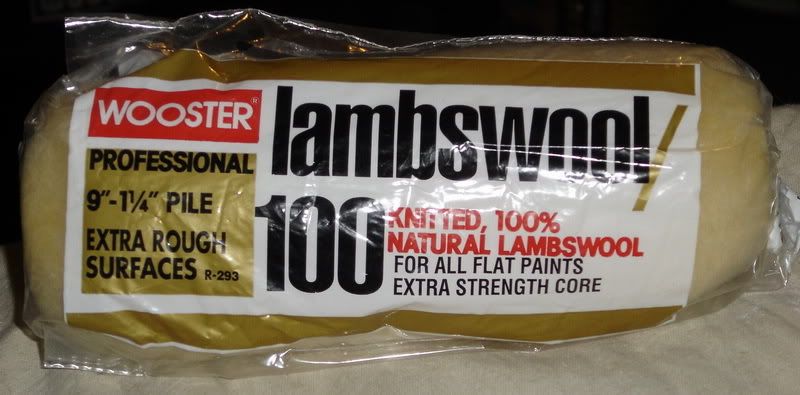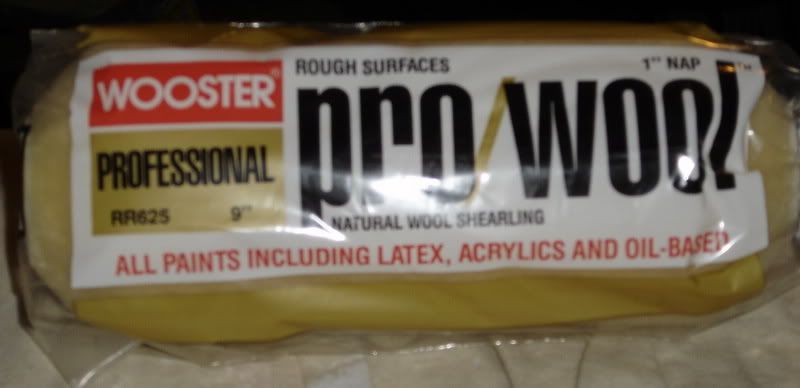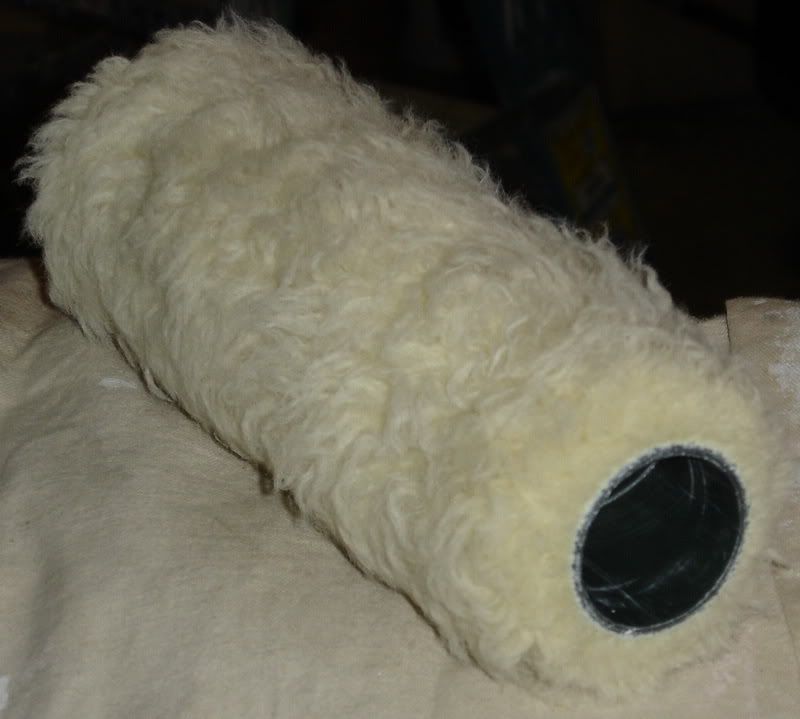 The last picture shows the knitted after it's been used a few times. The knitted can be distinguished by the plastic green core. The Pro Wool is sealed cardboard. You may want to go a bit thinner on the nap size. I love this size because of the massive amount of paint it will hold. A lot less dips. We can backroll just so. When dry, you would never know such a large nap was used.
For the first question you posed, I am avid Sherwin Williams man. The Duration Home line is remarkably washable!
01-27-08, 04:44 PM
Thanks again!
---
Thanks for the roller info! I'll look for these at the paint shop! I was leaning toward the BM since I understood it to be the top choice of pros, the only brand I think I've ever used, and I can get the tiny sample bottles to try on the 'real' wall where it'll go. I'm happy to pay more money for fewer coats
. Interesting that you both like the SW! Maybe t's time to buy something else.....
01-27-08, 04:56 PM
Sherwin Williams has for 4.99 a qt. "Color To Go". It is tinted to any paint color Sherwin Williams has
and
Ben Moore colors although some may not be as accurate. These are just for sampling the color. DON"T put these samples on the walls unless you are very careful in keeping it smooth!! I have had to skimcoat joint compound over all these sample areas from the home owner doing this. I recommend getting poster board and doing two coats on this. Then move the poster board around the room in different areas. What ever paint you use two coats is required. If you pick out a deep base color then you need a special tinted primer to make the top coat go two coats. Some reds are three coats no matter what.
01-27-08, 05:40 PM
Great advice!
---
That is tremendous advice on the 'sample' colors! I intended to paint poster board here and bring the finished boards to the new house, but only because it is easier! I would never had thought not to put the samples on the final wall! And I probably would have done that to some of the other rooms we won't paint until after we've moved! I hope a lot of people read this thread!!!!
01-28-08, 10:45 AM
I looked it up, and "Affinity" actually refers to a range of BM colors, as opposed to a product line. According the Ben Moore website, the "Affinity" colors were supposedly created especially to go with Aura paint (Aura is BM's flagship paint). However, I suspect that if you chose one of those colors, they would have no problem mixing it into another grade. However, IIRC, Aura has some application quirks... Slickshift would know more, if he pops into this thread.
Aura is BM's top-of-the-line paint, with a price tag to match. BM Regal is also reported here to be a fine paint. Really, you would do just fine to purchase BM paint or SW paint. (SW Duration and Superpaint both have their fans.)
SirWired
01-28-08, 03:28 PM
I would add
---
Both SWP and BM [along with others] have a bargain basement line of paint which isn't worth the trouble to apply it to the wall. As long as you stick with the better lines of their paints - you shouldn't have any problems.
01-28-08, 05:59 PM
This is so true!