What color to paint living room?
03-01-08, 05:09 PM
What color to paint living room?
---
I know nothing about painting as I've never painted anything really. I have black sofas and red / brown accents. I have no clue what color to paint the walls. The dining room is red. Any suggestions?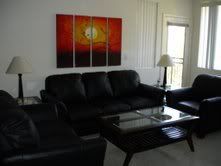 03-01-08, 05:27 PM
A taupe or neutral gray? I am not a designer. But paint for a living. Pick out 3 or 4 colors and paint them on poster board. You can hang this board on all four walls to see in different light. Sherwin Williams will color tint ANY color for 5 bucks to test out. This is not a easy task. But is priceless to say......."I Love this color"........!

Be patient!!

Welcome to the forums.
03-02-08, 05:15 AM
I agree. Go to SW and buy a few of those tester quarts. The poster board is a good idea, but I usually just paint a few squares on the walls with a 3 inch roller, in a couple of areas where he light in the room is different. Then observe how you like the paint in different light over the next few days.

Normally, I can nail the color by only buying one or two tester quarts. But it took me almost 10 (no kidding) quarts to find two colors that worked in my basement. I was glad I purchased the tester quarts, as painting and repainting the walls would have been quite annoying (and expensive).

Oh, buy your paint at SW, too.
03-02-08, 05:26 AM
I have had to sand and skim coat joint compound on these areas where the customer painted test spots. Many do not do this smooth. Also these areas could flash depending on your lightning. Sherwin Williams will give you these boards that they use for their "drawdowns".

cruiserparts.......you say you went through 10 qts of color? Last August I went through 23 qts of color before she picked the one she liked. She was paying for the time so I did not mind. I do want my customers to be thrilled with the color.
03-03-08, 07:31 PM
We've had good luck brushing on the test quarts. That stuff is so thin (it wouldn't work even as a touchup paint) that we have not needed any further surface prep beyond the scuff sanding and priming we are already doing. This is even with a side-lit hallway and an eggshell topcoat.

We have been using posterboard for smaller rooms. For a larger room (like a stairwell and hallway) nothing beats putting paint on the wall under the several different lighting conditions.

SirWired