painting bathroom - primer for greenboard and hardiebacker?
06-21-08, 12:28 PM
painting bathroom - primer for greenboard and hardiebacker?
---
Hello all,
I'm a DIYer working on a bathroom remodel and I've run into a bit of an snag. We tore out the walls to the studs and installed hardiebacker for a tiled tub surround. Greenboard and drywall were installed by a friend of mine for the rest of the bathroom and he textured the drywall with joint compound.
Hardiebacker surrounds the whole shower and I've taped and bedded the cement backerboard and the drywall.
By circumstance, I didn't have tile work finished when he textured.... It's now time to paint the bathroom but....
I wasn't aware of PVA primers and we didn't prime the drywall before texturing. The joint compound texture is directly on the drywall and I'm trying to figure out the best way to paint it.
Here's my question.... I have some exposed, untiled backerboard that needs to be textured and painted. The textured drywall needs to be primed and painted as well.
I can skim coat thinset mortar on the backerboard to smooth it, and then use ?something? to get a texture similar to fake stucco with joint compound, but can I use the same primer and paint on both surfaces?
I went to sherwin williams and bought some latex preprite problock primer/sealer. The canister says it can be used on cured plaster but this is thinset mortar... Will this make a difference?
Basically, I'm in a situation where a section of bathroom drywall wasn't primed before texturing. I now need to prime and paint the drywall and adjacent backerboard. Can I please have suggestions for the best way to get a similar texture on the backerboard, then prime and paint both surfaces?
Also, does anyone have experience with using latex problock primer/sealer on cement backerboard?
Thanks all.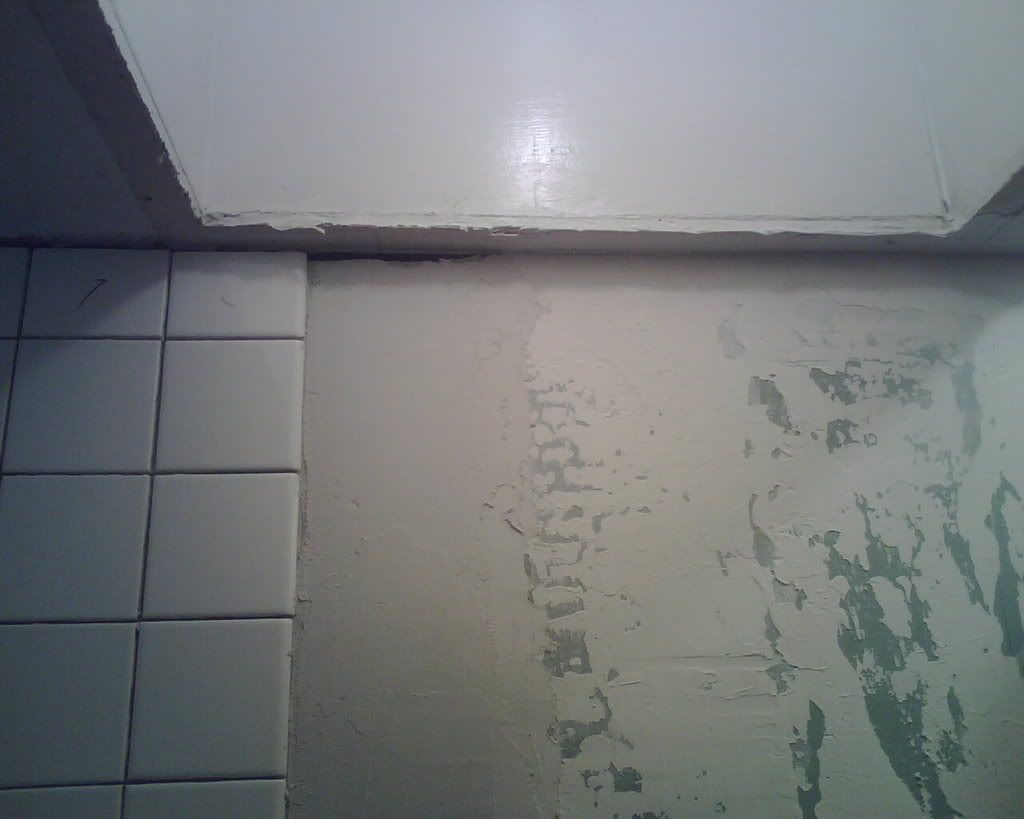 Sponsored Links
06-21-08, 05:31 PM
Welcome to the forums!

Is that a skip trowel texture on the wall?

I'd use durabond on the cement board but thinset should be ok. Once the board is sealed with mud, you can texture it. Skip trowel is applied in a hit and miss manner with a trowel. You might be able to do small areas with a broad knife.

Your problock latex primer should do fine on both surfaces.
06-22-08, 10:12 AM
Thanks for the response. Now it is time to move forward.
I'll make a few attempts at matching the skip trowel but we'll see. Here are two more pics to give you an idea of how far away this area is from water. I suppose the joint compound texture will be safe if it's used on skim-coated, dried versabond?
For a moment I thought about using the versabond thinset to skim coat the texture onto the backerboard I dunno how wet that area might get.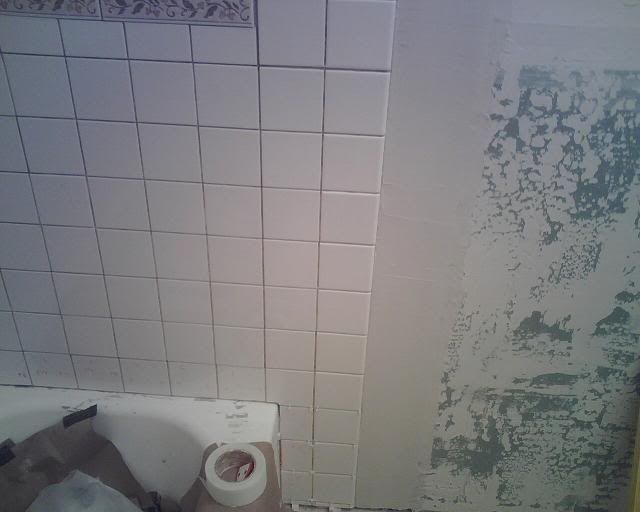 06-27-08, 05:22 PM
would the durabond be easier to texture on? the joint compound that i used to practice texturing holds a lot better on drywall than on regular backerboard. on backerboard, it's just a blob.

i'm going to mix up a batch of thinset tonight or tomorrow morning to tape and bed the backerboard wall to the ceiling. i'll put some thinset on scrap backerboard to see whether or not it will take the texture.

if that doesn't work, i'll definitely have to look into durabond since i'm not sure the thinset would handle the primer and texture the same way.

edit - they didn't have durabond at home depot.... i'll call lowes but if that fails i'll call some smaller specialty stores.
06-27-08, 06:36 PM
EasySand is another brand of setting compound - it's similiar to durabond. Both come in bags and you mix the amount you intend to use [it has a pot life] with water. Just like thinset, you throw out any unused mixed.

The thinset, durabond and drywall should all texture similiar. The bigest difference will be in dry times. Your latex primer will work well on any of these surfaces.
Posting Rules
You may not post new threads
You may not post replies
You may not post attachments
You may not edit your posts
---
HTML code is Off
---