DAP caulking question
10-29-08, 06:33 PM
DAP caulking question
---
Does DAP need to be primed before painted? I used alot of it during my last project on the baseboards(white baseboards, white DAP). Now that everything is settling I'm starting to see alot of paint cracking in the mitre joints and other spots that were caulked. I didn't prime these spots. Trying to determine cause before attempting to simply paint over again.
10-29-08, 08:45 PM
DAP makes a lot of different types of caulking. Did you use the 230 grade (alex plus, alex ultra)? They're a siliconized acrylic, and the silicon additive used in them is designed to be paintable, and shouldn't need priming.
10-30-08, 04:01 AM
I quit using DAP caulks about 25 yrs ago - too many cracking issues. Since I no longer use their caulk, I'm not overly familiar with their different grades. All the better caulks [any brand] will be a siliconized acrylic latex [paintable] I've had consistently good results using the 'white lightning' brand. There are also more specialized caulks that can be used but they aren't always readily available and do cost more.

It is always best to prime the substate before caulking but the caulking itself shouldn't need a primer. Another cause of caulk cracks is painting over it before it has a chance to cure. Of course poorly attached wood [or green/wet] will be problematic even with the best caulking.
10-30-08, 07:21 AM
Yep, I quit using the AlexPlus as well for most things. It dries a little too hard and doesn't expand and contract very well.

I'm happy with the way 230 works, but then I haven't used WhiteLightening..I've heard lots of people say they like it though.
10-30-08, 03:47 PM
In these spots affected, I also used Lepage spot filler as it dries hard, fast, and sands easy. Used it overtop of where I prefilled with dap so that I could sand and blend the mitres. Now to think of it, I don't think any areas with just DAP are affected, only those where a mixture was used.
Here is a pic of the worst one: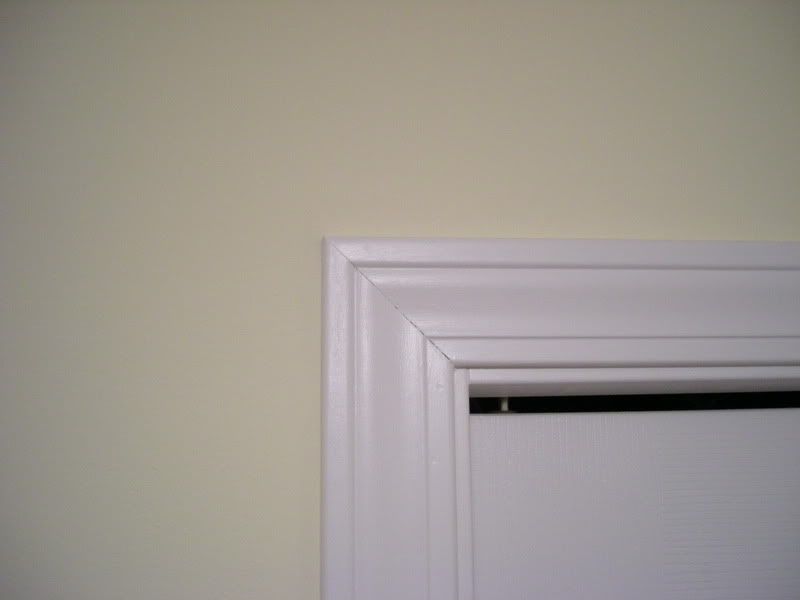 10-31-08, 03:42 AM
Miters should always be caulked. The only time you should use a filler is on stained/natural woodwork.

What I usually do is caulk the miter and then use a wet finger or rag, small sponge and push the caulk into the crack and wipe off the excess. This should result in a nice clean joint that requires no sanding.


"rag, small sponge" - should have read - 'damp rag or small damp sponge'
---
Last edited by marksr; 11-02-08 at

03:53 AM

. Reason: clarification