Painting the Garage Doors(and Front Door)
07-30-09, 04:40 PM
Painting the Garage Doors(and Front Door)
---
Hello Good People at DoItYourself.com, I am painting my Garage Door and Front Door. I used my sprayer/washer(in pic) to clean it off. It cleaned it really good! Did I put to
much pressure on it? At first, I thought it was the previous paint sluffing off, Behr Rawhide(15 years ago) but it is the top sliver layer of the door wood sluff-off. See the run-off on asphalt. Some places where I really held the sprayer on garage door looks like 'fur'. I guess I may need to sand it
down? I did the bottom half lightly. I plan on repainting this weekend.
I am repainting with Behr Premium Plus Ultra Exterior from Home Depot. My color is 'Chianti' S-H-150, a deep wine color, reddish purple. It is a paint and primer in one. Hope I like this color?.... what do you think? I will go back and read the red color sticky thread as soon as I post this with pics. I had this typed out and pics posted but it kicked me off, UGH! Thanks for all your
great help!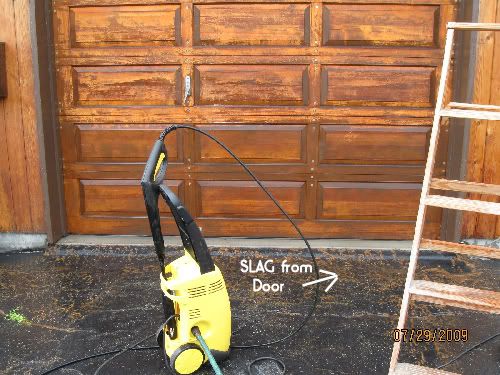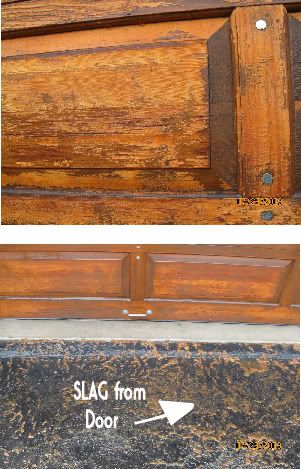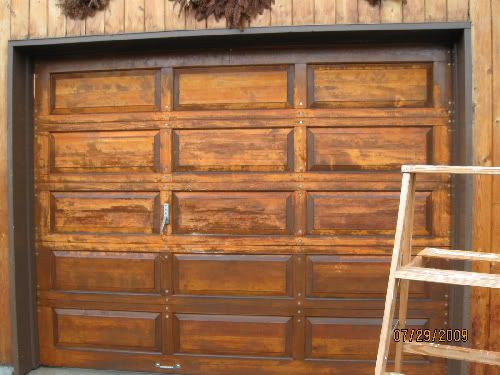 ---
Last edited by Raemarti; 07-30-09 at

05:04 PM

. Reason: Adding Pics, more info
Sponsored Links
07-30-09, 06:30 PM
If the pressure washer didn't cut in to the wood, then it's not too much but it looks a little uneven. It will take a few coats but I think you'll get back the look that you want.
07-31-09, 05:19 AM
You need to use a primer! Preferably an oil base exterior wood primer - it will both seal and adhere better than a latex primer.

I'd sand the door as neeed, oil prime, scuff sand and then apply 2 coats of a quality latex house paint. You will want a paint that has some sheen for atleast the entrance door. Flat paint will show dirt/grime easily and doesn't wash as well as an enamel.
07-31-09, 06:57 AM
Thank you!

Since I have to sand it down, should I go ahead and do the same to the bottom of the garage door so that it is uniform? Will I have two different looks on the garage door? The pressure
washer DID take the top wood layer off the door and in some places it looks like dog 'fur'.

I will put an oil primer on first and then paint it with the Behr latex semi-gloss originally planned. Another trip downtown.... Thank You!
---
Last edited by Raemarti; 07-31-09 at

07:03 AM

. Reason: add info
07-31-09, 07:44 AM
Don't make the bottom look like dog fur just to make it uniform. You went too hard with the pressure washer. I'd sand all of it with an orbital sander. Rent it if you don't have one. Then follow the instructions by marksr.
07-31-09, 05:10 PM
Ya, you want to sand it all fairly even. It's a good idea to sand the smooth areas also - gives the primer more 'tooth' and insures better adhesion. You could use some filler on the deeper grooves but I hesitate to even mention that because the filler would have a tendacy to fail at some point. Latex paint will fill to a small extent [more so than solvent based coatings] and sanding between coats of latex can also help to minimize the roughness.
08-01-09, 08:27 AM
I used my hand-held 4"x 8"power sander. It sanded down the 'dog fur' and came smooth in 2 good passes. I changed out the sandpaper twice, one piece for top of door and one piece for bottom. It is now smooth as glass
I had them tint a gallon of Kilz(white) primer. It turned out a warm pink using the same color formula as my actual paint color. In case there maybe paint flaking years from now, I did want a white base to show through. I am off to paint a door or two. Thank you!
I will take pics of progress. I may still need some feed back on my color. I taped 8 chips together on the door and studied them for weeks. The chip color is a dark, warm reddish, purple, almost brown color but the paint test on door is lipstick red. It just looks too red.
We will see......soon. Thank You!
08-02-09, 02:18 AM
It's hard to get a good read off of a paint chip - they are just too small. Often it's better to buy a quart/pint and apply a sample.

It would have been better to have the primer tinted grey. It's easier for reds to cover grey and it's hard to tint a primer red. That's one of the reasons it's better to buy paint from a paint store - they would have known that...... but the worse that can happen is it will take an extra coat of paint to get full coverage.
08-08-09, 02:29 PM
Post Pics
---
Hello again, Here are pics of finished paint on doors. Also, below is paint chip color used, Chianti S-H-150. This finished color is not even close to the paint chip picked and will need to be changed. The painting was finished on August 1st, and I took these pictures on 8-02-09 and 8-03-09, so paint was dry. I thought my color would be much darker than this. Ugh....
My question......will doors need to be sanded and primed(gray primer) again before the 2nd re-re-paint? Or can I immediately repaint the door with a second go of exterior latex paint? I prepped it well with Kilz primer(pink<grin>sorry) in the beginning.
After serious thought, I am going to paint the doors a simple garden variety beige to get me through winter. I will have more time in the spring to re-think colors again. Do you think I have recourse to get money back on this paint color? The amount was about $36.00 a gallon. I seriously think they missed a squirt or two of the formula???, although the HD guy said it is all computerized and not manually mixed anymore.
P.S. After your mention, I went to a stand alone Sherwin-Williams store and the contractors and customers were standing 5 deep. Did not have the time to stand in line. Thanks for all your great help! You guys ROCK!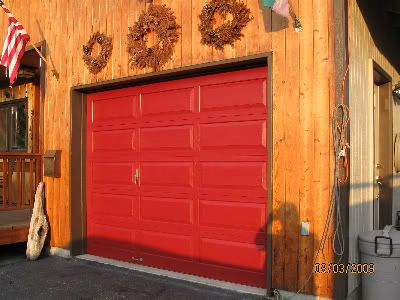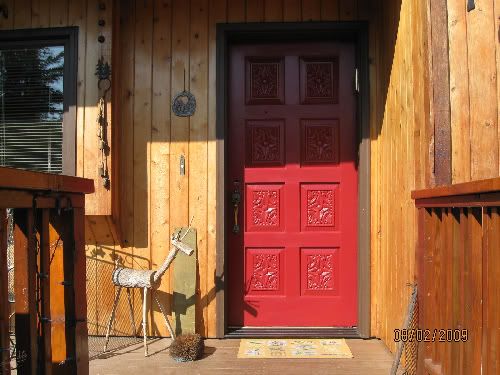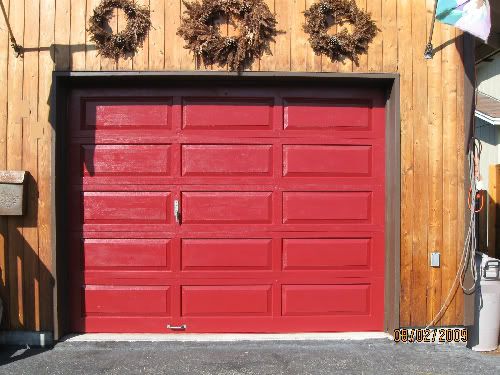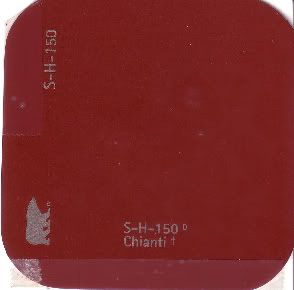 ---
Last edited by Raemarti; 08-08-09 at

02:48 PM

.
08-08-09, 03:20 PM
Yes..you can just wipe them down with a damp rag and repaint soon..no different than putting 2 coats one. Sometimes colors look different once they are on the surface over a large area as was stated. If you had used a dark primer..the paint may have looked a little darker..but not a whole lot I imagine. Not like a car with custom translucent topcoats.

Even between the 2 pics of the garage door the color looks different..thats to be expected with diff angles and light.

Personally..I think they look just fine..nice contrast to the wood siding. I sure wouldn't spend any money on beige just to cover it up.
08-08-09, 04:40 PM
I also think they look fine.
About the only way to dispute the color [paint versus chip] would be to take a drop or two of the paint you bought and put it on the chip. Once dry, if it's close - the paint was tinted correctly, if there is a big difference - they probably messed up.
Painting contractors tend to hit the store 1st thing in the morning, lunch time and the last hour before closing......... so those would be the best times not to go there
08-09-09, 08:41 AM
Thanks everyone! So far, this color has not grown on me. My x-the-street neighbor picked out the paint chip as she is the one who looks at my yard mostly. They are on vacation right now and will wait for her to get back. Re-painting may wait until the spring. Gunguy45, you helped me good with a gas stove last year. Thank you!
Posting Rules
You may not post new threads
You may not post replies
You may not post attachments
You may not edit your posts
---
HTML code is Off
---