Help with Purple Disaster!
09-24-10, 05:19 AM
Help with Purple Disaster!
---
So I decided to paint my bedroom. I went to home depot and picked out a color I liked. It is one of Behr's Disney Colors. It's called Pooh's Kite.
It's supposed to be this color:

I talked to the girl working in the paint department and she pointed out the Behr Premium Plus Eggshell finish. She never mentioned using tinted primer and when I asked if it would be okay to use on just the old white walls she said that yes it should be fine.
After two coats of paint it looks like this:
It's blotchy and not even close to the right color. Fortunately I have only done 1 wall so far.
What can I do? (with a very limited budget)
A) Finish this wall by applying coat after coat until it is dark enough. And then buy tinted primer to use on the other walls before painting.
B) Put the tinted primer over the ugly wall and then paint over it again.
C) Scrap this paint entirely and get a different brand in this color. Would I still need tinted primer with another brand?
D) Do you have any other suggestions
09-24-10, 05:34 AM
Welcome to the forums!
Deep colors can often be problematic
I've not used that particular paint but generally paints stocked at a big box paint dept are stocked based on low price more than quality.
It appears the paint was mixed correctly [look at the color on the tape] Grey primer is usually best for red paint but I'm not sure about the purple. Ideally, you'd go to a real paint store and get a better paint, they should also have better advice as their help is usually better trained
Since you already have the behr paint, I'd go ahead and see how it covers with a 2nd coat as that wouldn't involve spending more money
One other thing, tape can be problematic. It often gives a false sense of security - paint can seep under the tape
Also the paint can bond the tape to the wall so it's best to remove the tape while the paint is still wet/tacky. Once the paint has dried it's best to take a utility knife [or razor blade] and cut where the tape meets the wall. That will break the paint bond between the wall and the tape.
09-24-10, 07:09 AM
Yeah, at this point I think I'd go with another coat or two

Next time you want to paint something, go to a paint store instead of a paint department and you'll have a better experience
09-24-10, 07:15 AM
I'm really regretting not going to the Cloverdale Paint store that is a 2 minute walk from my house now. I just looked at their website and they have a no-hassle guarantee so if you don't like it they will refund your money and the Behr paint wasn't really cheap either. It was around $35 for a gallon and with the 30% discount Cloverdale Paint gives you if your a CAA member I wouldn't be surprised if it was cheaper and better quality.

If I finished this wall with the paint I have would it be a good idea to get Cloverdale Paint to color match the paint and use that for the other 3 walls. Or would it look different?
09-24-10, 01:47 PM
I'm not familiar with Cloverdale Paint but any good paint store should be able to match a competitors paint color. The only iffy part would be the sheen.... but even a slight sheen or color difference shouldn't be seen if the walls are cut in neatly.

You might also consider using the behr as a primer but I'd talk to the cloverdale paint rep first - to make sure it won't complicate their paint's coverage
09-24-10, 06:01 PM
A tinted primer should've been recommended to you.
You'll get your coverage with more coats. But the less expensive primer would have given you the basic hue that that color needs when going from white, and you wouldn't have to use $35 a gallon paint to get there.
Mark is able to give you good advice on this one.
When all this is done you should at least reward yourself with a Winnie the Pooh light switch cover. Unless of course you never want to look at Winnie the Pooh ever again.
09-26-10, 05:09 PM
I went to the Cloverdale paint store and they were very helpful. She had the same suggestion to use the Behr Paint as a primer and then to get them to color match it and use 1 coat of their paint over top.
And I was never really going for the Winnie the Pooh look. I just couldn't find any other Purple's that I liked. I just can't wait to finish my room. This is pretty close to what I'm doing.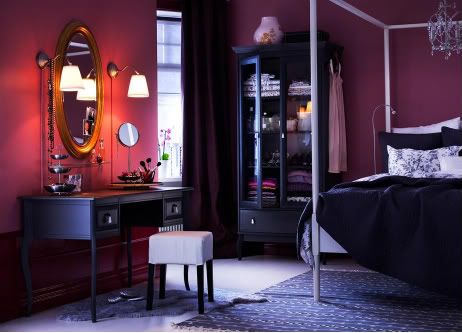 10-12-10, 01:51 AM
I would probably just paint a patch with a 3rd coating and check it after drying. If the result is ok then paint the whole wall.
Otherwise apply a primer to the wall and then apply another coating.