Repainting a 50yr old bathroom
04-03-12, 12:00 PM
Repainting a 50yr old bathroom
---
I am probably going to sound very ignorant in this post so I apologize ahead of time. I work outside maintaining semis & fixing irrigation systems...not painting bathrooms :-/ I am attempting to tackle repainting my bathroom because the paint is peeling & the walls have had some mold issues. The room has not been repainted since the house was built in the 60s. Half the wall space is a hard plastery type surface(under the paint), & the other is almost like a cardboard type wall.

I have scraped off all the peeling paint off of the hard wall, but when I try and get the paint off the cardboard type wall it just tears out chunks of it.

I don't have access to a sander. I have a primer & outer coat that the guy at Lowes helped me find. I'm working on a limited budget because my husband is away at school so I can't just hire someone to come do it for me :-(

I have a 4 month old son & want to make sure I get the walls repainted before he starts crawling so any help would be great.

Sorry for sounding so clueless!!!
Sponsored Links
04-03-12, 12:11 PM
First, given what you're describing, I don't think a good finished job is going to be obtained without some sanding, be it mechanical or manual.

Second, do you know why the paint was peeling? Is there a moisture issue? If so, that will need to be resolved first or your results will be short lived.

What does it look like under the wall you say is like cardboard when a chunk comes out of it?
04-03-12, 12:21 PM
I'm okay with manual sanding, I'm just a little concerned with if there is any lead in the paint. I really don't want to be breathing in the dust.

As for the moisture, the shower in the bathroom leaked for years which in turn got the carpet wet & caused it to have super high humidity. This house is AWFUL in how it was designed and this is one of the consequences. I've pulled out the carpet and laid down tile, we are working on re-sealing the shower as soon as we can figure out HOW and we have 2 dehumidifiers running at all times. While this won't totally solve the problem, it has helped and it's the best we can do because our land-lords don't want to do anything else.

Under the wall, it looks like just more brown tightly packed cardboard. I'll take a picture as soon as my son goes down for his nap.
04-03-12, 12:55 PM
04-03-12, 01:14 PM
Yup, they are well aware of it. My landlords also happen to be my inlaws. Part of our lease agreement is we maintain the house & the property. In the 3 years we've been here we have re-tiled the kitchen & bathroom, replaced the countertops, replaced the bathtub, rebuilt the majority of the fencelines, ripped down 2 sheds & a garage and built a greenhouse. Don't worry, they are okay with it! :-) They don't care how we do it, as long as it gets done to the best of our abilities.
04-04-12, 04:19 AM
Unless you test the paint for lead - I wouldn't do any more sanding! Lead is especially harmful for children.

What type of primer did you buy? The bathroom would have originally been painted with an oil base enamel. Latex primers/paints don't adhere well to oil enamel. Sanding helps but it's also best to prime with a solvent based enamel before switching to latex enamel. I'd scrape what you can, prime with an oil base primer, then apply any joint compound as needed, sand and prime [oil or latex] the repairs and it will be ready for the top coat. Most any latex enamel is ok for the top coat although a bath rm paint is better because it's formulated for the harsher environment of the bath rm and has more mildewcide in the paint.

btw - welcome to the forums!
04-04-12, 07:40 AM
I haven't sanded anything yet because I was worried about the lead dust. I've scraped off the chunks of paint chips but no sanding.

I have Kilz Original Interior Oil-Base Primer & the paint I have is Behr Premium Plus Interior Satin Enamel.

I'm going to pick up some joint compound today and tonight will probably tackle scraping down the rest of the walls. Once the primer & joint compound are applied, the peeling of the old paint shouldn't continue and cause the new paint to peel will it? I would hate to paint the whole room & then have it start peeling from the old paint underneath in a few months.

Thanks for the welcome :-)
04-04-12, 08:02 AM
Here were some photos. I just pulled the wallpaper off on Monday & I didn't realize there was so much mold. Nasty. I've washed down the wall that ISN'T peeling with bleach water but I haven't done the other walls yet because every time I touch the wall all the paint falls off so I figured I would get the paint off & then wash the walls before re-painting unless anyone thinks this is a bad idea and I should do it first.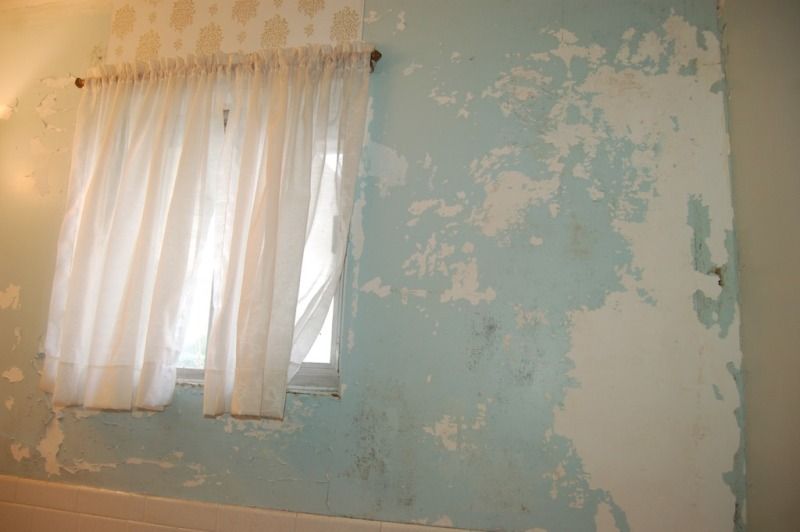 This is the cardboarding fiber stuff I was talking about(man I sound stupid lol)
04-04-12, 09:22 AM
Do you know if the walls are plaster? or drywall?
It's always a good idea to have clean walls for the primer/paint to adhere to - just make sure any cleaner residue is rinsed off.
Make sure you pick up ALL the paint chips. If I'm not mistaken, ingesting lead chips is the biggest danger for kids.
The oil base kilz should work fine. There is no guarantee that the paint that is left won't peel at a later date but if you scrape it the best you can - that's the best you can do! To some extent, fresh paint over the old will help the old paint to stay put. The main thing is to correct the moisture issues before they can repeat the problem.
Posting Rules
You may not post new threads
You may not post replies
You may not post attachments
You may not edit your posts
---
HTML code is Off
---