Renovation wood chairs
05-28-14, 03:54 PM
Join Date: Feb 2013
Location: Canada
Posts: 36
Upvotes: 0
Received 0 Upvotes on 0 Posts
Renovation wood chairs
---
Hi everyone.
If somebody have any idea How to paint these wood chairs and my dinning table??.
I want to paint in color black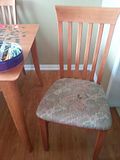 05-29-14, 03:46 AM
Join Date: Mar 2005
Location: USA - N.E.Tn
Posts: 45,242
Normally it's a good idea to use a primer first but since you are going black, I'd remove any/all wax, sand with 180 grit, remove dust and apply a coat of oil base black enamel, sand with 220 when dry, remove dust and apply another coat, repeat if necessary.

I'd remove the 'cushions' if possible.