Painting exterior fascia
03-09-17, 07:57 PM
Painting exterior fascia
---
I will be painting the exterior fascia next week.
The roof is more or less rectangular 80' long X 40' wide. So I will be painting the fascia which is a 1X6 about 10' off the ground.
The fascia was installed when a new roof was put on last year. It was pre-primed but I never painted it so I need to re-prime it after such a long time. I need to prime/paint the front, the back, and the 3/4" edge that's facing down.
I am trying to decide which is the best/fastest way to paint the fascia?
It is better to use an A frame ladder, prime whatever is within reach, then move the ladder over a few feet and keep doing this all the way around, then the back side, then to repeat all that again for paint?
Or is it better to use a work bench - I have a 40" long aluminum "work platform" seems this one I can cover about 4-5' of fascia each time before having to move the platform.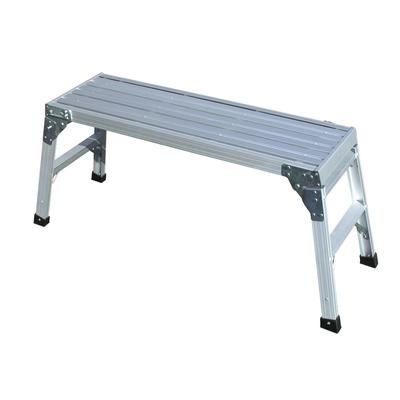 I assume the bottom edge is easiest to do with a small roller with a pole?
Sponsored Links
03-10-17, 12:21 AM
Not to get off subject but if the fascia board was primed, or even unpainted, you could use a solid stain and not have to re-prime which will same some time.

An excellent stain that I use all the time is Maxium 2000 by Coronado.

As far as platform/ladder, I prefer a ladder, may have to move more often but you have something to grab onto especially since you will be working overhead but would certainly give what you have a try.
03-10-17, 02:24 AM
Or cut a piece of plywood plenty oversize and put your platform on that, not the soil.

You must be pretty tall. Most of those folding platforms are only about 18-20" tall. That leaves 8 1/2' you need to reach.

Could you borrow/rent/buy one of those rolling scaffolds? Depending on the surface below it of course, that would be pretty easy to use. If feasible, probably cheaper to buy, then resell later. 2 days rental would probably buy a small one at HD or Lowes.
03-10-17, 05:08 AM
There is a concrete walkway around the house, so when I am painting the inside of the fascia I will be on level concrete. On the outside sometimes concrete sometimes brick pavers sometimes grass. Grass is fairly level.

When I stand on the work platform I can reach the fascia fairly easily. I have to keep holding the brush and paint cup though. The ladder I can set them down for a second if I have an interruption.

Due to concrete and paver bricks I will have a tarp or drop cloth under whatever I use. I don't like a two ladder one platform setup when working by myself because its a pain to reposition three pieces each time.
03-10-17, 08:13 AM
I can hardly see how it's a pain, it would take 15 seconds tops, but whatever. If you decide to stick with the single ladder, you could use a paint bucket instead of one of the cups... and they make carabiner style hooks that allow you to hook your bucket onto the ladder so it won't fall off. Makes one less thing to handle and you don't have to hold it. Either way, I would brush it all, not use a roller. If you do use a roller I would suggest you back brush it immediately after rolling.
---
Last edited by XSleeper; 03-10-17 at

08:30 AM

.
03-10-17, 09:08 AM
I'm not sure I know what a paint cup is ??

Unless using the apron on a step ladder I always use a pot hook when painting off of a ladder. With low stuff I'll often use an upside down 5 gallon bucket to set my work pot on.
03-10-17, 10:01 AM
Never heard of a paint cup? I imagine he has the ones with an optional liner and magnet?

My old boss used pails and hooks. He delighted in brushing all sides of the bucket with the leftover paint... after repeated uses the edges of the pails would be 1" or more thick. It weighed more empty than a gallon of paint weighed full! My elbow tendon still aches from holding those heavy pails!
03-10-17, 10:55 AM
While using a wok pot I've always liked to keep one side of it clean in case I need to lay my brush across it. I hate getting paint on a brush handle! IMO if a work pot gets a lot of dried paint built up it's time to either burn the paint off or get another work pot.
When I was an apprentice we used 6" brushes more than any other along with a 2 gallon work pot
Now I prefer a small/lighter brush and 1 gallon work pot because of tendinitis.
Posting Rules
You may not post new threads
You may not post replies
You may not post attachments
You may not edit your posts
---
HTML code is Off
---