Chair rail molding search
01-25-09, 02:45 PM
Join Date: Jan 2009
Location: Boston
Posts: 3
Chair rail molding search
---
I moved into a new house that has a chair rail molding in the main living room. However there are a couple of sections missing. I have tried finding some matching pieces at home depot, lowes, and a local lumber yard but couldn't find anything that matches. Any ideas on where I might find the piece I am looking for? It may actually be a composite of two separate pieces. The house is 50 years old and I'm afraid the piece might be out of style and hard to find.
Sponsored Links
01-25-09, 04:06 PM
Join Date: Aug 2000
Location: USA
Posts: 15,834
You can post a picture at
www.photobucket
or other photo site and post link here. Perhaps someone will recognize the profiles of the moldings.
You say that it may be stacked moldings, consisting of two or more pieces and often referred to as built-up moldings. Is that what you mean by composite?
Many moldings in older construction can be duplicated by a custom mill. A handy dandy DIYer with a love for wood and a router and the proper bits could duplicate the profiles on the moldings if not too intricate.
It is possible that the chair rail is not as old as the house and installed later, like folks today who decide they want chair rail in the dining room. If the chair rail was installed later, it is not uncommon to see a break in the railing where a large breakfront cabinet may have sat.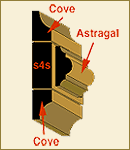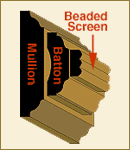 Photo Credit: Lowe's
This photo demonstrates a two-piece chair rail molding:
Photo Credit: American Hardwood Information Center
01-26-09, 05:50 PM
Join Date: Jan 2009
Location: Boston
Posts: 3
picture
---
Hi,
Thanks for the reply. Yes you are right I was referring to a stacked molding. I have posted a picture below if you want to take a look.
Thanks!
Posting Rules
You may not post new threads
You may not post replies
You may not post attachments
You may not edit your posts
---
HTML code is Off
---