MDF paneling in Bathroom?
12-28-09, 01:07 PM
MDF paneling in Bathroom?
---
Disclaimer: Please forgive me if I don't use the proper terms. If you correct me, I will be grateful.
Also, if my pics are too large or I have broken any rules, please let me know and I will fix it as soon as I can.
I am remodeling a bathroom and want to put beadboard up around the bottom half-ish part of the wall.
I really want to use a wider bead board, but while the narrow ones are made from real wood (usually poplar), I can only find the wider ones in MDF.
Is there a way to prep or seal MDF so that can use it in my bathroom? The shower will have a glass door, so I don't expect the wainscoting to be sprayed with water, but I like steamy showers. It will be painted, of course, but I am also worried about the edges and the back that goes up against the wall. The other, horizontal parts, are going to be wood.
(Google SketchUp Mockups)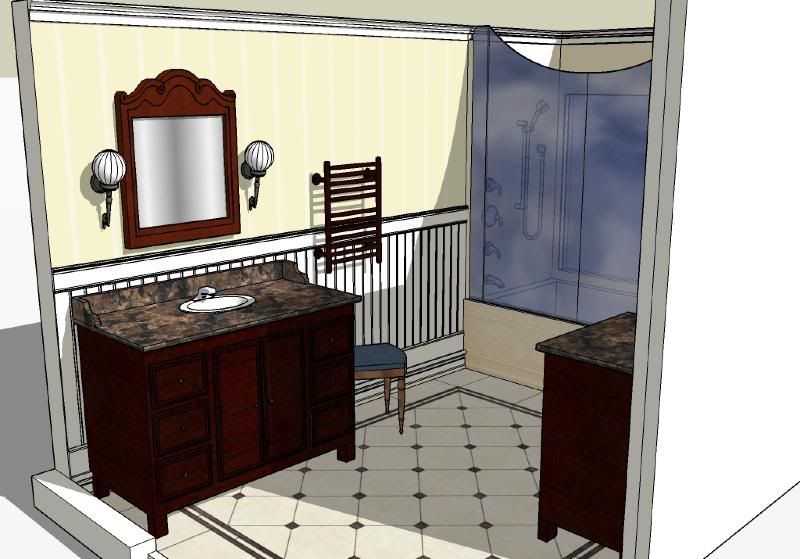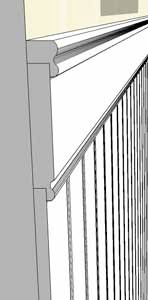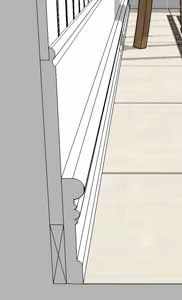 12-28-09, 03:15 PM
Join Date: Mar 2005
Location: USA - N.E.Tn
Posts: 45,166
Welcome to the forums!

I'm not sure I understand what you mean by wider beadboard, do you mean thicker? or wider space between the grooves? or panels as opposed to separate pieces?

If everything is primed, caulked and enameled properly, there shouldn't be any moisture getting to the back side of the beadboard.
12-28-09, 07:37 PM
Thank you for the welcome!
As to narrow vs wider, I meant the space between the beads.
The narrow ones vary from 1 1/4 - 1 5/8 inches from bead to bead, and come as two space/beads to a tongue and grooved wooded section.
The wider ones are 2 3/8 inches between each bead and also seem to come as two space/beads per MDF (not tongue/groove) section.


---
Last edited by BantyMom; 12-28-09 at

07:54 PM

.
01-15-10, 06:29 AM
Do you have a router? If so then it's a simple a job to make any size bead board you want. If you don't have a router then this would be a good reason to get one and have it pay for itself.