Is chamfer strip an urban legend?
01-28-18, 06:50 AM
Is chamfer strip an urban legend?
---
Or would that be a rural legend... either way I don't remember seeing it anywhere in person, and it looks to be a wholesale item online. It's shaped like quarter round moulding but isn't round, and would be made in larger sizes too (if anyone made it available). I haven't called a lumber yard yet, just got that impression looking things up,
obviously there's a history of it out there, however it still doesn't seem to exist (as a diy type of material).
---
Last edited by electrialdocius; 01-28-18 at

07:29 AM

.
Sponsored Links
01-28-18, 07:11 AM
I don't know about that, but I read something about chamfer strip somewhere, after I bought a small crate which had some built into it, and wondered where it came from. Then couldn't find the lumber itself, besides what it was called (or a picture).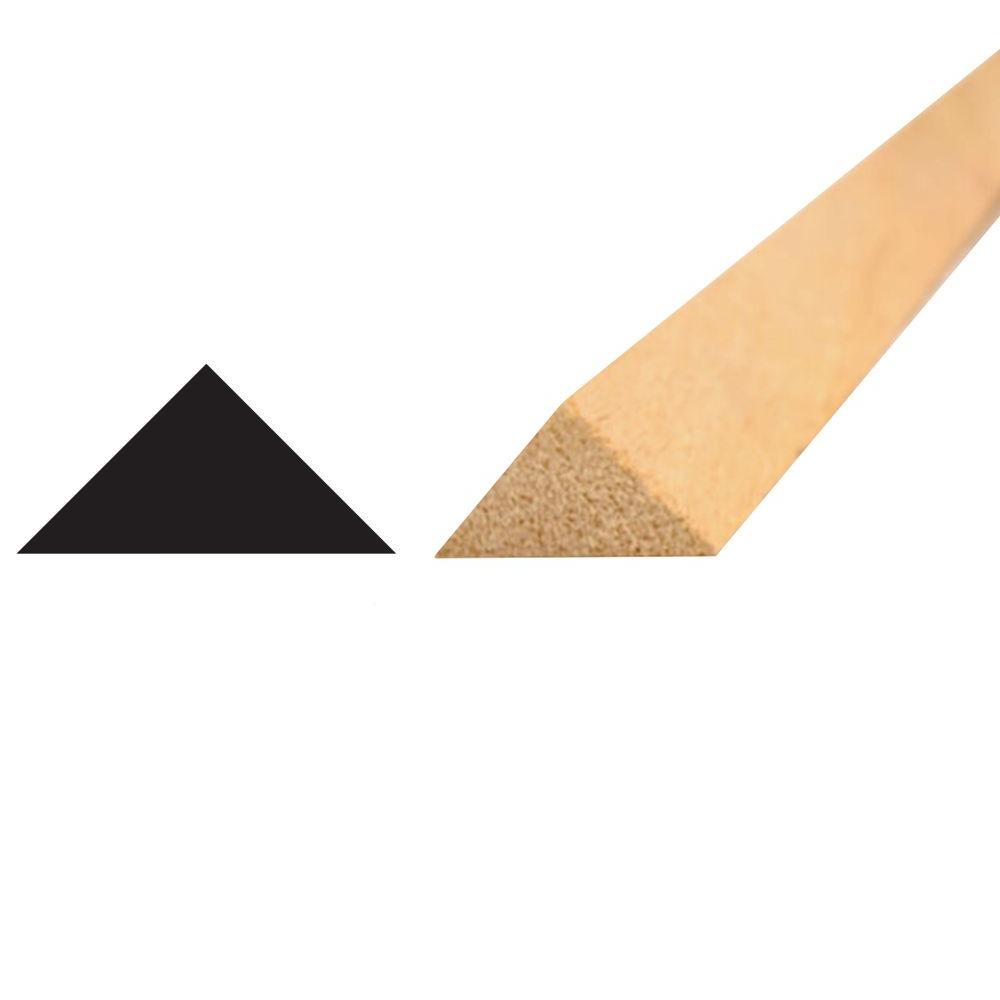 "This product isn't currently sold in stores. Delivery is unavailable for this product."
Sounds like an urban legend to me... maybe that's what they use to make bigfoot toe impressions, or whatever. I was gonna make crop circles with them.
---
Last edited by electrialdocius; 01-28-18 at

07:57 AM

.
01-28-18, 07:50 AM
Join Date: Nov 2007
Location: Twin Cities, MN
Posts: 13,667
That is an easy piece of millwork to make on a table saw. It is just two rip cuts. Do you have one available?

Otherwise some cove molding will be pretty close. What are you trying to do?
01-28-18, 08:24 AM
I'm mostly using a hand saw or jigsaw. Not a lot of room for milling machinery. But was looking into chamfer strip for more general purpose things, than having to use decorative moulding just for the shape on the back, and moulding seems to be stocked up to 3/4" typically. I was thinking of using something with more surface area to glue a border around a concrete block that's sitting on a concrete floor, to keep it from being bumped out of place easily, and don't want to drill random holes around invisible rebar to make it more immobilized that way. I'd rather not use square shaped wood, so I can keep the border more compact though (and gluing under the block itself would be too complicated, as far as needing to adjust it until I'm sure it's lined up with others).
01-28-18, 09:15 AM
I had some spare quarter round wood moulding and am gluing some test pieces down to concrete and tile to see how they hold when that adhesive sets between them. Also checking an adhesive cross reference, it looks like epoxy would be compatible with polystyrene moulding on those surfaces too, which can cost much less than wood moulding sometimes, even though epoxy costs more. I may get a concrete brick and try putting it down there, with and without the border piece, to see if it's good enough to bother looking into more moulding (or maybe chamfer strip somewhere else, although I wouldn't order a truck load of it either).
01-29-18, 02:04 AM
Well, I found some tonight, looking up chamfer lumber instead of "chamfer strip". They call it "chamfer molding" (WM995). Sold in full bundles only. So I'd have to order 400 ft, and those would be around the cost of a 2x2 each, for one cut in half essentially. Less than half the price per foot of the same size quarter round moulding though. I don't need nearly that much at the moment. Or actually, I'm still waiting for the glue to dry to determine if it's worth using anything in addition to that. The scraps I glued down by themselves held very well to both concrete and ceramic tile. I had to use a hammer to get them to move, and the tile broke apart at the edge in the process (I was going to take that section off anyway). So I'll see what happens when I can get two hands on a brick and wiggle it later... of course the moulding looks better than a gob of glue around the edge, but I'd like to know if it works better too.
---
Last edited by electrialdocius; 01-29-18 at

02:27 AM

.
01-30-18, 09:27 AM
That was an interesting test. Surprisingly, both of the concrete bricks seemed to be stuck to the tile just as permanently (with the loctite pro line adhesive I used). Both of my hands didn't budge them, and kicking them hard with the heel of my boot from the supine position did nothing. Lastly, I took a rubber mallet and smacked them very hard against the side. The one with only a bead of adhesive around the edges broke free and slid off, after a few hits. The one with 11/16" pine quarter round moulding glued to the sides and to the floor did not budge at all still. So that shape and combination of materials seems to hold a block in place much better, beyond the adhesive being pretty good either way.

I also tested whether wiping the edges of the moulding clean where adhesive squished out when appying it would make a difference. One side I left rough around the edges. But neither side would move when repeatedly waled on with the hammer. So it can look pretty good and hold very well. I guess the larger chamfer strip isn't absolutely necessary there.
---
Last edited by electrialdocius; 01-30-18 at

10:06 AM

.
02-03-18, 05:43 AM
After all, it was available in individual pieces at a lumber yard... well, they were always closed when I thought of looking it up. So yeah, they stock larger sizes, and it costs less there too. Besides, all the bad reviews I've read about wood had to do with someone ordering a bundle, and getting just a few useful pieces out of it.

I did waste half a piece trying to figure out how to cut it in a miter box. Thinking there must be a way to do a 45 degree angle upside down and backwards, from the same direction, on both sides. After trying every combination and losing track, I figured it had to be a left and right handed cut. Whereas I'd fooled myself into thinking all right handed was possible, with the moulding, but I must have miscut that too, and thought the glue made it fit together uniquely. Actually, double right handed cuts can be done, but holding the miter box turned 90 degrees is more awkward than cutting left handed.

Now I'm thinking about using more of it for a similar bracing method on a short concrete wall, where there isn't enough edge distance to put hardware around a post with anchor screws into the wall, as that requires several times the diameter of the fasteners, while a strip would fit at the edge and around the bottom. I'm doing another test between wood glue and construction adhesive on wood alone to see how it holds between vertical edges in general (and making use of the pieces I miscut). I think it will make a pretty good brace where there isn't room for hardware, as long as the glue is strong. I suppose it's better than nothing, or worse, weakening the other material with hardware in the wrong place. It makes a pretty strong crate too, with only that strip in the corners.
---
Last edited by electrialdocius; 02-03-18 at

06:24 AM

.
Posting Rules
You may not post new threads
You may not post replies
You may not post attachments
You may not edit your posts
---
HTML code is Off
---