Baseboard molding problems
02-06-21, 02:05 PM
Baseboard molding problems
---
Hi, after a long time of seeing a huge gap on my baseboards. I am ready to add some shoe mold to hide the gap and paint the walls and baseboards. The problem is that at one point the gap is too big (see pic) and the shoe mold may not cover it. I am trying to avoid having to replace that section of baseboard, any other ideas?. Also, I have a hole on a corner that I had to make to accommodate a cable and needs to be patched, then put the baseboard, how do I do this? Also on the other side of that door I have another eyesore with the trim/finish, any ideas as to how to deal with it, off course for a "weekend DIY not so skilled but willing to learn" like me? Thanks.
Gap too deep for shoe mold. What was the previous owner thinking? (or drinking!)
ok, how I even approach this eyesore? (I did not do this!)
This "ethernet cable secret hideout" needs to be covered
I have the baseboard piece but how to deal with the hole?
Thanks guys!
02-06-21, 02:20 PM
Join Date: Nov 2007
Location: United States
Posts: 13,868
Sometimes you have to get creative with trim. Show molding is quite small and there are larger options out there, I would recommend browsing the millwork
aisle
and see what is available. There is nothing wrong with using a type of millwork for some other purpose.
That cat5 looks like a standard phone line to me. For something like that, I would make an access panel.
02-06-21, 03:09 PM
thanks!, So you mean something taller that regular shoe mold? like what? as for the access panel I am not will it work on that location with that size. It has a wall on the side and a door casing on the other one, the size is 5 3/4 wide x 5 1/2 tall.

02-06-21, 04:20 PM
Join Date: Nov 2007
Location: United States
Posts: 13,868
Maybe something like this?
https://www.homedepot.com/p/Access-P...67-1/300082125
You might have to add a thin strip of wood at the top to fur it out.
Here's some 3/4" shoe molding:
https://www.homedepot.com/p/House-of...9550/203116455
You could also go with some cove molding like this which is over 1" tall:
https://www.homedepot.com/p/Alexandr...096C/205958701
In your middle picture, I would maybe put a 3/4 piece of wood below the casing and then scribe the base around the block. Super-Duper paint example:
02-06-21, 10:04 PM
Great Ideas, I will try them. Thanks.
02-07-21, 03:47 AM
Join Date: Mar 2005
Location: USA - N.E.Tn
Posts: 45,221
Just to clarify, you know the 3/4" part of the shoe mold goes up against the base and the 1/2" side goes against the floor.

When the gap is too wide for shoe mold I've added a thin strip of wood first, then the shoe. Door stop trim works well for that.
02-07-21, 05:30 AM
Join Date: Nov 2007
Location: United States
Posts: 13,868
As I mentioned earlier, it helps to check your local stores to see what they have for moldings. Marksr's recommendation of using a stop molding is a good one.
https://www.homedepot.com/s/stop%2520molding?NCNI-5
Stop moldings have a nice profile, larger size, and would look nice in place of a shoe molding. Sometimes you just have to think outside the box.
02-08-21, 08:57 AM
Did not know that, but mine is 3/4 by 3/4 anyways.
02-08-21, 09:02 AM
This window (called stop moulding?) moulding
https://www.homedepot.com/p/Woodgrai...1879/203461895
is exactly what I was looking for, something that would cover any crazy gap from the floor to the baseboards while being narrow (3/8 vs 3/4). Also looks easier to glue (with liquid nail) than round 3/4 by 3/4. I don't like to use nails as I don't have tools for it and its a lot more wortk. Do I need to put glue on the floor side too or with the baseboard will be enough? thanks.
02-08-21, 12:09 PM
Join Date: Mar 2005
Location: USA - N.E.Tn
Posts: 45,221
Shoe mold or quarter round should be either attached to the base or the floor - one or the other - not both. Using adhesive just on the base would be fine.
02-08-21, 08:22 PM
thanks, I am doing that, using the "show molding" with glue against the board, not the floor with good results. (see pic below) After the paint it should look neat but I am already very happy not seeing the huge gap between the floor and baseboard!. Now I still need to cover the hole that has network cable coming off it. A cable wall plate ? but how do I attach it? and to where? the hole is roughly 5' by 5', no access panel fits that and I don't need a door but a simple little hole for the cable. and would like to add a piece of baseboard but how do I attach it. Any ideas as to how to decently resolve this (that is to cover the hole, add baseboard and paint) without using drywall, special tools or pro handyman skills? see pic again below. Thanks so much!
---
Last edited by Agostomortal; 02-08-21 at

08:27 PM

. Reason: added pic
02-09-21, 04:12 AM
Join Date: Mar 2005
Location: USA - N.E.Tn
Posts: 45,221
I'd provide something for it to attach to and then insert an appropriate size piece of drywall to fill the hole.
02-09-21, 07:26 AM
Join Date: Jan 2014
Location: USA near Boston, MA
Posts: 2,039
Make a removable panel as follows:
Clean up the edges so they are straight and sharp.
Cut a piece of drywall or wood the same thickness as the wall to fit into the opening.
Glue a small strip of wood on the back of the panel sticking up at the top that will slide up behind the existing wall.
Glue the baseboard to the panel at the bottom. Add shoe molding if required.
Install the panel by tipping it so that the wood "tab" at the top goes in behind the wall and press the bottom in.
The panel slides up and in.
Friction and gravity will hold it in place. The panel can be removed when necessary to get at the cable behind.
If you do not want to see the horizontal joint at the top glue some thin molding onto the panel around the edges like a picture frame to hide the joint and instead of the baseboard and shoe molding.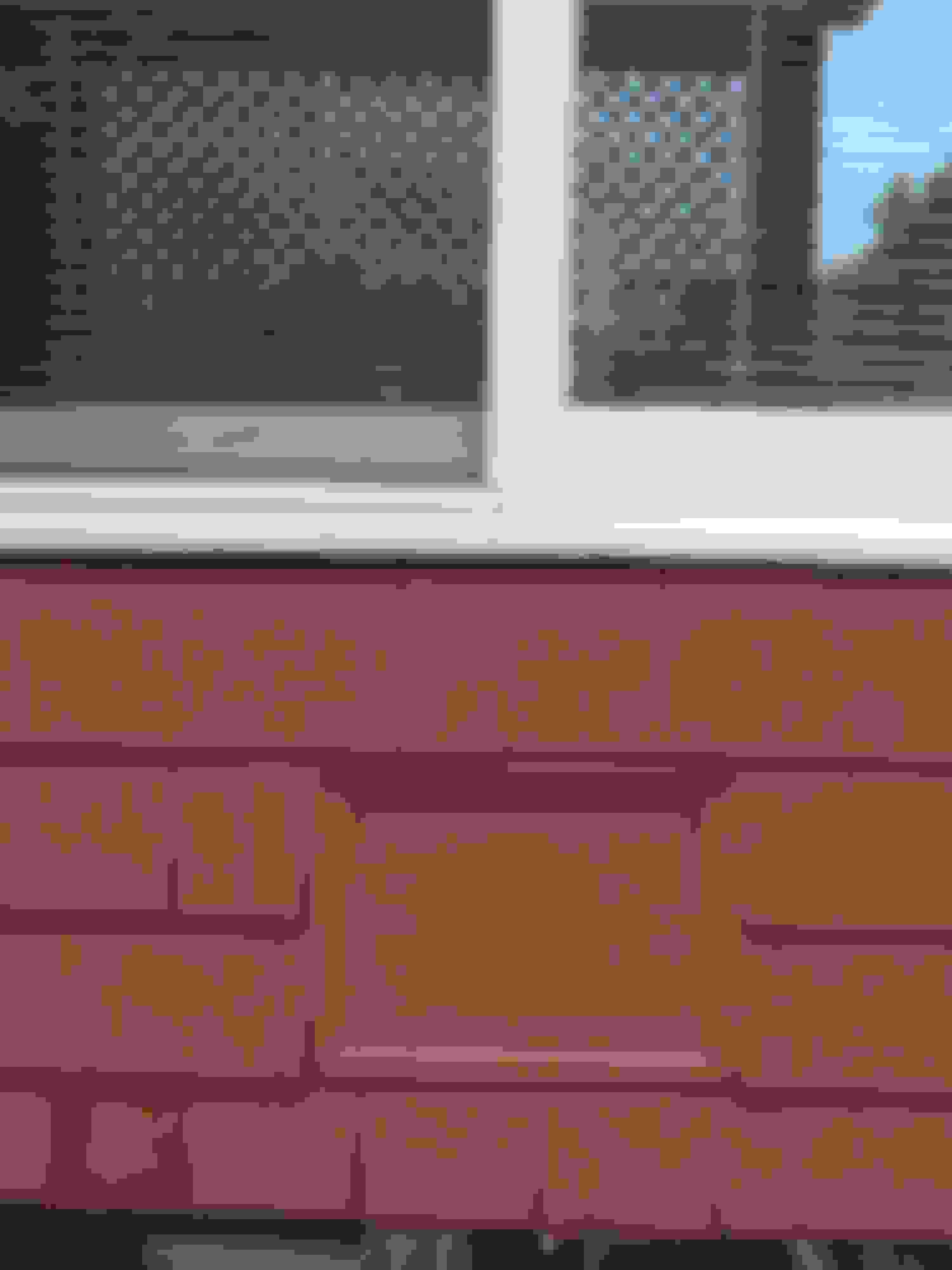 Here's an example of a "framed" access panel. The whole thing (panel+trim slides out.) The trim is not flush to accommodate the depth of the shingles. Your panel will be flush with the wall. Use a flatter trim that does not stick out so much.
02-09-21, 07:46 AM
Thanks guys, Mark and 2John. I figured a way to place a piece of wood that will stay place, cover most of the whole and glued to the bottom and sides, aided by craft sticks. I will be able to use wall patch to cover the remaining gap of about 3/4 of inch where I can leave a square of space for the cable to run, then put baseboard and shoemold.