1999 Toyota 4Runner Starter Contact Repair
01-14-08, 03:26 PM
1999 Toyota 4Runner Starter Contact Repair
---
I am writing with a question about my Toyota. Lately, it hasn't been starting every time. Sometimes it will, but other times it will just turn over and click. The battery was tested and was fine. I was advised to replace the starter contacts. Does anyone have any information about how to do this? Thanks for your help.
01-14-08, 04:24 PM
sure sure
---
Yes you can go to Toyota and get a rebuild kit. Toyota makes I think two kinds of starters a dennso and a napasico or something like that.Look at your starter and see what type you have. I think about 13 bucks for the kit. The starters in the yotas are real good and require very little maintenance if any.
01-15-08, 01:57 AM
check it out
---
If you GOOGLE Toyota starter rebuild you will get a bunch of info and pictures to boot.
There are also many Toyota fourms that cover this item. Just use Google and surf the web for info and pictures.
01-15-08, 04:26 AM
I had a good link but I've misplaced it. In basic terms you have to remove the starter and then there is an endcap that comes off the solenoid. Inside are two fixed terminals and a freee-floating plunger which is activated by elctromagnetic when the key is turned to make contact with the terminals. It's really fairly simple and a LOT less than a new starter. Toyota starters generally outlive the rest of the vehicle except sometimes the contacts/plunger get worn as yours.
01-15-08, 04:39 AM
Here's a general idea of what you're working on: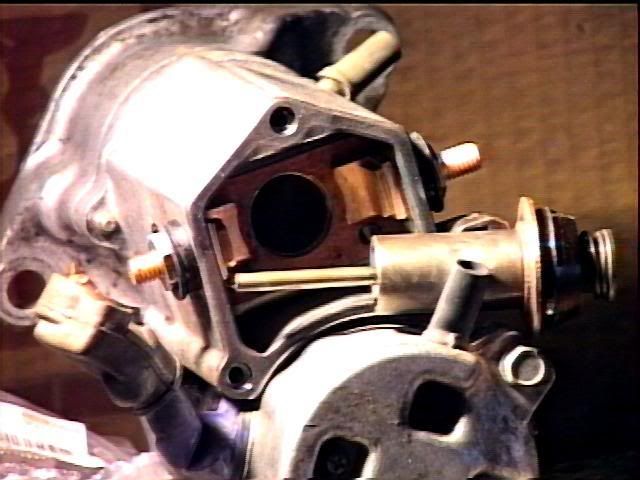 Photo credit:
http://www.4crawler.com/
Here the end cap is off and the plunger laying sideways. It goes down that hole between the contacts. I don't think this is a Toyota starter (might be, tho), but the design is pretty close.
01-15-08, 07:49 AM
Any tips?
---
Thanks for your help, I'm starting to understand now. Do you think there is any way I might need a whole new starter? Do you have any tips on how to get the starter out? I worked on it for a long time last night and am having a really hard time getting it out. Thanks for your time, it is very appreciated.
01-15-08, 08:28 AM
Toyota starters are practically bulletproof. I've been driving them for 30 years (Celica, Corolla, pickup, & Camry) and have never had to replace a failed starter. Only had to do the solenoid fix one time on our previous Camry and it had about 150k miles on it, I think.

For removal it often requires a lot of manipulation to turn the starter into the proper direction so it can be slid out. In extreme cases on some vehicles you have to unbolt an engine mount and raise the engine slightly.

You have the electrical connections disconnected (negative side of battery disconnected for safety first) and it's unbolted?
01-16-08, 01:59 AM
two bolts
---
If you take a look at the picture Towguy sent you will see the two big boltholes on the bottom flange. those are the two that hold it to the truck.
You probbably will need an extension on your ratchet to make it easy.
Make sure to remove battery cables first and all wires to starter then the two big bolts last.
(tools that might help find them) a good flashlight and mirror.