2001 Ford Taurus Misfire in Cylinders 1 and 3
02-24-08, 02:47 PM
2001 Ford Taurus Misfire in Cylinders 1 and 3
---
About 2 weeks ago, my Taurus started pulsating and vibrating when it was stationary and even while driving down the road. I took it to Auto Zone, and they told me that the computer gave the code P0303, which is a misfire in cylinder 3. Then yesterday, my dad and I changed the spark plugs and wires, but now there is a misfire in cylinders 3 AND 1 (P0303 and P0301). We then thought it was probably the coil pack, which we just changed today. But it's still showing the same misfire codes and is misfiring. Are there any ideas as to what it might be? Could there possibly be a problem of the transmission not communicating with the engine?

Lisa
Sponsored Links
02-25-08, 08:41 AM
Not likely, but what you may have is a couple of badly clogged injectors, although that wouldn't explain why it changed from one cylinder misfire to two. Just went through this on a Chevy Corsica I was fixing up for a friend's daughter. Had a persistent misfire (only one cylinder in this case) and after checking all ignition items pulled the injectors. Found one completely clogged and a bunch of gunk in the fuel rail. When you pulled the spark plugs, how did the plugs from #1 & 3 appear?
Here's what the clogged injector looked like beside a good one: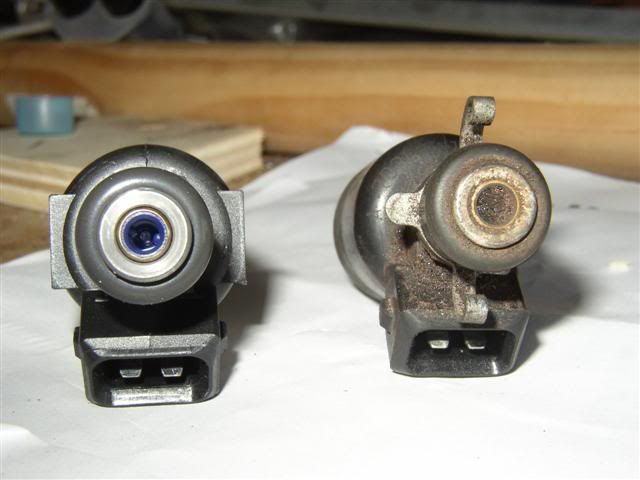 ---
Last edited by the_tow_guy; 02-25-08 at

12:36 PM

.
02-25-08, 12:35 PM
Sorry, had to dash off before finishing my thoughts.

Have you checked to actually see how the spark is from those two cylinders either with a spark tester or by connecting a couple of spare spark plugs up to the wires and laying them up on the engine (making sure they make good ground contact)?
02-26-08, 05:29 PM
Well, you were on the right track. Sounds like it did have a bad plug wire, but crossing two of them threw the curveball. Weird coincidence you happened to cross one that was related to the original error code.
01-08-11, 04:06 AM
Posting Rules
You may not post new threads
You may not post replies
You may not post attachments
You may not edit your posts
---
HTML code is Off
---