How do I remove Fuel Injectors. 1996 olds
05-30-08, 06:15 PM
Join Date: May 2008
Posts: 1
How do I remove Fuel Injectors. 1996 olds
---
Help, I have a fuel leak from my fuel injectors, I saw it gushing out and now have center of manifold off and can see Fuel injectors and have all visible bolts out but fuel injectors are under two long rails maybe connected to it. How do I proceed from here? Does this thing just pull up out of place as one piece. Is it my seals under them bad? The car was running fine and still does but just leaks real bad under the center intake manifold and looked like was comming from the fuel injector bottom? I thank you if you can help, anyone? Fred
Sponsored Links
05-30-08, 06:26 PM
Join Date: May 2008
Posts: 9
The top rail should just pull off the injectors.....they just push into rubber grommets.....dont be scared.....just get em out and replace the rubbers if u can find them might have to buy new injectors as well....depending.....aint cheep.....but urs is not a normal problem...they dont normally leak that way....
05-30-08, 07:09 PM
Join Date: Dec 2001
Posts: 2,538
before disconnecting the fuel lines with the upper intake off cycle the key on and off a couple of times to build fuel pressure to see if you can tell for sure where its leaking the injectors are sealed with an oring at the fuel rail and intake and are usually held in the fuel rail with a clip all injectors and fuel rail should come out as one piece may just have to gently pry up on each injector to pop the oring loose from the intake.
you should also double check that its fixed before putting upper intake back on by hooking up the fuel lines and cycling the key on and off a few times to make sure the leak is fixed it is not always the orings it can also be an injector however you just need to replace the one thats leaking not all of them.
05-30-08, 07:23 PM
Join Date: May 2008
Posts: 9
ok u said it better than me dude....
05-31-08, 06:24 AM
Concur with mopar and bejay. And they can REALLY get stuck in the manifold, bad enough so you think they're somehow attached with something besides just push-in force. When reassembling be sure to lube the o-rings.
Since you're this far, and considering the age of the vehicle, probably a good time to remove all the injectors from the rails and manually clean them AND the rails to make sure you don't have this problem later (one of my favorite car pictures). This was a '96 Corsica, so likely yours looks similar; you can see the clips that secure the rail end of the injector: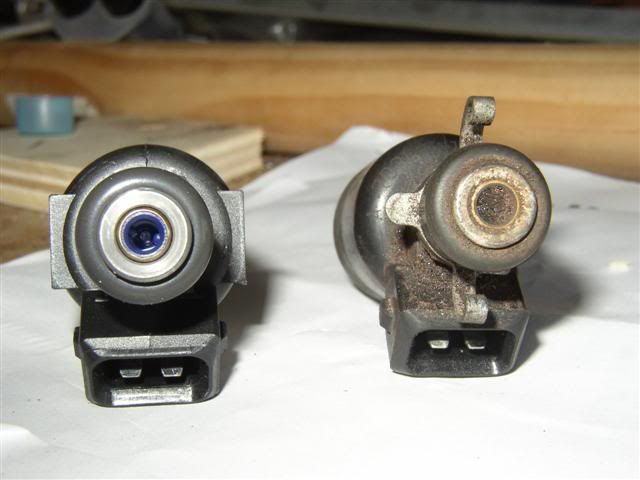 05-31-08, 03:46 PM
The top rail should just pull off the injectors.
The fuel rail itself is bolted down to the lower manifold. after these bolts are removed , it takes a Moderate "TUG" To free the Injectors.
A word of caution......Is the Injector leaking or is the "Seal" leaking? Replacement Injectors often do not come with The seals, and since theyre easily damaged by dissassembly , Its a good Idea to replace BOTH seals on ALL 6 Injectors.
Thats a total of 12, which are always available in a 12 count bag at your local GM dealer.
Posting Rules
You may not post new threads
You may not post replies
You may not post attachments
You may not edit your posts
---
HTML code is Off
---