1998 Ford Windstar leaking coolant
07-22-08, 01:45 PM
Join Date: Jul 2008
Posts: 5
Received 0 Votes on 0 Posts
1998 Ford Windstar leaking coolant
---
I noticed yesterday that my 98 Ford Windstar was laking coolant. When I looked under the hood, I saw a pin-hole leak coming out of the metal pipe that is next to the engine. Does anyone know what this pipe is, and if there is any kind of sealant (internal or external) that I can use to fix it?
---
Last edited by brnidgrl28; 07-22-08 at

01:47 PM

. Reason: typo
Sponsored Links
07-22-08, 02:48 PM
I'm just guessing, because your description is not too clear, that it is a pipe either going to or coming from your heater. You could try a small piece of rubber as a seal with a hose clamp to hold it tight. I do not recommend putting sealer in the radiator as it tends to clog up the system. Worst case would be to have the pipe replaced.
07-22-08, 02:59 PM
Join Date: Jul 2008
Posts: 5
Received 0 Votes on 0 Posts
Sorry for not being clear. I am not going to pretend to be car smart. The only other way I can describe this, is that it is a T shaped metal pipe that has rubber hoses on each end of it, and it connexts to metal tube beneath it. It is located on the passenger side of the engine (top). If I was to replace this pipe, what would I ask for at the auto parts store?
07-22-08, 03:46 PM
My mind is drawing a blank, BUT I would go by the parts store and get some JB Epoxy Water weld. It comes in a two part kit. You mush the two parts together like a putty and apply it to the pinhole area.
It WILL stop the leak. I've used it before on a cracked coolant line like you have, and never has leaked.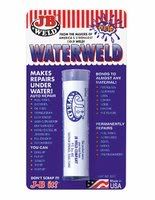 You can do this and then drive the vehicle up to the auto parts store so they can idenify the part.
Can you take a picture of it and upload it here?
07-22-08, 04:31 PM
Parts store is usually a No-Go for parts of this nature.

This is a metal tube that runs from the water pump and around the rear valve cover. it has a TEE in it that wraps around the rest of the motor, to directly below the T-Stat outlet. Very common for them to leak, and your local ford dealer likely has 10 or 15 of them in stock at any given time......
07-22-08, 06:44 PM
Join Date: Jul 2008
Posts: 5
Received 0 Votes on 0 Posts
Thank you all for your help! I went to Auto Zone to get the JB Weld, but the guy said he was a mechanic, and that stuff would never work and to not waste my money. He did identify the part as the coolant pipe. He said to call the dealer and that it is a relatively expensive part (I hope so). He also told me it was very simple to fix, and would only tske abiut 10 minutes. I simply have to undo the bolt and hose clamps, put the new part in, and it's fixed! Does this sound about right? He said it was simple enough that I could even do it.
07-22-08, 06:54 PM
Mechanics do not work at Autozone....and for him to say it would never work is ignorant, because you can go over to my mother-in-laws house and still see that JB weld on the coolant line thats been there for two years now......

Stuff only costs $5, and you can just use it temporarily until you get the part.
07-22-08, 07:14 PM
Join Date: Jul 2008
Posts: 5
Received 0 Votes on 0 Posts
I will get some tomorrow. I saw the waterweld, but I also saw JB Weld (two tubes in one package). Does it matter which one I get?
Do you know if changing the coolant pipe is as easy to change as he says it is?
07-22-08, 08:37 PM
I would get the Waterweld type, it comes as a stick.

It shouldn't be to difficult to change it. Definetly wait for the vehicle to cool down for a couple hours if you do. You don't want scalding coolant all over the place.

Are their any metal clamps holding the rubber hoses on? Sometimes, the hoses can be a bear to get off, and you gotta cut them off sometimes. Hose's are cheap, so if you damage one, I wouldn't sweat it.
07-23-08, 12:02 PM
Join Date: Jul 2008
Posts: 5
Received 0 Votes on 0 Posts
The Wal-Mart near my house is open until 11 pm, so I actually ran out last night and got the waterweld. I put it on, and so far have not seen it leaking. I will continue to keep an eye on it for a little while though.
I called the Ford dealership today. They said that there are many coolant pipes in my car and they needed to know which one exactly. Since the "mechanic" at Auto Zone told me to simply ask for a coolant pipe, I didn't know what else to say. He said it would be best for me to come to the dealership on Saturday so they can see which one i'm talking about. I just hope they have it in stock so I don't waste my time going over there. Especially on the only day I have off! I just hope this part doesn't cost alot.
Thanks!
07-23-08, 05:59 PM
Good deal. That Waterweld stuf is VERY strong! The dealership should have the part in stock. If they don't, just remember the name of the part they told you, and/or the part #. Hopefully they won't charge you too much.....maybe just an arm, but not the leg too...
Posting Rules
You may not post new threads
You may not post replies
You may not post attachments
You may not edit your posts
---
HTML code is Off
---