fan belt help
11-20-08, 04:52 PM
fan belt help
---
I need help changeing the fan belt on a 92 pontiac transport.
the idler pulley does not move and have tried to lower the alternator and connect the fan belt but there is to much tention. Urgent as van is out on the highway at a residence 40 miles from town
11-20-08, 05:43 PM
There should be a belt tensioner, usually by itself. Put your wrench on it and either push or pull. Some have a bolt on top which you unscrew to loosen the tensioner.
Is there a diagram on the underside of the hood with it's location?
Should look like this: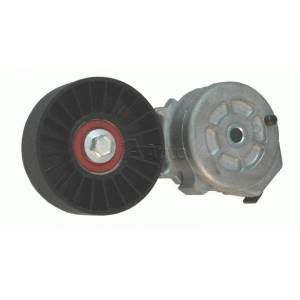 11-25-08, 02:46 PM
---
If the water pump pully is loose and not running true, sounds like a bad bearing in the pump or the pully isn't tight. Did you retighten all the bolts when replacing the belt. Double check all bolts.