Venture disc brake ?
11-24-08, 11:37 AM
Join Date: Aug 2002
Location: new york
Posts: 400
Upvotes: 0
Received 0 Upvotes on 0 Posts
Venture disc brake ?
---
I changed the brake pads and rotors on a 2002 Chevy venture about 2 months ago. The passenger side I removed the caliper and rotor and installed everything. On the driver side after pulling everything off and installing the rotor and caliper I noticed that the two bolts that hold the caliper on are slightly different. One actually has an indented taper about 1/4" long on the end with a hard rubber sleeve that goes over this taper. I made sure this bolt was in the same position as when I took it off ( can't rmember if it was on top or bottom) Anyways, when I did the passenger side I did not notice this therefore, I am not sure which location I put this bolt in. The brakes seem to work fine though. Just wondering what the difference here is and if this bolt needs to go in a certain location. Thanks
11-24-08, 02:28 PM
Those are your caliper glide pin. When you press your brake those pins allow the caliper to slide to the rotor.
There are two per side, one on top and one bottom. You often need to greese these when replacing pads.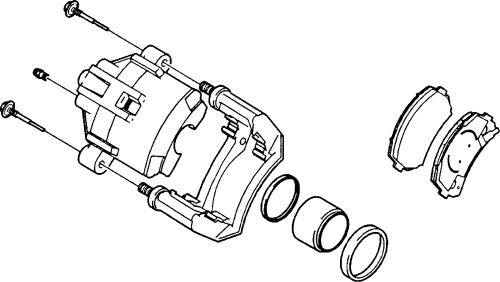 11-25-08, 04:20 AM
Join Date: Aug 2002
Location: new york
Posts: 400
Upvotes: 0
Received 0 Upvotes on 0 Posts
Okay,
---
Okay,

I realize what they are for however, both pins are not the same, one is totally different with a machined notch in the end with a plastic sleeve. Just wondering if it matters if it is on the top or bottom. Seeing that the brakes are working fine, I am tending to believe that it doesn't matter where it goes.
11-25-08, 03:42 PM
you sure you do not have TWO nothces on the bolt? japanese cars have a ridge on the brake/caliper bracket, that hits against the head of the sliding pin, and prevents it from turning when you tighten it.
on my chevy, no such convenience exists, thus pins free turn when you try to losen or tighten them. but! a proper size wrench fits well onto those 2 notches and HOLDS THEM IN PLACE. what you describing sounds awfully like those wrench notches.
12-02-08, 03:44 PM
Just as Gm tech said it goes in the top. You more then likely put it together correctly. That little black hard rubber piece you mentioned sometimes stays/hangs up in the caliper bracket. If it was still stuck in there, which happens, you could only put the correct pin back in because the larger of the two wouldn't fit with the bushing/plastic piece still in the bracket.