Cam position sensor 99 Chevy Venture Van
01-31-09, 05:13 PM
Cam position sensor 99 Chevy Venture Van
---
Anybody know where the cam position sensor is located on a '99 Chevy Venture Minivan? How easy is it to replace?
Sponsored Links
01-31-09, 05:29 PM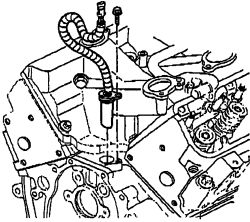 1. Disconnect the negative battery cable.
2. Remove the serpentine belt.
3. Remove the water pump pulley, if necessary.
4. Remove the power steering pump assembly, if necessary.
5. Detach the electrical connector.
6. Remove the retaining bolt, and extract the sensor.
01-31-09, 06:19 PM
Thanks. Just what I needed.
Posting Rules
You may not post new threads
You may not post replies
You may not post attachments
You may not edit your posts
---
HTML code is Off
---