Need Help with DIY body repair
03-19-09, 08:46 PM
Join Date: Mar 2009
Location: Grand Cayman
Posts: 3
Need Help with DIY body repair
---
Ok guys i'm new to here and new to the driving world.
My brother just gave me a nissan primera camino aka infiniti g20.
The front bumper has a pretty big crack and paint is scrapped off due to the bumper falling off and goin under the car.
The back bumper has a crack on the curve of the bumper and then another pieace is cracked! I am current still in high school moving onto college dnt have alot of money to pay repair the car right now so i was figuring a DIY..any help here guys ?
Sponsored Links
03-20-09, 03:59 AM
The bunper covers can be replaced with aftermarket ones; probably about $100 US each, but they'll come primed (unpainted). The removal and replacement is pretty easy. Not much else you can do.
03-20-09, 10:35 AM
under assumption that:
1. it is just a crack, not a dent
2. there are no pieces missing

you can do 2 things:
1. get yourself a heat gun, heavy gloves, jackstand the car so that you can access the back of the bumper, and heat it up with heat gun along the crack. for long cracks, you have to work in small increments, maybe few inches long. if it is a standard japanese plastic I worked on before, at some point it becomes pliable enough from the heat to bond edges together along the crack.
you might want to give it good wash first, remove all the dust/debries from the crack surfaces, and seal it with super glue type adhisive so that it stays together while you working on it. otherwise, you might need someone to hold plastic on the outside while you are sealing hot edges together.
2. any parts store will sell you some fibeglass cloth and 2part resin, like JBWeld or something. I just use liquid resins I have at work. you can put a larger size fiberglass patch from the inside, or, if you don't care, on the outside of the bumper to keep plastic together. plastic must be rough for resin to stick and with no oily areas.
we have just patched my son's Eclipse like this. it all started with a small crack from the icy times, when he hit the curbe, and from continuous air flow and vibration, turned into a large hole and about 20 inches long crack with some collateral ones.

all this is nothing but temp fix, of course. then again, a whole bumper skirt is around 100 bucks aftermarket, indeed.
03-20-09, 03:17 PM
Join Date: Mar 2009
Location: Grand Cayman
Posts: 3
its a pretty bad crack well for the front bumper the rear is simple ill take a pic n show you guys
03-20-09, 03:29 PM
Join Date: Mar 2009
Location: Grand Cayman
Posts: 3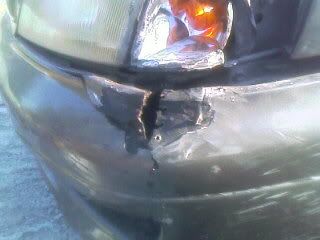 03-20-09, 08:18 PM
Join Date: Mar 2009
Location: Wyoming
Posts: 13
Replace it
---
Hi our son backed into a Ford Focus putting a big hole in the lady's front Facia (bumper) we bought an aftermarket part and had Maaco paint it I am a mechanic (not a body man) but I installed it myself on her car. it was very easy only tool needed was a big regular screwdriver to pop the pins holding it on out. and the total cost was $100. BTW was almost a $2000 dollar estimate at the body shop and my sons deductable was $1000
Posting Rules
You may not post new threads
You may not post replies
You may not post attachments
You may not edit your posts
---
HTML code is Off
---