Changing a fuel tank on a 68 Cadillac Sedan de Ville
04-20-09, 11:56 AM
Join Date: Jul 2005
Location: USA
Posts: 124
Received 0 Votes on 0 Posts
Changing a fuel tank on a 68 Cadillac Sedan de Ville
---
Hello, I need to change out a fuel tank on my 1968 Cadillac Sedan de Ville. First problem is that NAPA doesn't have parts listings earlier than 1977. But seems like a fuel tank shouldn't change too much over the years.

Second problem: Looks like two lines go into the tank. Does one carry fuel and the other work with the fuel gauge?

I should learn what they are before I remove the tank, so anyone have experience with fuel tanks?

Thanks,
J
Sponsored Links
04-20-09, 03:28 PM
From Autozone's website:
1. Have a carbon dioxide fire extinguisher near the work area. Remove the negative battery cable from the battery.
2. Use a hand-operated siphon pump, and follow the manufacturer's instructions for its use. As the fuel tank has a restrictor in the filler neck, connect the drain hose to the main fuel pipe at the fuel pump or at the tank gauge unit. Drain the fuel.
3. Reconnect any removed hoses, lines and cap.
CAUTION
Never drain or store gasoline in an open container due to the possibility of fire or explosion. Never siphon gasoline by mouth!
TANK REMOVAL & INSTALLATION
See Figures 1 and 2
4. Drain tank.
5. Disconnect tank unit wire from connector in rear compartment.
6. Remove the ground wire retaining screw from the underbody.
7. Disconnect the hoses from the tank unit.
8. Support the fuel tank and disconnect the two fuel tank retaining straps.
9. Remove the tank from the car.
10. Remove the fuel gauge retaining cam, and remove the tank unit from the tank.
11. Installation is the reverse of removal. On California emissions-equipped cars, center the fuel filler pipe in the opening as required. Always replace the O-ring when the tank unit has been removed.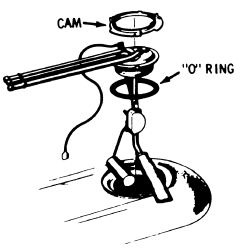 04-21-09, 09:11 AM
Join Date: Jul 2005
Location: USA
Posts: 124
Received 0 Votes on 0 Posts
Thanks for that info. Looks like steps 2 and 10 are the hardest. After that, its just finding a gas tank that fits this car.

J
04-21-09, 06:12 PM
Really, it's not that difficult, just can be time consuming crawling under the car. The draining of the tank aint bad. Just get one of those rubber pump type hoses at a autostore, shove the thing down into the tank, and have the other end of the hose in a gas container.

I think any tank from a 64-68 Caddy will work, maybe tough tracking one down though.
04-21-09, 06:42 PM
Gas tanks CAN VARY DRASTICALLY , year to year, model to model, and even Engine sizes.....I wold definitely Hunt down the one for YOUR car.... **I think any tank from a 64-68 Caddy will work, maybe tough tracking one down though. **
Sorry Mark..didnt see that......If it is a direct replacement...then absolutely by all means..

Just as an example.....

I had a 1977 Chrysler Cordoba , 400 cid with a 20 gallon tank. I bought a donor /parts car,1977, with a 318 cid , and it had a 24 gallon tank....The tanks did NOT interchange between cars.

If this is not a "Show Car"..Im sure you could get "Something" that fits, but if your state is "Sticky" on safety inspections.....It could end you up in a mess.....
Posting Rules
You may not post new threads
You may not post replies
You may not post attachments
You may not edit your posts
---
HTML code is Off
---