How to remove battery cable clamps from battery posts
05-06-09, 06:45 AM
How to remove battery cable clamps from battery posts
---
Hello Do it Yourself folks! I was going to put my 1998 Mustang convertible on the road this past weekend but the battery, i think, has given up the ghost! I garage it in the winter and only drive it a couple of months in the summer(it only has 7000 miles on it at 11 years old) I charged it over night as I always do in past years but not a wimper from it this time. I figure the it was time for a new battery so bought one today at Sears(DieHard Gold). My problem....I tried to remove the battery cable clamps from the posts but they won't budge. I have a wrench on one side and Channel Locks on the other side to block the spin but the metal bolt is so soft the pressure has rounded the bolt head. I tried the other clamp and same thing. I gave each bolt head about 5 tries and it has not budged. It is the softess metal I have ever seen! Wow! I am afraid to keep trying for fear I will round them off completely and won't get another good bite on them. I took pics of the battery and shavings, not alot of shavings but enough that I am calling in the A team! That be you.... How do I break these nuts and bolts without tearing them up? It's a simple battery change out, or was suppose to be. Thank You! Rae See pics....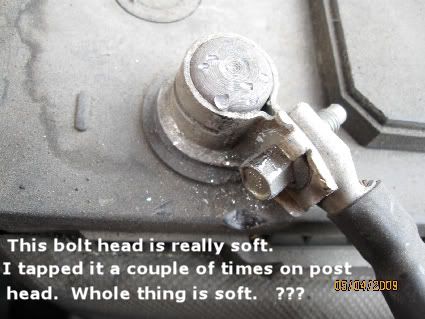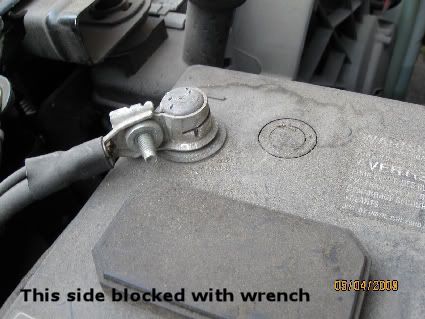 P.S. I am late this year because we had Redoubt Volcano dust us with ash in late March and the garden hoses have only been out for a couple of weeks now to wash everything down. I sparkle at my home now!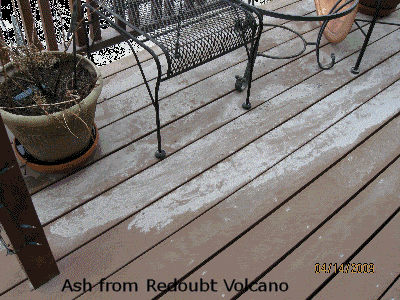 Sponsored Links
05-06-09, 06:52 AM
Use a small 6 point socket instead of a wrench. Spray some penetrant like PB blaster or liquid wrench on it, tap it a few times and let it sit overnight. Then use the small socket. Same issue with a Mazda here, I used a 1/4" drive ratchet and the right socket, and it came right off.

btw, the posts are made of a lead alloy, so yes, they will be soft.
05-06-09, 08:26 PM
---
Thank you Gunguy and Pugls, I don't usually take care of my vehicle maintenance 'cause I got people that look after them so no clue. It kind of floored me how soft the lead was on this so thought I would ask before going further. I put a socket set to it but my 5/16 socket is missing from the (mixed-up) line up so nothing would fit the bolt head. I bought a 5/16" today and it fit the head. I will get to it soon. Today, we have had rain all day. I am sure everything will go smooothly from here on. Gunguy45, I think you may have helped me before with a gas stove? Pretty Sure. Thank You! I will post another question that the battery guy mentioned..... maybe I can get this new battery to work for 12 years...haha! Thank you all for your good help! I will wear a long scarf in your honor when my soft-top finds the road...
Posting Rules
You may not post new threads
You may not post replies
You may not post attachments
You may not edit your posts
---
HTML code is Off
---