Starting Problem on 1995 Toyota Camry
03-14-10, 07:31 PM
Join Date: Jun 2005
Location: United States
Posts: 327
Starting Problem on 1995 Toyota Camry
---
1995 Toyota Camry AT V6 3.0L Wagon, 98,138 miles. Recently, this car can't be started as uausal. Occassionaly, it only has one click sound without engine cranks, but you can hear noise something like you turn on house fan and hold the blade to stop it from turning if I keep my car key position to start engine. When this happens, I can start engine as uasual if I release key and re-start engine again. I thought battery is bad and just had a new battery installed, but it is still happening. This car also has check engine light on (OBDII code P0402) recently. According to this error code, it is EGR valve problem. I posted on another thread. Could these two related? Can someone give me your suggestions to check? Thanks!
Sponsored Links
03-14-10, 07:45 PM
Join Date: Oct 2008
Posts: 1,312
A low battery can cause other problems, yes...
The alternator keeps the battery charged. If the alternator went out, a new battery would work great for a little bit, then you would have problems again as the battery drained.
The 1st thing is to check the battery and alternator...
Check the battery voltage with a multimeter.
A fully charged battery would read 12.65 volts or higher. Use DC volts 20 on the meter.
The battery should read 12 something volts with just the ignition on (not started).
Then start it and it should then read 13/14 volts at the battery. This is the alternator kicking in and charging the battery.
---
Also you can turn on the headlights and see if they look as bright as other vehicles. Dim would mean the battery has run down.
And you can try jump starting. If jump starting works, then probably a problem with the battery or alternator.
----
If the battery and alternator are ok, then this could be a problem with the starter. Check with a multimeter. How to use a multimeter...
how to use a multimeter on a car - Google Search
03-14-10, 07:49 PM
Join Date: May 2006
Location: Iowa!!!!!
Posts: 3,779
Check engine light for the EGR - normally not associated with starting. The later is a field of its own. However, with a VSV(vacuum switching valve) which is solenoid driven = can have a voltage issue which may be behind the starter. I would have the alternator checked for output.
03-14-10, 08:48 PM
That's old enough to have worn parts in the starter solenoid, too. Here's roughly what the guts of solenoid look like: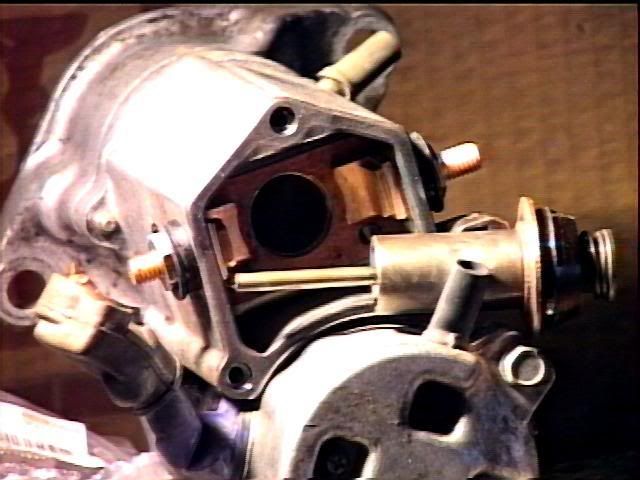 The rest of a Toyota starter is pretty bullet-proof, but the contacts and plunger get worn.
03-15-10, 06:55 AM
Join Date: Dec 2009
Location: Kingsport, TN
Posts: 217
I thought they only had problems stopping!
03-15-10, 01:02 PM
Join Date: Jun 2005
Location: United States
Posts: 327
Thanks for all of your replied and wonderful picture! I only have time to check it on weekend. I will check all of your suggestions on this coming weekend and will post it back on what I found out.
03-15-10, 02:37 PM
If it turns out to be the starter, don't replace the whole thing just get the new plunger and contacts and trade them out. As I mentioned Toyota starters rarely fail for any other reason.
03-16-10, 11:00 AM
Join Date: Jun 2005
Location: United States
Posts: 327
Thanks for your tip the_tow_guy! I cleaned up the deposit on battery terminal last night. It still happened this morning. I tried 4 times within about 10 seconds and failed just like what I described earlier. The 5th or 6th time it starts. Looks like it happens only after car sits for over night. I drove to Kragen to have battery, alternator, and starter tested. All of them appear to be still good. I notice the coolant reserver tank is empty (way below low line). I drove another 35 minutes to work and check reserver tank when engine is really hot. Coolant in reserver tank back to a little below low line mark. During drive, car temerature is at its normal and no light came on. Could low on coolant causes hard to start in the morning?
03-16-10, 12:07 PM
Join Date: Oct 2008
Posts: 1,312
Electrical things can have "intermittent" problems. They will work one minute, then not work the next.

Or sometime not work when hot.

Sometimes not work when cold.

A starter can have a "dead spot" in it.

An alternator might not work when going fast, but work ok the rest of the time. Or might not work under a large electrical load.

These things are caught by using a multimeter and "catching it in the act"!
03-23-10, 12:37 PM
Join Date: Jun 2005
Location: United States
Posts: 327
Posting Rules
You may not post new threads
You may not post replies
You may not post attachments
You may not edit your posts
---
HTML code is Off
---