injector cleaning
08-31-10, 08:47 PM
injector cleaning
---
Will removing injectors and spraying them with Gumout carb cleaner help clean them?
Sponsored Links
08-31-10, 08:59 PM
You need to clean the inside of an injector. I suggest using a "Top Tier" gas that has additional additives to clean the fuel system and combustion chambers. You could also go to an auto parts store and buy an additive that you add to your gas. Use Top Tier fuel and you shouldn't have to worry about a dirty system.
09-01-10, 04:43 AM
09-01-10, 05:30 PM
find a local shop that does ultrasound injector cleaning. that's about the best. esp if you have serious build up inside the nozzle. cavitation breaks it down and removes. it's somewhat expensive, yet works good.
you will need to remove injectors, take 'm to the shop, and replace O-rings with new ones.
also, do yourself and your car a favor:
1. stay with gas with cleaning agents, like texaco/chevron
2. stay away from cheap gas, period
3. run can of seafoam through tankful twice a year and through cranckcase once a year before oil change.
YouTube - Ultrasonic Fuel Injector Cleaning
and this one is real cool:
YouTube - DIY Fuel injectors cleaning
09-02-10, 05:15 AM
Any problem in auto mechanics has its basis in
common sense
and logic
. The first step in becoming a great mechanic is to learn to apply that common sense and logic when trying to resolve a problem.
Ultrasonic fuel injector cleaning is the most efficient way to clean fuel injectors. It's also extremely costly, because it involves removing all the injectors from the vehicle and servicing them on an "Injection Table" (one of many different types and models) shown below. Because of the astronomical cost of ultrasonic cleaner, it lacks
common sense and logic,
so I didn't bother to mention it.
Why go through the astronomical expense of ultrasonic cleaning when you can purchase a set of new injectors for a fraction of the cost of ultrasonic cleaning?
The fact that "You Tube" is free makes it an attraction to individuals to post their ideas or inventions. Many of these ideas and inventions have not been tried or proven. They can and (in most cases) do result in damage.
Common sense and logic
dictates that when a fuel injector fires it's delivering a spray mist of fuel at a psi pressure that is matched for that particular engine.
If you look at the "Wynns" video I posited and the other fuel injector cleaning tools posted below you'll see that they all require "Compressor Air" to operate. The next step in the operation is the use of gauges to control the air pressure. That's why attached to each tool is one or two gauges. They are there to adjust air pressure. If not enough air pressure is used, the deposits clogging the tip of the injector won't be removed. If too much air pressure is used, the "Pentile" could be blown off the injector and end up in the cylinder. Now you have a problem. Again
common sense and logic.
Don't you just hate it.
The video that shows "STP Carburetor" cleaner being used to clean a fuel injector is a joke. Watch it and laugh at it, but don't attempt it. All you're doing is wasting your time.
"Common sense and logic"
dictate that pressing the button on a spray can (even countless) times cannot (even come close) to generating the psi necessary for removing the deposits that have built up on the tip of fuel injector.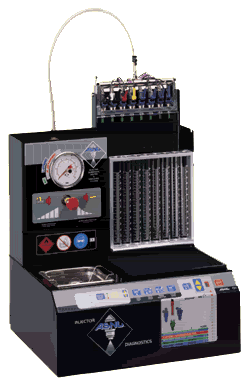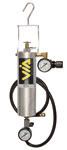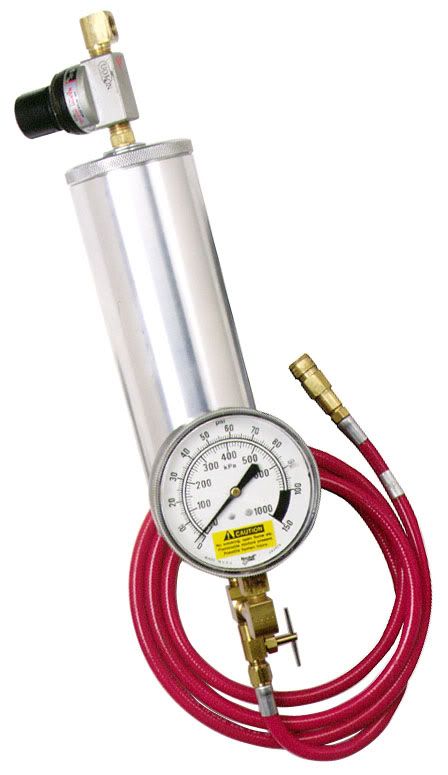 09-02-10, 08:04 AM
Banned. Rule And/Or Policy Violation
Join Date: May 2007
Location: Wisconsin
Posts: 8,629
Received 0 Votes on 0 Posts
09-02-10, 12:42 PM
Ecman51,
(Question)
Sam, IYO, are companies that sell fuel injection cleaners, liars who somehow legally get away with makng that claim?
Your question can be applied to any manufacturing company and product. Dell computers for example. Used to be up there with Apple and IBM. Now barely qualify as a paper weight. Nothing shocks me anymore, and getting my attention is practically an impossibility.
If you're a company making a product that is used in automotive theory or repair, you'd better talk straight to me. You'd better have a product that works. Pray and hope that the product does what it's designed to do, because as sure as God made little green apples, when I get my hands on it, I'll find a flaw with it.
Ok fuel injector cleaners.
(The pour in the tank type).
Well, the shelves are full of them, but save your money because none of them work. The companies making these cleaners are not liars. They aren't breaking the law. They're simply using the law in their favor. They have the consumer between a rock and a hard place. Their attitude is;
"Well you can sue me in court if you think my product didn't clean your injectors. Just bring plenty of scientific proof to support your lawsuit".
Here's what you have to do to get the proof you need. A video is recommended instead of pictures.
Remove all the injectors from your cars engine and analyze them on an injection table.
Make countless detailed scientific notes and take close-up video's of injector spray angles.
Reinstall the injectors in the engine, fill the fuel tank, add the cleaner and drive the car till the low fuel light comes on.
Remove the injectors from the engine and analyze them again on the same table. Take more countless scientific notes and take more video's.
If you can prove, beyond reasonable doubt. That there is
NO
difference (before and after) you win.
09-02-10, 04:52 PM
Here is a list of Top Tier fuel dealers. While working for GM I witnessed the cleaning effects of Top Tier fuel. GM also found Techron to be an effective fuel system cleaner. The GM Fuels and Lubricants labratories made a believer out of me.
Top Tier Gasoline
ASE Certified
33 years with General Motors Product Service Engineering.
09-02-10, 06:22 PM
cheap gas is cheap gas. if you have someone strikingly lower priced, personally, i stay away from that.
i had my share of cheap gasses when we moved to the country. i am done with them. i have taken enough engine heads off to see what it leads to.
any company that has surfactants, or cleaning agents, added to gas, will have it posted loud and clear on their gas stations. chevron, shell, texaco are known 3. bp as far as i know. 76 i think started adding them. exxon has a good gas.
with stations like costco or sam's, i ask. attendants normally know who is supplier. i found a local safeway station that sells chevron gas - for 20 cents less.
you do not want to refill early in the morning or when you see gas tanker filling up reservoirs. am is when they normally refill reservoirs, and crap is been raised up and mixed with what you put into YOUR tank.
if you find a new reputable gas station around, stick to it. new reservoirs are CLEANER than old ones, even for same gas brand.
Posting Rules
You may not post new threads
You may not post replies
You may not post attachments
You may not edit your posts
---
HTML code is Off
---