Ford Explorer Front Brake Job
09-12-10, 06:01 AM
Join Date: Sep 2000
Location: Columbia, SC
Posts: 219
Ford Explorer Front Brake Job
---
2002 Ford Explorer Sport Trac 100K

I naively volunteered to do a brake job on my sister-in-law's truck in an effort to save her a couple hundred dollars. Having owned front-wheel-drive cars for the last couple decades, I was chagrined to learn that the entire hub assembly must come apart in order to change the rotors.

This leads me to my questions:

1) On my front-wheel-drive vehicles, whenever I had to disassemble the hub and remove the main axle retaining nut, I would do so with the brake mechanism intact. I would use the brake itself to provide resistance so the nut could be loosened without the wheel turning. The service manual shows the removal of the main nut as an operation without the brake assembly. Does that make sense to anybody, or do I need to reassemble the brakes before I can go in to the hub?

2) The service manual says to grease the bearings. I have grease that I used in chassis grease fittings, such as ball joints etc. Will this grease be adequate or am I facing yet another trip to the parts store?

Thanks, as always for your good advice.

az
Sponsored Links
09-12-10, 06:57 AM
Join Date: Sep 2000
Location: Columbia, SC
Posts: 219
OK...I answered my own question about getting the retainer nut off. It actually came off without using tools. I'm not sure that was good, but at least it was easy.

Now the issue is how separate the hub from the brake disc. From all appearances, it seems like they are a single piece. Still, the service manual shows the disc as a separate unit at the beginning of the instructions. It gives no instructions at all how to remove the hub assembly from the disc.

Ideas?

Oh, the vehicle is a 4x2, not 4x4. Left that off at the beginning. It's important because they are very different.
09-12-10, 09:11 AM
Sounds like you' having an issue with part number
15
(caliper anchor plate). See image below. Answer to "Wheel Bearing Grease" is below as well. Only wheel bearing grease I use.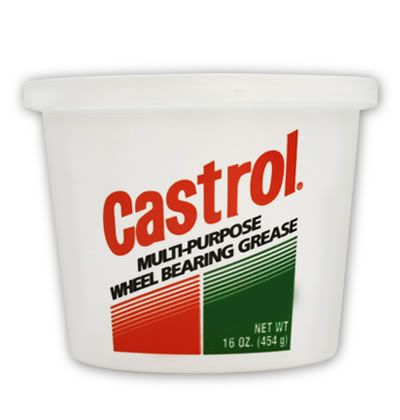 09-12-10, 10:11 AM
Join Date: Oct 2008
Posts: 1,312
I use the *specific* bearing grease recommended by the manufacturer. There are different types and specifications.
This would be in a factory service manual. Might be in the back of the owner's manual?
One time the manufacturer's specifications said to use a specific bearing grease. I had to go to 3 auto parts stores before I found that type.
A guy at one store told me anything would work!
Another guy at a different store said "most people buy this"!
I said, well the manufacturer wants something else! (And that is what I got.)
If you want to know why a specific bearing grease is important, ask here...
http://www.bobistheoilguy.com
P.S. I have a hydraulic wood splitter and went searching for the hydraulic fluid recommended by the manufacturer. It called for a specific type which was hard to find.
Again the auto parts guys said "anything would work". I got the right type. I later learned that wood splitters get very hot and thus need a specific hydraulic fluid which will stand up to the heat. So there is a reason for each specification...
09-12-10, 02:31 PM
Join Date: Sep 2000
Location: Columbia, SC
Posts: 219
Follow up: All is well.

I was indeed having an issue with #15, the caliper anchor bolt. It took me and a physically strong neighbor several hours of struggling before the darn thing came loose. I broke two 1/2 to 3/8 converters (I guess that's why it's called a "breaker bar") and used half a can of PB Blaster.

As for the hub/rotors, after much searching, I found that 4x2's use a rotor with an integrated hub, (rather ingenious, I think). The rotor I purchased form Advance Auto was for a 4x4. Their website made no differentiation, so I never thought to ask if 4x2 vs 4x4 were different. I bought the correct ones from Auto Zone (who specified the difference between 4 and 2 wheel drive) and installed the new hub and rotors in a few minutes, once we got the stubborn bolt out.

The grease I had in stock was inside my grease gun. Turns out it was VALVOLINE MULTI-PURPOSE for Ford, Lincoln & Mercury, which meets Ford specs for chassis and wheel bearings. The research I've done tells me there may be better choices available, but the grease meets spec so I'm satisfied.

Thanks for your help.
09-12-10, 02:48 PM
You're welcome. Glad it all worked out. "PB Blaster" is a joke. For future jobs click on the link below. Great chemical. Works in minutes. Beer 4U2
http://www.kanolabs.com/
09-12-10, 05:07 PM
Join Date: Jun 2009
Location: Pennsylvania
Posts: 49
knolabs
---
Has anyone ever heard that kroil stuff is nothing more than kerosene and tranny fluid thats what I read somewhere but regardless it is the best and worth the money not very expensive but not sold in stores as far as I know you have to buy direct Good Luck
Posting Rules
You may not post new threads
You may not post replies
You may not post attachments
You may not edit your posts
---
HTML code is Off
---